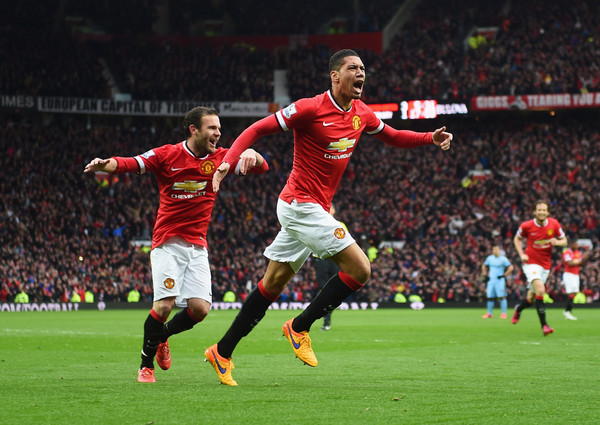 By AYDIN REYHAN 
Just days before the Champions League quarterfinals commence, domestic league picked right up where it left off in midweek for most teams in the top European leagues.
In the Manchester Derby, it was Manchester United who emerged victorious over their crosstown rivals Manchester City behind a dominant 4-2 victory. Both team's continue to look up at Chelsea, who continued their dominance in the Premier League with a 1-0 victory at Queens Park Rangers due to an 88th minute Cesc Fabregas winner.
La Liga's title race continues to hear up as Real Madrid's victory over Eibar vaults the team back into contention after Barcelona was forced to settle for a draw with Sevilla.
Here is what happened this weekend in Europe's best domestic leagues:
ENGLAND 
The much-anticipated Manchester derby tilted towards the red side of the city, as Manchester United defeated Manchester City 4-2, winning for the first time after losing their previous four meetings. Ashley Young scored one and set up two others on a night when the unsung hero shone brightest. Sergio Aguero scored a brace for the champions but that was never going to suffice.
Yannick Bolasie recorded a hat-trick of goals in a 4-1 victory for Crystal Palace at Sunderland. Coach Alan Pardew has clearly instilled his vision, style of play and hearty-attitude into the players. After his Newcastle days, this is the perfect way to bounce back.
Arsenal won their EPL-best eighth-straight game at Burnley thanks to a beauty from Aaron Ramsey inside 12 minutes. The team sits seven points behind Chelsea who stillhave a game in hand
Here are the scores from the Premiership over the weekend:
Swansea 1-1 Everton
Southampton 2-0 Hull
Sunderland 1-4 Crystal Palace
Tottenham 0-1 Aston Villa
West Brom 2-3 Leicester
West Ham 1-1 Stoke
Burnley 0-1 Arsenal
QPR 0-1 Chelsea
Man United 4-2 Man City
Liverpool-Newcastle (Monday)
SPAIN
Real Madrid defeated Eibar convincingly with a 3-0 scoreline as they climbed within one point of Barcelona who leads La Liga. Cristiano Ronaldo scored yet again while Javier Hernandez and Jese Rodriguez both also found the back of the net.
Barcelona were leading 2-1 at Sevilla until Kevin Gameiro hit one home inside 84 minutes to make sure the match ended in a draw. With this result, Barcelona's lead atop the standings increased up to two points over Real Madrid. This league is clearly now a two-way race as Atletico Madrid still sits seven points behind Real with only seven games left to be played.
Here are the results from La Liga this weekend:
Real Madrid 3-0 Eibar
Malaga 2-2 Atletico Madrid
Sevilla 2-2 Barcelona
Almeria 3-0 Granada
Celta Vigo 6-1 Rayo Vallecano
Getafe 1-1 Villarreal
Espanyol 1-0 Bilbao
Real Sociedad 2-2 Deportivo
Cordoba 0-2 Elche
Valencia-Levante (Monday)
GERMANY
Bayern Munich continued their dominance atop the standings with an easy 3-0 win over Eintracht Frankfurt. This time around, Pep Guardiola fielded his team with three at the back with Robert Lewandowski (brace) and Thomas Muller deciding the matter.
Borussia Dortmund surprisingly lost 3-1 at Moenchengladbach where the hosts made sure they stayed in third for a Champions League spot. Ilkay Gundogan scored for the visitors when it was too little, too late.
Here are the scores from the German Bundesliga this weekend:
Hannover 1-1 Hertha Berlin
Bayern Munich 3-0 Eintracht Frankfurt
Moenchengladbach 3-1 Dortmund
Mainz 2-3 Leverkusen
Paderborn 2-1 Augsburg
Schalke 0-0 Freiburg
Hamburg 0-2 Wolfsburg
Cologne 3-2 Hoffenheim
Stuttgart 3-2 Werder Bremen
ITALY
The most shocking result from the Serie A this weekend was dead-last Parma blanking league-leading Juventus by a score of 1-0 thanks to a sweet strike from Jose Mauri. Still, the Old Lady hols a 12-point gap above second-placed Lazio.
With Lazio in mind, they overlapped city-rival Roma by destroying Empoli 4-0 at home. Their rivals settled for a 1-1 draw at Torino. Therefore, Lazio now has 58 points while Roma is only one behind.
Napoli jumped into fourth with 50 points above Fiorentina, who are stuck at 49 after they fell victim to the aforementioned side 3-0 on the road.
Here are the full results from the Serie A this weekend:
Genoa 2-0 Cagliari
Parma 1-0 Juventus
Hellas Verona 0-3 Inter
Cesena 0-1 Chievo
Atalanta 2-1 Sassuolo
Lazio 4-0 Empoli
Napoli 3-0 Fiorentina
Torino 1-1 Roma
Udinese 1-3 Palermo
AC Milan 1-1 Sampdoria
Genoa-Parma (Wednesday)
FRANCE
Paris Saint-Germain demolished Bastia in the French League Cup final thanks to a brace apiece from Zlatan Ibrahimovic and Edinson Cavani.
Monaco torched Caen on the road, 3-0 Bernardo Silva hit a brace to complete the scoreline. Meanwhile, Marseille dropped down to fourth as they suffered yet another defeat, this time on the road in Bordeaux.
Here are the results from Ligue 1 and the League Cup this weekend:
Caen 0-3 Monaco
Saint Etienne 1-0 Nantes
Evian 0-1 Lille
Lens 0-0 Lorient
Reims 0-1 Nice
Rennes 1-0 Guingamp
Toulouse 1-0 Montpellier
Bordeaux 1-0 Marseille
Lyon-Bastia (Wednesday)