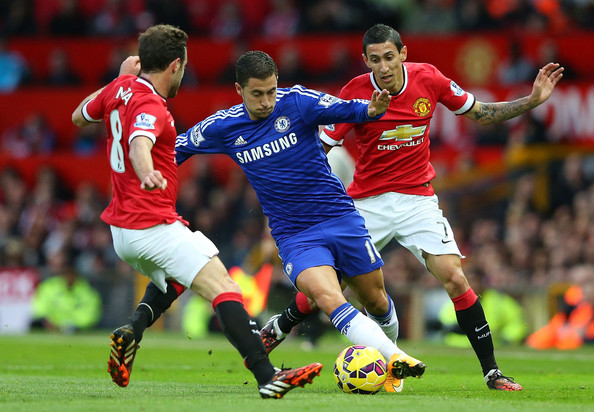 By AYDIN REYHAN
Domestic action resumes this weekend following a slate of European action midweek.
The Premier League leads the way this weekend, as league-leading Chelsea welcoming third-placed Manchester United at Stamford Bridge in what is clearly this week's match to watch in the English leagues, while Arsenal takes on Redding and Liverpool faces Aston Villa in the FA Cup.
Ninth-placed AC Milan will be considered the away-side when they face 10th-placed Inter in the Milan derby. With one point splitting the sides, more than simple pride is on the line as the two heated rivals attempt to make a move up the table above their counterpart.
Barcelona welcomes Valencia in this week's best La Liga match as the visitors will look to overlap third-placed Atletico, who sit third by a single point with 66.
Here is a look at everything happening in Europe's top leagues this weekend:
ENGLAND
Enter the weekend as hot as any team in the world, Manchester United visit Chelsea as the third-placed side will look to jump into second above Arsenal, who only has one more point in the standings.
The FA Cup semifinals also kickoff this weekend at Wembley, as Arsenal face off with Championship side Reading on Saturday before Liverpool, who will be without Daniel Sturridge, take on Aston Villa Sunday.
Manchester City will look to bounce back from last week's 4-2 loss at Manchester United when they host West Ham at the Etihad. Man City remain in fourth, four points behind United so a win by the Blues and a loss by the Red Devils will cut the deficit down to one. The league title is all but out of grabs for the reigning champions, so a guaranteed Champions League spot will have to do.
Here are the fixtures in the Premier League schedule to be played this weekend:
Crystal Palace-West Brom
Everton-Burnley
Leicester-Swansea
Stoke-Southampton
Chelsea-Man United
Man City-West Ham
Newcastle-Tottenham
FA CUP:
Arsenal-Reading
Liverpool-Aston Villa
SPAIN
Real Madrid will host Malaga with the hopes of a win allowing them to jump back into first if Barcelona go on to drop all three points at home to Valencia. Two points split the top two sides in La Liga following the Catalan's draw with Sevilla last time out
Atletico Madrid will visit a rather tricky Deportivo side that can make life difficult for the bigger clubs, although the hosts have struggled at home against top-notch competition in big losses to Barcelona and Real Madrid.
Elsewhere, Sevilla, fresh off a Europa League victory midweek, travel to take on Granada.
Here is the full list of fixtures set to be played in La Liga this weekend:
Levante-Espanyol
Barcelona-Valencia
Deportivo-Atletico Madrid
Real Madrid-Malaga
Bilbao-Getafe
Rayo-Almeria
Granada-Sevilla
Villarreal-Cordoba
Eibar-Celta Vigo
Elche-Real Sociedad
GERMANY
Wolfsburg hosts Schalke in the Bundesliga's game to watch this weekend as the second-placed side will look to shake off their first-leg loss in the quarters of the Europa League against Napoli by downing their domestic opponents. Wolfsburg are seven points above third-placed Moenchengladbach, whereas Schalke sits 10 points behind 4th-placed Bayer Leverkusen.
Hoffenheim can jump up to sixth (Europa League qualifying position) if they can successfully defeat Bayern Munich at home. They sit in seventh with 37 points, just two points behind Augsburg who occupy that position.
In addition, Bayer Leverkusen hosts Hannover, Borussia Dortmund takes on Paderborn and Hamburg travels to Weder Bremen.
Here are the Bundesliga fixtures to be played this weekend:
Eintrach Frankfurt-Borussia Moenchengladbach
Bayer Leverkusen-Hannover
Borussia Dortmund-Paderborn
Freiburg-Mainz
Hertha Berlin-Cologne
Hoffenheim-Bayern Munich
Augsburg-Stuttgart
Werder Bremen-Hamburg
Wolfsburg-Schalke
ITALY
The biggest one to watch is the derby of Milan, as Inter Milan host AC Milan. The San Siro is home to both but the former will be considered the home side and they will look to use this advantage as they are only one point behind their rivals in 10th with 41.
One of the big games this weekend will be league-leading Juventus hosting second-placed Lazio. Even with the leaders up 12 points on their visitors, this will be one to watch as both sides have proven technical in possession all season long, boding for a high-quality clash between two of Italy's top sides.
Here are the games to be played in the Serie A this weekend:
Sampdoria-Cesena
Juventus-Lazio
Sassuolo-Torino
Chievo-Udinese
Empoli-Parma
Palermo-Genoa
Roma-Atalanta
Cagliari-Napoli
Inter-AC Milan
Fiorentina-Hellas Verona
FRANCE
Lyon sits in first with 64 points while Saint Etienne sits in fourth with 56. The former will host the latter in a game the home side is expected to win, but if the visitors prevail, the race to the Ligue 1 title gets even more exciting.
Paris Saint-Germain will visit Nice with the hopes of winning to regain first ahead of Lyon, who already played their 32nd match of the season in midweek when they defeated Bastia 2-0 at home.
Marseille will visit Nantes Friday evening as they look to bounce back to winning as they are only one point out of third, occupied by Monaco with 58.
Here are the Ligue 1 fixtures for this weekend:
Nantes-Marseille
Nice-PSG
Bastia-Reims
Guingamp-Evian
Lorient-Toulouse
Metz-Lens
Monaco-Rennes
Lille-Bordeaux
Montpellier-Caen
Lyon-Saint Etienne