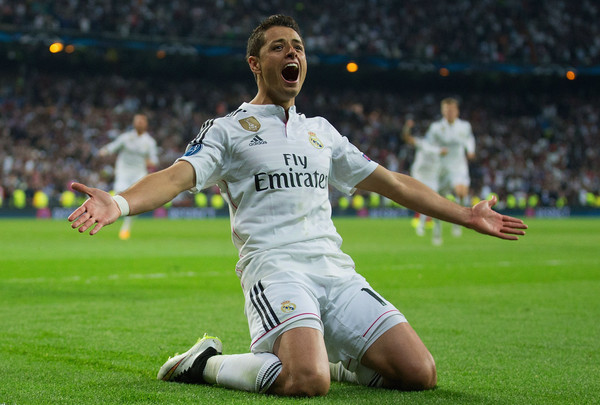 By DAN KARELL
Javier "Chicharito" Hernandez's recent glutton of goals couldn't have come at a better time for him.
Just a few weeks ago, Real Madrid were ready to discard the Mexican international, who is spending the year on-loan with an option to buy from Manchester United, but Hernandez's goal to progress in the UEFA Champions League and a pair of goals in a 4-2 victory over Celta Vigo has fans calling for Hernandez to extend his stay in Spain.
According to Spanish publication Marca, Real Madrid's front office are taking a serious look into keeping "Chicharito" around, though they will have to agree on a work-around. The report states the loan deal signed with Man United calls for Real Madrid to make a decision on whether they want to sign Hernandez by Thursday. Real Madrid, the report adds, instead want to extend that deadline, and negotiate a lower price than the €20 million that Man United value Hernandez.
Speaking in a press conference on Tuesday, Real Madrid manager Carlo Ancelotti said that a decision on Hernandez will be taken at the conclusion of the season, though it seems internally it could come sooner.
In a separate interview, Mexico National Team head coach Miguel Herrera called Hernandez a "world class striker" but said he may be better off being the star at a smaller club instead of playing second fiddle at a massive club.
Here's some more stories to start off your Tuesday:
GUNDOGAN THE NEXT PLAYER HEADING SOUTH FROM BVB
Finally returning to form on the field following a 15-month recovery from a chronic back injury, Borussia Dortmund midfielder Ilkay Gundogan has also returned to the tabloid pages for transfer speculation.
The latest reports out of Germany state that Bundesliga champions Bayern Munich have contacted Gundogan's agent over a potential transfer this summer. If true, Gundogan would follow the likes of Mario Götze in 2013 and Robert Lewandowski in 2014 in leaving Dortmund for Munich.
The news comes at an interesting time, with Bayern and Dortmund set to meet on Wednesday in the semifinals of the German Cup.
BELGIAN DEFENDER IN CRITICAL CONDITION
Sporting Lokeren defender Gregory Mertens is fighting for his life.
The 24-year-old suffered a heart attack on the pitch during the first half of Lokeren's match against KRC Genk and lost conciousness. He was revived with CPR and a defibrillator and was later placed into an induced coma and placed on a life-support machine at a Genk hospital.
"Sporting Lokeren sympathizes with the family and hopes for a positive outcome," Lokeren said in a statement.
Mertens, a former Belgian youth international, has received support on social media from other Belgian soccer players, including Thibaut Courtois, Romelu Lukaku, and Kevin De Bruyne.
QUICK KICKS
Paris Saint-Germain have denied that they've made contact with Palermo for forward Paulo Dybala. (REPORT)
Norwegian wonderkid Martin Odegaard has been named to Real Madrid's squad to face Almeria. (REPORT)
Martin Kind has bought the final 15.66 percent of shares of Hannover 96 to take full control of the club. (REPORT)
Roberto Mancini has claimed that on-loan forward Lukas Podolski would prefer to return to Arsenal at the end of the season. (REPORT)
Sao Paulo club Corinthians had the most supporters attend their Copa Libertadores matches in the group phase, with 153,822 attending four home matches. (REPORT)
————–
What do you think of these reports? Do you see Hernandez remaining at Real Madrid? Where do you see him moving to? Should Gundogan leave BVB this summer?
Share your thoughts below.