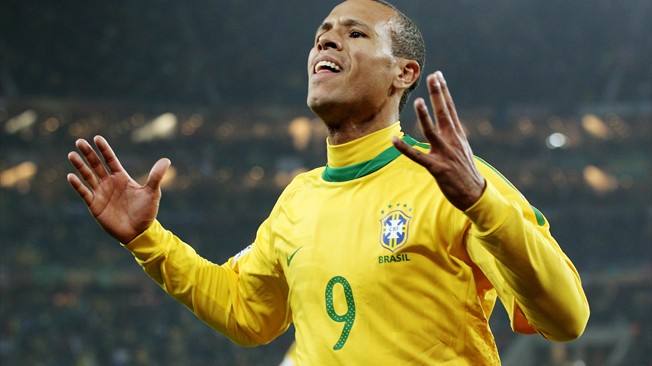 Another Brazilian star is reportedly interested in joining Kaka in Florida.
Sao Paulo striker Luis Fabiano is working toward a deal to join Orlando City SC, according to a report from ESPN Brazil. The 34-year-old striker's family has told friends to expect him to join Kaka's team, according to the report.
Luis Fabiano has seven months remaining on his Sao Paulo contract, and there have been no known negotiations to extend that deal. He is reportedly interested in seeing out his current deal before joining his fellow countryman and moving to the United States.
His last major outing for Brazil came in the 2010 World Cup, though Luis Fabiano is best known for being part of the team that won the 2009 Confederations Cup by beating the U.S. Men's National Team in the final. He was also part of the 2004 Brazil team that won the Copa America.
Luis Fabiano returned to Sao Paulo in 2011 after a six-year stint with Sevilla in Spain's La Liga.
Here is some more MLS news and notes for Thursday:
CHICHARITO EXPECTED TO STAY IN EUROPE
The Chicharito-to-MLS rumor mill has produced its latest update.
According to The Telegraph, the 26-year-old is wary of making a move to MLS at such a young age. As a result, he is expected to stick it out in Europe as Manchester United begins listening to bids for his services, despite previous links to Orlando City.
The Mexican forward is currently on loan to Real Madrid, where he has rarely touched the field. As a result, the Spanish club is expected to turn down the option to sign Chicharito and return him to Manchester United following the season.
Fellow English Premier League sides Southampton and West Ham, plus La Liga club Valencia, have been mentioned as potential landing spots.
ATHLETIC BILBAO'S IRAOLA TIED TO MLS MOVE
After 12 years and 504 appearances with Athletic Bilbao, Andoni Iraola may be making a move.
The right back was offered a new contract by Athletic Bilbao, but turned down the chance to stay in Spain with his eyes set on a move to the U.S., according to reports. Though a specific MLS club was not named in the report, Iraola has apparently begun his goodbyes to teammates as this season winds down.
Iraola, who turns 33 in July, has spent his entire senior-team career with Bilbao. He also has seven appearances for Spain.
ODURO SCOLDS ALAJUELENSE FANS FOR RACIST BEHAVIOR
Despite the Montreal Impact's escape from Costa Rica in the CONCACAF Champions League semifinal on Tuesday, Dominic Oduro could not fully enjoy the moment.
The Impact forward took to Twitter after the match to say that Alajuelense fans had used racial taunts: "So sad that in this generation some fans still make monkey noises when black players are playing the game. Shame to all #alajuelense fans."
"Say no to racism on the field," Oduro added.
___
What do you make of Luis Fabiano's link to Orlando City? Where will Chicharito end up? Which team would make the best use of Iraola?
Share your thoughts below.