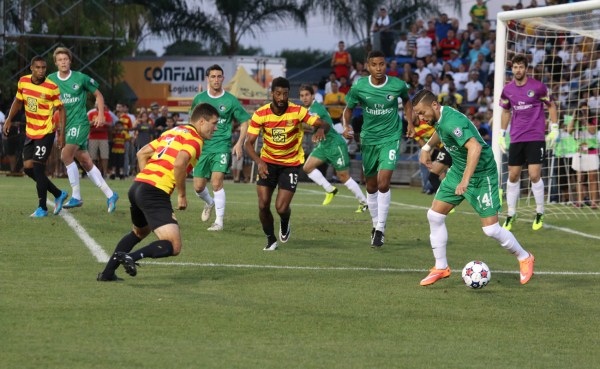 By FRANCO PANIZO
FT. LAUDERDALE, Fla. — On a day when soccer legends Ronaldo and Raul helped draw an impressive crowd to South Florida for NASL opening weekend, it was a much lesser-known player who helped steal the show with the lone goal of the evening.
Midfielder Leo Fernandes headed home the winning goal as the New York Cosmos defeated the Ft. Lauderdale Strikers, 1-0, in front of a record crowd of 11,691 at Lockhart Stadium on Saturday night.
Fernandes found the winner in the 58th minute, latching onto a Walter Restrepo corner kick and nodding it with power past Strikers goalkeeper David Meves.
Playing in front of the largest crowd the Strikers have drawn since joining the current NASL in 2011, the Strikers had chances of their own to find the back of the net. Dani Sanchez had a great look in the 85th minute, but his shot went straight into the hands of Jimmy Maurer.
Ft. Lauderdale, who was playing in front of one of its new owners in Brazilian icon Ronaldo, began the match as the better side. The Strikers used their speed on the outside to threaten the Cosmos' back line constantly, but Marcelo Neveleff's men just could not manage to get a quality shot on frame.
PC had one of the Striker's best chances in the 38th minute after craftily dribbling by two defenders, but Maurer came up with a big save to deny the midfielder.
The Cosmos were, however, the side that finished the first half on a better note. New York began to win more of the possession battle, and nearly opened the scoring in the 45th minute when Walter Restrepo had a shot cleared off the goal line. The rebound fell to forwards Mads Stokkelin, whose ensuing effort pinged off the right post.
Savarese's side did not miss on its next chance. Restrepo whipped in on a corner from the left, and Fernandes met it with a leaping header that smashed into the back of the net.
The goal came five minutes after Spanish legend Raul exited the game for the Cosmos in his NASL debut for the club. Raul made little impact on the match, as he struggled to get on the ball during much of his 53 minutes on the field, leaving head coach Giovanni Savarese to replace him with midfielder Sebastian Guenzatti.
The Cosmos return to action next Saturday with a road game against Indy Eleven, while the Strikers host expansion side and new Florida rivals Jacksonville Armada that same day.