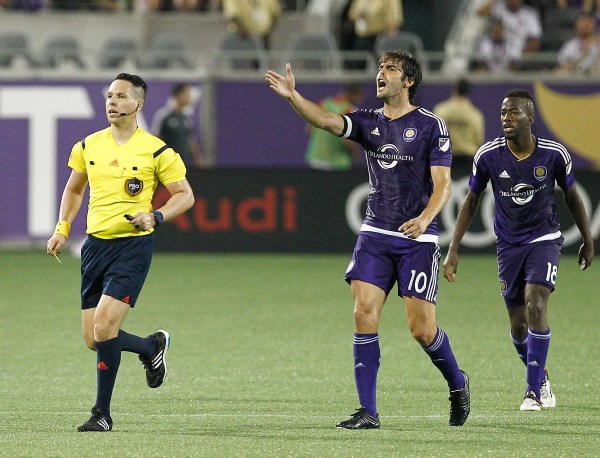 Photo by Reinhold Matay/USA TODAY Sports
By MIKE GRAMAJO
ORLANDO, Fla. — When it comes to playing at home, Orlando City may own the possession of the game but have failed in penetrating the final third to catapult them to victory for the first time at the Citrus Bowl.
Since their March 8 home opener against New York City FC, Adrian Heath's men have only scored once, and have conceded five goals at home. The end results have led to disappointment in the Orlando City locker room, but if there's one player more upset, that's team captain Ricardo Kaka.
"I don't know, I just don't know," said a disappointed Kaka after the 2-0 loss to Toronto FC on Sunday. "When we play away, we can create and make some goals, and here, [Home] we can't score. Maybe we're too anxious to score and to win at home, and sometimes this anxiousness is negative, and we need to turn it into a positive."
Despite Orlando City finding the net only once at home this season, the designated player has led the Lions on the scoring front with three goals this season. His partnership with Kevin Molino has yet to come to fruition, while the team's forward pool has been inconsistent since the loss to Pedro Ribeiro, who suffered a hamstring injury earlier this season.
"When we're chasing the game, sometimes we get too desperate," said Orlando City head coach Adrian Heath after Jozy Altidore scored the opener in the 50th minute. "Our finishing was really poor, Carlos Rivas had a shot from the 18-yard box with nobody on him, and later on, Bryan Rochez found himself in a really good position, and them two finishes summed the ending."
Heath has ran with a 4-2-3-1 formation since the start of the season at home, but deployed a 4-3-3 towards the latter part of Sunday's game, inserting forwards Danny Mwanga and Bryan Rochez up top, while having Carlos Rivas play on the right wing.
Things will only seem to get tough for Heath's men in the coming weeks. The Lions will head into the bye week playing an international friendly against Brazilian side Ponte Preta before taking on a young and threatening New England Revolution on May 8 at home.
The following game will see Orlando host MLS Cup champion LA Galaxy on May 17, a challenge Kaka says he's willing to welcome to help the team find its identity.
"We need more confidence to win the next two games," said Kaka. "We need to focus on us, what we can do better and improve and get our identities back. The second half was hard because we conceded the goal. Sometimes we get so anxious and make so many mistakes."
The Lions have enjoyed an average of 60 percent possession of the ball throughout the season, but it hasn't been affective in the final third.
"I feel we have enough quality in the team to be better in the final third," concluded Heath. "Sometimes it's the final ball, sometimes it's the movement in the box. We haven't played well [on Sunday]. This group has proved that we can play at this level. It's disappointment after the game."