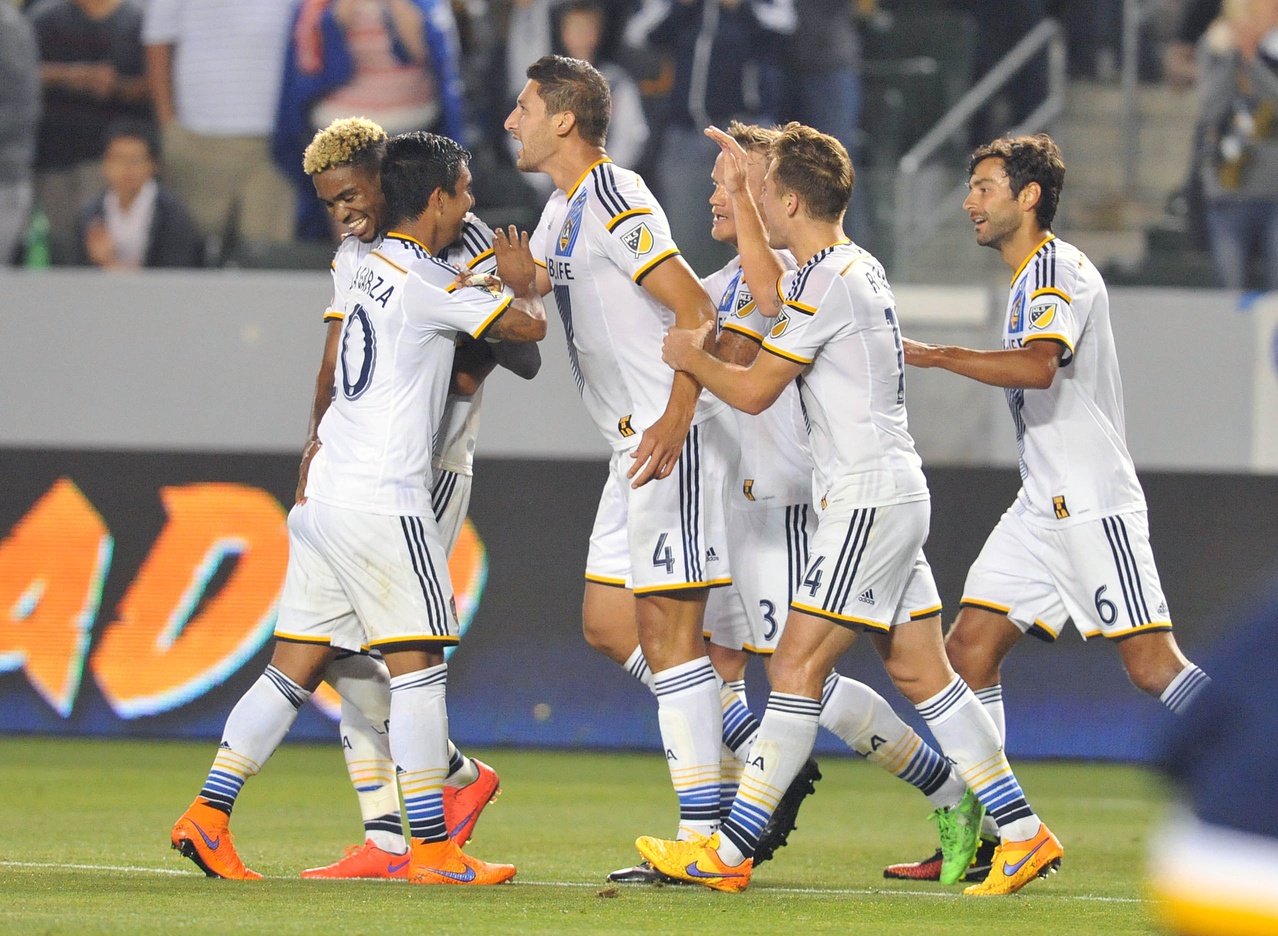 Photo by Gary A. Vasquez / USA Today Sports
By ADAM TROXTELL
Omar Gonzalez didn't start in LA Galaxy's win at home against Sporting Kansas City, but he certainly finished it.
The defender provided the game winner with virtually the last kick of the game, resulting in a dramatic 2-1 victory for the Galaxy. After putting SKC under pressure for much of the second half, it was just about deserved for the MLS Cup holders.
But the visitors had plenty to say about it. After Baggio Husidic's opener inside 10 minutes, Krisztian Nemeth brought SKC back into the game while connecting with his attacking partners in the 22nd minute.
Jaime Penedo was forced into action a few times in the Galaxy goal ahead of halftime, but it was LA that carried momentum throughout the second half. The introduction of Gyasi Zardes re-ignited the Galaxy attack, contributing to the team's six shots on target.
The Galaxy had a brighter start to the game, and it quickly turned into the first goal. Ishizaki was played in behind the SKC defense to fire a shot at goal that was saved by Marin. The deflection fell right to Husidic, who placed the ball in an open net in the ninth minute.
The visitors took it in stride, slowly causing the Galaxy defense more trouble as the half progressed. Soon, they found the perfect combination, Dom Dwyer, to Zusi, to Nemeth who took the ball past everyone and fired past Jaime Penedo for the equalizer.
Penedo had to keep SKC from taking the lead later, when de Jong advanced from his left-back position and fired a shot that the Panamanian parried away. Since the equalizer, SKC seized momentum and had the Galaxy holding on as halftime approached.
Galaxy attacks often had Bradford Jamieson as the main influence. The youngster was starting in place of USMNT call-up Gyasi Zardes, who came on in the second half to become an instant pest.
The pair combined with about 15 minutes left when Zardes zoomed down the left and pulled back a cross to Jamieson. It was nearly a goal to remember, with Jamieson back-heeling the ball between his legs on goal. Marin was there to deflect it wide with his shin.
Juninho trotted over to take a corner, one last opportunity, during the fourth and final minute of stoppage time. It appeared at first that he missed his target, only for the ball to fall to an open Omar Gonzalez who directed the ball toward goal. Bernardo Anor stuck a foot out to block the ball, but only deflected it into his own net, past the wrong-footed Marin.
With two consecutive wins, the Galaxy now head across the country for a matchup next Sunday with the New York Red Bulls.  A day earlier, SKC heads to BBVA Compass Stadium to face the Houston Dynamo.