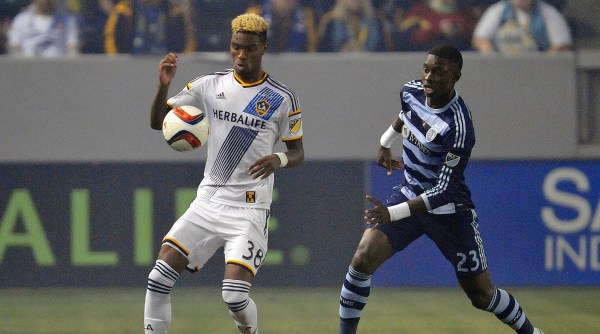 photo by Gary A. Vasquez/USA Today Sports
By FRANCO PANIZO
HANOVER, N.J. — The national spotlight has started to shift in the direction of Bradford Jamieson for what he has done with the LA Galaxy these last two weeks, but the teenage prospect with so much potential has been excelling for much longer than that.
From helping the U.S. Under-20 Men's National Team qualify for this summer's World Cup back in February to serving as one of the better starters on LA Galaxy II for a brief time before making the jump to the first team, Jamieson is off to quite the start in 2015. The 18-year-old forward has been building off each of his accomplishments, all while trying to stay grounded and make strides in his game.
Still, the success that Jamieson has enjoyed thus far is in no small part due to what he learned back in February. Playing for the U.S. U-20s during the World Cup qualifying campaign in Jamaica, Jamieson gained confidence by starting in five of the Americans' six matches and scoring a pair of goals. One of those was a clutch late winner in a narrow victory against Trinidad & Tobago in a group stage finale that would've seen the U.S. eliminated had it lost.
While Jamieson enjoyed individual success in the competition and gained confidence, it was not all smooth sailing for him. He, like many of his teammates, went through difficult stretches in unideal conditions down in Jamaica, but it hardened him for the better.
"It was a lot of growing up," Jamieson told SBI over the weekend. "(We were) playing teams that are not as good as us player by player, but know how to play as a team and know how to be gritty and things like that. As a group, we ended up adapting to that and being gritty as well."
If Jamieson's time in Jamaica gave him a foundation for which to add to – he called scoring goals "essential" to being in good form coming into the MLS season – then he wasted no time in doing so. He returned to the Galaxy after missing a chunk of their preseason due to his U.S. U-20 commitments, but was not able to immediately crack into the club's rotation.
Rather than waste time on the sidelines, Jamieson was still able to develop with the Galaxy's USL team. The 6-foot-1 forward started three matches for Galaxy II, and scored one goal before being summoned to play for the first team by head coach Bruce Arena.
Earning first-team minutes with the Galaxy could not come at a better time for Jamieson. Apart from being able to further progress by playing in competitive matches at a high level, the Los Angeles native is also strengthening his case for U-20 World Cup inclusion.
U.S. head coach Tab Ramos has a bevy of options from which to choose from, especially in the attack, and could very well go with players that are in form and playing regularly when he makes his 21-man roster announcement next month.
"We have a very strong U-20 side, so I think getting minutes with the first team is definitely something that makes Tab look at you a lot more than another guy," said Jamieson. "That you're playing well is very important to him. People that are getting minutes are not only getting minutes, but getting minutes with a good team is really important to him."
Jamieson is doing just that right now. He took all the confidence he gained in the opening months of the year and applied it to his first start with the Galaxy in a 2-1 home victory over Sporting Kansas City on April 18. He drew positive reviews from fans and media alike, which instilled him with more confidence before playing in this past weekend's 1-1 draw vs. the New York Red Bulls.
He scored an impressive opener in that game at Red Bull Arena, instinctually turning right back Chris Duvall inside out in the ninth minute before firing a low shot to the bottom corner to record his first goal for LA's first team. He also kept New York's back line on its toes, constantly testing them with his speed and willingness to go at defenders.
That outing had the Jamieson hype train ready to leave the station after the game, but Arena did his best to delay it, knowing full well how young players are commonly glamorized in the public eye despite doing very little.
"Let's wait a while. Let's not get crazy like everybody does every time a young player does something right," said Arena after the game. "It's a long haul in becoming a player. He's many years away from being where we would like him to be and where he's going to be. Let's just be patient and see what happens down the road."
Jamieson agrees. He's having fun and is happy with where he is right now, but is far from content. He wants more than just one goal and a couple of solid performances. He wants a U-20 World Cup appearance, more games with the Galaxy, and more consistency.
"I want to play, the highlights of my game, I want to be able to do that more thoroughly for 90-plus minutes," said Jamieson. "Obviously, to die out less in the end of the game. I think that's a big thing that happens to young players. At the end, sometimes offensively you lose a lot of spark as far as hitting the 80th minute goes.
"I want to be a lot more consistent throughout the match so I can be a lot more dependable when it comes to the end of the year."