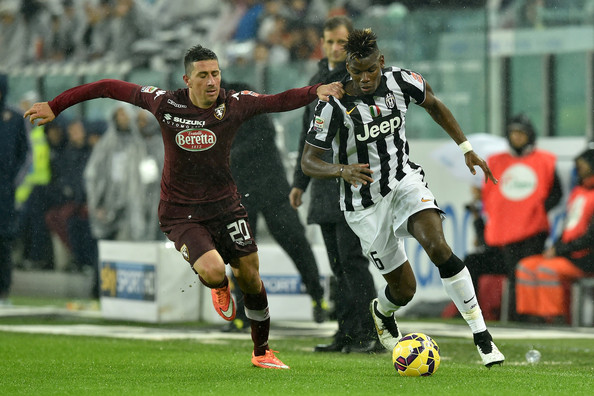 By RYAN TOLMICH
It's still unclear where Paul Pogba will be when next season begins, but it looks increasingly likely that he won't be with Juventus.
The Italian giants reportedly agreed an $89 million fee with Paris Saint-Germain for the French midfielder. While the price has been set, no contract terms have been set with the player, according to Goal.com.
Subsequently, it remains to be seen if Pogba will return to his native France. Both Chelsea and Manchester City are reportedly interested in the 22-year-old.
PSG is attempting to swoop in early for the player. The club's president, Nasser Al-Khelaifi, reportedly met with Pogba and his representatives sometime this week.
Following Juventus' 3-2 win against Fiorentina on Wednesday, sporting director Giuseppe Marotta acknowledged the meeting to reporters, but insisted the club does not want to sell Pogba.
Here are some more of Thursday afternoon's news and notes:
NO GUNDOGAN EXTENSION AT DORTMUND BEYOND 2016
Ikay Gundogan is under contract with Borussia Dortmund until June 2016, but the midfielder's time with the club will not extend any further than that date.
The club announced Thursday that Gundogan has opted not to sign an extension, signaling an end to the midfielder's stay with the team.
Gundogan returned to action this past October following a 14-moth absence due to injury. The 24-year-old has since made 28 appearances for the club, providing three goals and four assists.
News of Gundogan's impending departure comes just two weeks after manager Jurgen Klopp announced that he will be leaving the club at season's end.
MATTHAUS BLAMES GUARDIOLA FOR LOSS TO DORTMUND
As one of the game's more revered tacticians, Bayern Munich manager Pep Guardiola usually gets things right when it comes to setting his team up for success. However, German legend Lothar Matthaus believes the Spanish manager got it all wrong in the team's DFB Pokal loss to Borussia Dortmund.
Bayern was defeated, 2-0, on penalty kicks after the game finished 1-1 in regular time, sending the Bundesliga champions crashing out of the tournament's semifinal stage. Matthaus believes such a result was not inevitable, and was simply down to a string of errors from the team's manager.
"I really rate Guardiola and I think he is the perfect guy for Bayern, but he got it all wrong against Dortmund," Matthaus said. "Why did Rafinha play on the left? And why did [Philipp] Lahm not start on the right wing like against Porto? Why did [Xabi] Alonso not start as No.6? Why were [Juan] Bernat and [Medhi] Benatia played out of position? [Thomas] Muller as a false nine?
"Had all of them played in their natural position, Bayern would not only have dominated, but they would have decided the game. Why did Pep take off Thiago and Muller? They were two certainties when it comes to penalties. He apparently thought the game would not go to penalties."
SCHNEIDERLIN TO MISS REST OF SEASON
Morgan Schneiderlin has put together some impressive performance for Southampton this season, but that season has come to the end for the French midfielder.
Southampton manager Ronald Koeman announced Thursday that Schneiderlin will be out of action for the remainder of the campaign due to a knee injury. The injury is expected to take four to five weeks to heal.
"He is a key player, so it is disappointing," Koeman said. "It is the ligaments of his left knee and that is a shame because he's out for the last part of the season."
Schneiderlin has featured 30 times for Southampton this year, scoring five goals from a central midfield position.
JOHNSON EXPECTING TO DEPART LIVERPOOL
Having been a member of the club since 2009, Glen Johnson believes his time at Liverpool is coming to a close.
The fullback says that he expects to depart the club at the expiration of his contract, which concludes this summer. Johnson has started the past three games for Liverpool, but was absent from the team's lineup for the previous 15 games.
"Of course [I expect to leave at the end of the season], I have no contract," Johnson told The Liverpool Echo. "I don't think that will change but we have to wait and see.
"I have always been professional all season, always wanted to play and that's still what I'm doing. I've got four more games and then let's see what we do in the summer."
Johnson believes Liverpool are in for a major overhaul, one that will include his departure, as the club look to move past a disappointing season that will likely see a lack of Champions League qualification.
"There need to be changes," Johnson said. "It's the same every year and every team is going to try and do their business in the summer to try and make themselves stronger for the following the season. The club needs to do that, too.
"We have some fantastic young players, but we say the same every year – we always have some good young players coming through. The club has got some business to do in the summer with current players and new players, and it's just about trying to get the squad as strong as possible for the start."
Where should Pogba go next, if he does not stay with Juventus? What do you think of Matthaus' assessment of Guardiola's choices? How will Southampton fare without Schneiderlin as the season winds down? Who do you expect Liverpool to bring in during the summer transfer window?
Share your thoughts below.