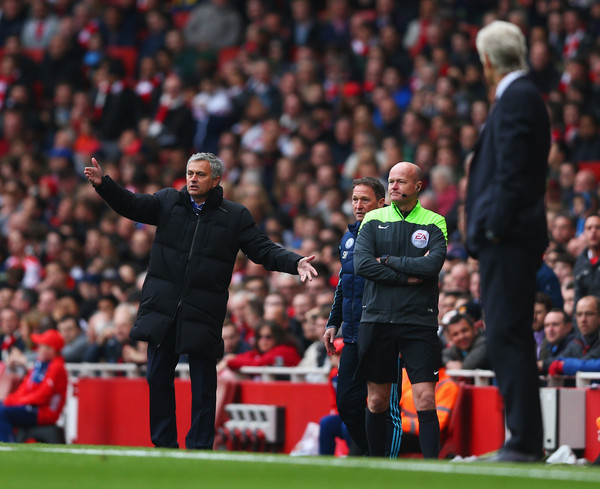 By RYAN TOLMICH
As Chelsea continued to set course for a scoreless draw with Arsenal to all but wrap up the title, chants of "boring" filled the Emirates, a fact that caused Chelsea manager Jose Mourinho to call for fans to look in the mirror.
Mourinho, who has a long standing rivalry with Arsenal manager Arsene Wenger, jibed that the chants are a result of Arsenal's own title drought, one that dates back to 2003-04, as well as Wenger's decision to remove Olivier Giroud late in the game despite Arsenal's chase.
"You know, I think boring is 10 years without a title. That's very boring," said Mourinho. "You support the club and you're waiting, waiting, waiting for so many years without a Premier League title, so that's very boring.
"But maybe they were not singing to us. Maybe, when you want to win a game and you're at home and you take your number nine [Olivier Giroud] off, maybe the home fans want more. Maybe they want to play Giroud and [Danny] Welbeck together up front to try to win the game."
Here are some more news and notes to kick off your Monday morning:
SUPER CLASICO ENDS IN DRAW
Club America has proven dominant in recent Super Clasicos, but Sunday's clash against Chivas de Guadlajara would see no victor.
Club America and Chivas played to a 1-1 draw Sunday, as Chivas maintained the club's position atop the table.
Paul Aguilar opened the scoring for America, who rested striker Oribe Peralta ahead of the CONCACAF Champions League final, in the 16th minute with a long-distance strike, one that clattered off the crossbar and down, giving America the early lead.
The lead was erased by a second-half finish from Aldo de Nigris, whose 63rd minute finish sealed a split of the points.
With the result, America sit seventh in the league, three points behind Chivas, with just two games remaining in the regular season of the Clausura.
ALLEGRI SAYS ONLY A 'MADMAN' WOULD BRING CHILDREN TO SERIE A STADIUMS
Crowd trouble has long been an issue in soccer, but recent incidents in Italy have seen Juventus manager Max Allegri call to action.
Juventus' loss to Torino was marred by crowd issues, as fans attacked the league-leaders' bus before Juve fans retaliated via fireworks. As a result Allegri has called for changes in stadium culture, one that would allow children go feel safe in the nation's arenas.
"I'm sorry [about what happened]. On the pitch we had a match that was fair, manly and compelling," said Allegri after the defeat. "This ought to be important to everyone involved in sports. Unfortunately in Italy we are still behind, and until the responsible parties start to take measures this is how it will be.
"That goes for football but also the country as a whole. We need to improve to bring people back to the stadium and kids first of all, given that only a madman would bring them along with everything that happens today."
QUICK KICKS
Liverpool's Daniel Sturridge could miss the rest of the season due to a hip injury. (REPORT)
Chelsea's Eden Hazard has been recognized as PFA Player of the Year, while Tottenham's Harry Kane has claimed PFA Young Player of the Year. (REPORT)
Defender Thomas Vermaelen has been declared fit eight months after originally joining Barcelona. (REPORT)
Steven Gerrard and Frank Lampard were honored with PFA Merit Awards. (REPORT)
—
What do you think of Mourinho's comments? Which team is the favorite to claim the Clausura title? How would you go about fixing stadium issues?
Share your thoughts below.