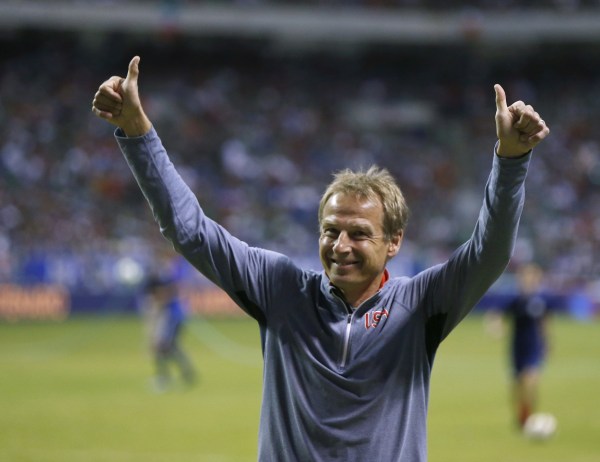 Photo by Erich Schlegel/USA Today Sports
By RYAN TOLMICH
With the summer rapidly approaching, U.S. Men's National Team head coach Jurgen Klinsmann has some choices on his hands when it comes to selecting those involved with this summer's Gold Cup roster.
Klinsmann says that process is already beginning following the most recent string of friendlies, a series of games that offered Klinsmann one of his last chances to experiment. As the USMNT approaches a summer full of meaningful contests, Klinsmann knows that he has some difficult decisions upcoming, but the German-born head coach says that the previous experimentation will lead to those choices being well-informed.
"I will start then with naming, in the weeks before the Gold Cup, a 35-man roster, which we are very comfortable to have coming together and then obviously to bring in a group of 23 players," Klinsmann said. "Also, we have the chance to switch six players after the group stage, so that makes it a lot of work for us coaches, but exciting work, because we can kind of schedule things maybe a bit differently.
"We can stagger players to a later stage if we want to or we can decide to, especially European-based players, from the beginning of the tournament right away into it. That gives us more options and after the performance for many players against Mexico, it's going to be exciting for us to calculate, hopefully, the right way."
Those calculations have been ongoing for Klinsmann ever since the U.S. returned home from Brazil and last year's World Cup.
Since that day, the Gold Cup has been seen as a major target, one that will help bridge that gap into the next World Cup through qualification for the Confederations' Cup in 2017.
In the lead up to this summer's tournament, many questions arose on just what path Klinsmann and the U.S. would take throughout the cycle, and Klinsmann believes some of the early questions have been answered, although there are plenty more left to piece together.
"Definitely we got a lot of answers to many, many little questions that we have. We coaches want to see a lot of little pieces in the game," Klinsmann said. "This game (against Mexico) gave us a lot of good stuff toward individual performances. Players are kind of knocking at the door, they're pushing, because it's going to be a very tricky situation with the Gold Cup.
"With our European-based players, they will already be done with their season at the end of May. How do we bridge them into the Gold Cup, which is in July? It's not after their season right away. At the same time we have MLS in full swing. Mexican-based players have a different schedule as well, so it was important to us to see how eager everybody is to get into that Gold Cup roster, and they're all hungry."
For Klinsmann, that hunger remains a key message, one that he hopes comes to define the upcoming cycle.
Following this period of transition, Klinsmann believes it is time to demonstrate consistency, both on the club and international level. With major tournaments occurring in every summer leading up to the 2018 World Cup, the Gold Cup is set to serve as a launching point, making the next few months vital as the team looks to continue to improve.
"The message to our players, now that we are in April with the Gold Cup in July, is pretty clear," Klinsmann said. "We had a transition phase from the World Cup in 2015, many friendly games that we tried out a lot of different stuff. We broadened our player pool. We found new players that we are really excited about, but now it goes actually to the real deal, and the real deal is winning the Gold Cup. The message to the players is to now become consistent. Prove your point, week in, week out, in your club environment.
"For the European players, finish your season on the highest note possible and you might have a shorter vacation this summer because we need you as part of that Gold Cup team as well. We are asking now, from them, to prove to us that they are spot on, that they are leaders in their club teams and stand out in their club environments and are not taking things easy and to make sure that they keep their performance going into July and then get to show it, most excitingly, in the Gold Cup itself."