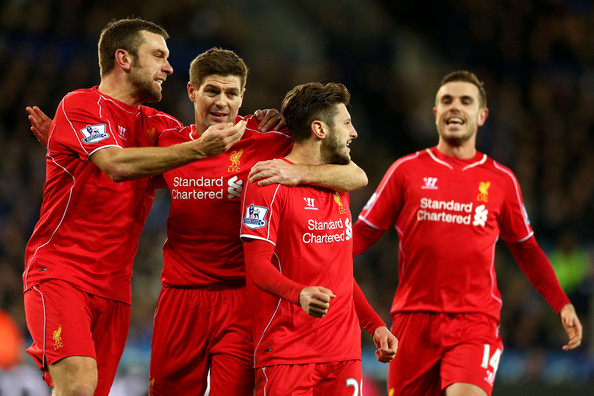 By ADAM TROXTELL
The race for fourth in the English Premier League is heating up.
Liverpool took advantage of Manchester City's loss on Sunday in a 2-0 win against Newcastle. The Reds now sit just four points behind fourth-place Man City and spend the next few weeks facing relegation-threatened teams.
After a solid start by Newcastle, Raheem Sterling got Liverpool going with a ninth minute strike. Sterling brought down a pass from Jordan Henderson on the left side of the box before moving around Ryan Taylor and curling an effort far post for the lead.
The Reds were dominant in the second half, characterized by their second goal. Joe Allen picked up the rebound on his own header before scoring near post in the 70th minute.
Newcastle may have received more from the game had the referee called in their favor on what looked like a foul in the box on Ayoze in the first half. Any chance of a comeback was hindered in the 83rd minute when Moussa Sissoko was shown a second yellow card when his studs connected with Lucas' shin.
Here are some more news and notes for your Monday evening:
VALENCIA THUMPS LEVANTE TO MAINTAIN ADVANTAGE
A more lethal touch in front of goal helped Valencia secure a 3-0 win against struggling Levante.
While both teams tallied 11 shots, Valencia put five on goal and finished with three different goal scorers. Former Man City striker Alvaro Negredo scored his third of the season in stoppage time.
Before that, Francisco Alcacer opened the scoring just 16 minutes into the game off an assist from Daniel Parejo. Sofiane Feghouli doubled the advantage in the 36th minute.
Levante attempted to respond, but was unable to send any of three shots on target past Diego Alves in goal. Valencia maintained its three-point advantage over fifth-place Sevilla, while Levante remains in the relegation zone.
CROATIAN NATIONAL TEAM COACH ATTACKED BY HOOLIGANS
Niko Kovac and a delegation of Croatian National Team officials were attacked on Monday by a group of hooligans while traveling to Split.
No one was injured in the attack, in which would-be assailants dressed in gear supporting the club Hajduk Split began verbally and physically intimidating the group. The group was visiting ahead of Croatia's Euro 2016 qualifying game against Italy in Split in a few months' time.
"We are aware that these hooligans don't represent Hajduk, the fan group Torcida or the city of Split," the Croatian Football Federation said in a statement. "We won't let this affect our organization of the Croatia – Italy game in Split."
The match is already set to be played behind closed doors as punishment by UEFA for fans' racist behavior during the match against Norway in March.
SPAHIC RELEASED BY LEVERKUSEN FOR FIGHTING
Bayer Leverkusen eliminated the contract of defender Emir Spahic over the weekend after video showed him fighting with club security guards.
The incident reportedly happened after the club's defeat to Bayern Munich in the DFB Pokal last Wednesday. Spahic was seen on video fighting with security personnel and even aiming a head-butt at one, reportedly because they would not allow some of his friends inside the dressing room area.
The Cologne public prosecutor is now involved, and Leverkusen said it was cooperating fully with the investigation. The club also said Spahic accepted responsibility and agreed to a termination of his contract.