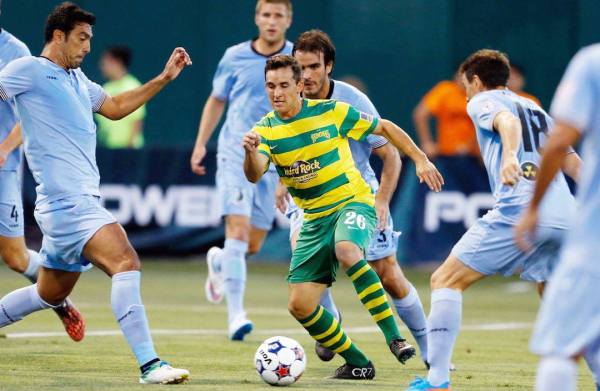 Photo by NASL/Tampa Bay Rowdies
By COLE KELLOGG
Minnesota United may have made their season debut, but the team will have to wait at least another week in search of the team's first goal of 2015.
The Rowdies played host to MLS-elect side Minnesota United Saturday night, with the sides playing to a scoreless draw in front of a sold out crowd.
Rowdies' head coach Thomas Rongen was optimistic, maintaining that his team are off to a good start and will impress this spring season.
"The crowd was rocking, the stadium was great," said Rongen post-match. "I think people will walk away saying we were a bit unlucky and worked hard."
The standout performers for the home team were forward Robert Hernandez and Corey Hertzog. Hernandez took Minnesota for a ride in the first half, but all too often the attack was broken down before the Rowdies could get a shot off.
"Minnesota, in fairness, is a very good team," said Rongen. "We kept it at zero, which was important for us. I'm pleased with the performance, but not happy with the result."
Minutes after halftime, Minnesota didn't deal with a Rowdies corner and the ball found its way to Hertzog at the edge of the box. MUFC goalkeeper Sammy Ndjock made the important reflex save after being caught off his line.
"I could have had two or three goals or made better decisions in the final third," said Hertzog on his performance. "…As a team, the most important thing is that we kept them at zero and held strong."
One minute before the end of regulation, Tampa Bay's Martin Nunez turned on the burners on the left side of the field to beat a defender and cross the ball through three more. The aerial ball found the forehead of Hertzog, but it was just wide of the net.
Minnesota found chances through 2014 Golden Boot winner Christian Ramirez, former New York Red Bull Jonny Steele, and Brazilian newcomer Ibson.
A positive attitude came from both sides post-match, with Minnesota United head coach Manny Lagos also relaxed after the draw.
"This is a positive as long as we come out and play better next week," said Lagos on his team's performance.
Minnesota United will travel north of the border to play the Ottawa Fury on Saturday, while the Rowdies will travel to New York for the Cosmos' home opener.