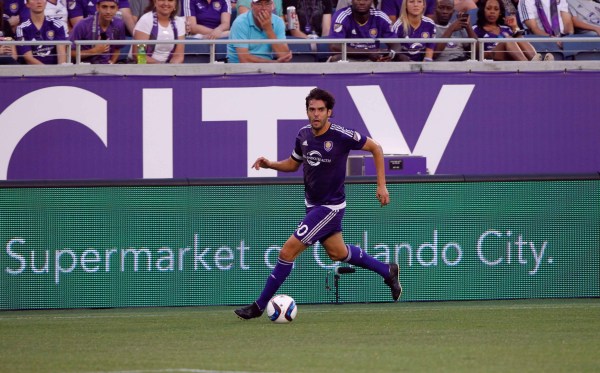 Photo by Kim Klement/USA Today Sports
By MIKE GRAMAJO
SANFORD, Fla. — Brazilian star Kaka may have turned 33-years-old on Wednesday, but the only present he wants is navigating Orlando City to the team's first victory at home when they take on Toronto FC on Sunday at the Citrus Bowl.
Orlando City will be heading into the weekend after a disappointing performance last Saturday against the Columbus Crew, which saw Adrian Heath's men lose 3-0 while playing with 10 men for a majority of the game.
For a man that's faced pressure several times in his illustrious career, the pressure of winning at the Citrus Bowl for the first time this season has not fazed Kaka despite the club losing it's last two home games in the dying minutes.
"I can say that's a good pressure," Kaka told reporters. "It's a motivation for us not a bad pressure, and I think we can play a very good game [on Sunday] and that's what we're working for. Now our mentality, the team is little bit down, but we are getting better and every game we didn't do good, the next game we played better."
The Orlando City captain so far has totaled for 622 minutes played, while scoring three goals in seven appearances. His partnership with Kevin Molino in the midfield may still take time for it to blossom into a success, but Kaka says that last Saturday's loss to the Crew served as an awakening on how competitive Major League Soccer really is.
"The best and big surprise for me is how competitive is this league," added Kaka. "Every game you never know what can happen during the game. For us, we need to be more continuous. We need to find a standard on how to play. We have to look for the game, and what we have done bad."
Despite not being able to secure their first win at home, Orlando City has established itself as a possessive-minded team in when playing at the Citrus Bowl although the scoreline has alluded to something different in previous games.
Heath's men dominated possession against New York City FC on March 8, and even saw Kaka score the late-game equalizer to salvage a point. The following home game on March 21 against the Vancouver Whitecaps once again displayed an Orlando City side that had 60 percent possession, however, Octavio Rivero's stoppage time goal denied the Lions the points.
Knowing their last home game resulted into Orlando City losing in the dying minutes against DC United and the tough road loss at Columbus last Saturday, the Orlando City captain is full of confidence that his team can bounce back from those previous setbacks.
"We cannot repeat the same mistakes," concluded Kaka. "I think it was a very good game for Columbus, but we gave them the game and three points in our mistakes. We have this chance now to win this game on Sunday at home even though we're coming off a loss in the last game. We just have to restore our confidence to have a good game."