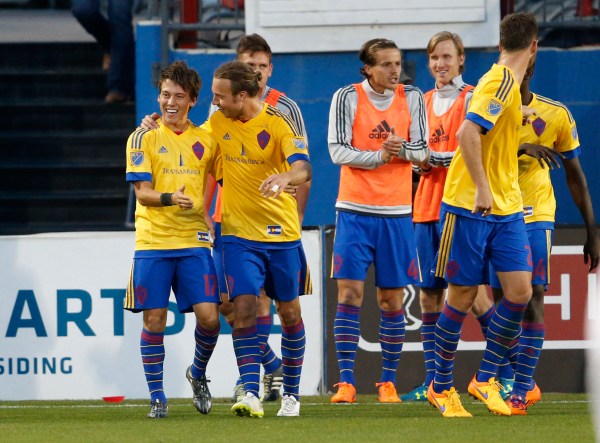 Photo by Matthew Emmons/USA Today Sports
By FRANCO PANIZO
If Week 6 in MLS taught us anything, it's that it is still too early to determine who are the league's best and worst teams.
Parity was on full display during this last round of action, as winless teams grabbed their first victories while clubs on the other side of the standings suffered surprising defeats. It was by and large an unpredictable week, one that saw just four home teams collect all three points from their respective matches.
None of this is to say that the recent batch of games was dull or uneventful. There was plenty of drama, including in concurrent matches at PPL Park and RFK Stadium, and great goals, like the bomb Dillon Serna unleashed on FC Dallas. It was a fun week, even if we're still a bit unsure as to who stands where at this point in the season.
Here is what SBI is thinking about after the sixth round of MLS action:
STRUGGLING RAPIDS GRAB MUCH-NEEDED WIN IN DOMINANT FASHION
The Colorado Rapids were without their head coach, winless in a record-tying 18 matches dating back to last season and scoreless for nearly 10 straight hours of action. The club desperately needed a lifeline, and it got one in a big way on Friday.
The Rapids gave hope to their suffering fan base and showed that this might not be another long, lost season, as they went on the road and humiliated FC Dallas, 4-0, at Toyota Stadium. Colorado asserted its dominance on the Western Conference's second-placed team from the onset. Dominique Badji got on the end of a sweet cross from Dillon Powers – who had himself a heck of a game – in the second minute, and there was no looking back from there.
The Rapids, who snapped their scoreless streak at 601 minutes with suspended head coach Pablo Mastroeni watching from a skybox, continued to school Dallas' bizarre sloppiness. Powers and Gabriel Torres also got on the scoresheet, and so did Serna with a rocket from distance that punctuated an impressive, confidence-boosting display that Colorado has to build on.
SAM PROVING TO BE A TOP MLS WINGER
It may have taken a Bill Hamid gaffe for Lloyd Sam to score a last-minute equalizer, but the New York Red Bulls veteran continues to prove that he is one of MLS's top wingers.
There are several talented wide players in MLS – like Justin Mapp and Darlington Nagbe – but Sam's consistency puts him among the league's best. Sam has been one of New York's biggest weapons since signing with the club in 2012, and he's taken his game to another level at the start of this season.
The Red Bulls midfielder is no longer just a threat to whip in crosses, he's also capable of scoring goals and providing more to the attack with his confident dribbling and ambidextrous abilities. Sam has demonstrated that in Jesse Marsch's new system, finding different ways to make an impact for a Red Bulls team that remains the only undefeated side in the Eastern Conference.
Sam did not overwhelm D.C. United this weekend – it was his weakest game of the young 2015 campaign – but his alertness and aggressiveness allowed him to pounce on Hamid's horrendous mistake to give the Red Bulls a 2-2 draw. Sam now has three goals this year, an impressive stat, but one that only tells part of the story of what the Englishman brings to the table.
CREW SC DESERVES KUDOS AFTER CHALLENGING TWO-GAME ROAD TRIP
Going away from home and picking up points is never easy in MLS, but the Columbus Crew deserve major credit for what they accomplished in a historic road trip.
Thanks to some odd MLS scheduling, the Crew went from Columbus to Vancouver to New England to play two games in four days. Gregg Berhalter's side was tested both physically and mentally, but showed toughness in grabbing results in each of its two games.
The Crew first went into BC Place, and combined solid finishing from Kei Kamara with a businesslike attitude to pick up a 2-2 draw against a Whitecaps side that poured on the pressure. They then went east to take on the surging New England Revolution and grinded out another point in a scoreless draw that was not surprisingly ugly.
Given the quick turnaround they faced and all the traveling they had to do, Berhalter and his men should be viewed as having had a successful road trip. The Crew did not win either of their two matches, but collecting two points in those circumstances is a job worth commending.
NYCFC'S ATTACK NOT CLICKING JUST YET
David Villa found the back of the net to snap a two-game scoreless streak for New York City FC, but the expansion club still is not clicking in the final third.
NYCFC suffered a late 2-1 loss to the previously cellar-dwelling Philadelphia Union on Saturday, and while there was plenty of blame to go around, the offense again failed to deliver. New York City FC had four shots on goal in the match, but failed to really test young goalkeeper John McCarthy. NYCFC could not consistently find that last bit of sharpness in the final third, aside from the one occasion when some quick combination play led to Villa's neat equalizer, and it led to their winless run extending to three games.
While there was always going to be some disjointed play over the course of the season for the expansion club, NYCFC needs to begin looking for other alternatives to improve in the attack. Adam Nemec has not brought much to the table as Villa's forward partner, and should be replaced by the more dynamic Khiry Shelton for now. Javier Calle is another player that has not produced much, and his minutes need to be reduced until he further adjusts to living and playing in New York.