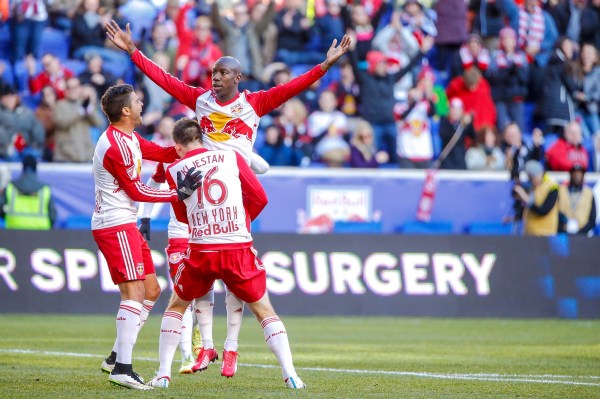 Photo by Jim O'Connor/USA Today Sports
By RYAN TOLMICH
The East Coast-West Coast rivalry may not be so prominent in soccer, but it takes centerstage this weekend in a clash between the reigning champions and the league's hottest team.
Unbeaten this season, the New York Red Bulls play host to the LA Galaxy, a team that is rounding into form despite some early season struggles. The matchup gives the Red Bulls a chance at legitimacy, as a victory over the Galaxy would certainly insert Bradley Wright-Phillips and co. into the conversation of the league's true elite.
Out west, a major rivalry is set to commence in the form of a Cascadia battle between the Seattle Sounders and Portland Timbers.
In addition, Toronto FC takes on Orlando City, the New England Revolution hosts Real Salt Lake and D.C. United travels northwest to take on the Vancouver Whitecaps.
Here's a closer look at all of this weekend's MLS action:
CHICAGO FIRE vs. NEW YORK CITY FC (Friday, 8 p.m., UniMas)
After an absence that saw the team inactive for nearly three weeks, the Chicago Fire are finally set to take the field again.
The Fire's return comes against a struggling NYCFC team, one that enters Friday night's contest extremely shorthanded. Ryan Meara will start in goal for a suspended Josh Saunders, while star striker David Villa remains questionable. The Spaniard's absence presents the biggest concern for a team that has scored more than one goal just once all season.
COLORADO RAPIDS vs. FC DALLAS (Friday, 10 p.m., UniMas)
Just two weeks after thrashing FC Dallas, 4-0, the Colorado Rapids have a chance to repeat the feat.
The Rapids came back down to earth in the week following their statement win, and the team enters severely hampered in the midfield due to the suspension of Marcelo Sarvas. FC Dallas will look to exploit the veteran's absence through the likes of Blas Perez and Fabian Castillo, the latter of whom bagged a brace in last week's rain-marred victory over Toronto FC.
COLUMBUS CREW vs. PHILADELPHIA UNION (Saturday, 7:30 p.m., MLS Live)
The Columbus Crew enter the weekend off of the team's best performance of the season and are now tasked with facing a side that has seen its share of struggles.
Kei Kamara, Federico Higuain, Justin Meram and Ethan Finlay proved undefendable last week, running rampant on Orlando City en route to a 3-0 win that could have been worse. They now get a run at a Philadelphia Union side that has been struggling with just one win so far to this season.
NEW ENGLAND REVOLUTION vs. REAL SALT LAKE (Saturday, 7:30 p.m., MLS Live)
With Jermaine Jones returning to form and a dearth of available centerbacks, Real Salt Lake are in for a challenge.
Both Jameson Olave and Chris Schuler will be unavailable this weekend due to suspension and a meniscus injury, respectively, leaving RSL lacking on the backline in this weekend's matchup with the Revs. With youngsters Elias Vasquez and Aaron Maund as likely replacements, RSL will have to face a Revs side rounding into form on the depth and potency of their attacking unit.
HOUSTON DYNAMO VS. SPORTING KC (Saturday, 8:30 p.m., MLS Live)
Saturday evening's matchup presents a clash all too familiar for the Houston Dynamo and Sporting KC.
Frequent rivals in the Eastern Conference playoffs, the two sides now do battle as members of the West as both teams look to insert themselves into the list of contenders. The Dynamo will have to account for the absence of Boniek Garcia, however, leaving Owen Coyle with the option of simply replacing the midfielder or going with a two striker system.
VANCOUVER WHITECAPS vs. D.C. UNITED (Saturday, 10:30 p.m., MLS Live)
Fabian Espindola is set to make his long-awaited return to D.C. United.
The forward has been suspended to this point and will make his first appearance Saturday, although stand-in Jairo Arrieta filled in admirably in his absence. D.C's opponent, the Whitecaps, boast a strong forward as well in Octavio Rivero, whose supply will be back to full force with the return of the previously injured Pedro Morales.
NEW YORK RED BULLS vs. LA GALAXY (Sunday, 5 p.m., ESPN 2)
The New York Red Bulls enter the weekend unbeaten, but that streak will be put to the test against the league's reigning champions.
The Galaxy enter on the heels of back-to-back victories against Sporting KC and the Seattle Sounders. Robbie Keane and Jose Villarreal's health remain questionable, though, which could ease some pressure on a Red Bulls team that could be with a less-than-fit Lloyd Sam.
ORLANDO CITY vs. TORONTO FC (Sunday, 7 p.m., Fox Sports 1)
Orlando City and Toronto FC are set to matchup in a meeting of sides that took their lumps last time out.
Orlando was routed by the Crew last week, while TFC's recent struggles were only enhanced in a loss to FC Dallas. That makes Sunday's clash all the more crucial, as both sides look for a springboard to carry their talented, yet inconsistent, squads back into the Eastern Conference picture.
SEATTLE SOUNDERS vs. PORTLAND TIMBERS (Sunday, 9:30 p.m., Fox Sports 1)
Fresh off a victory over NYCFC, the Portland Timbers travel yet again for a big-time Cascadia clash.
The Timbers remains severely handicapped on the injury front due to the losses of Diego Valeri, Wil Johnson and Rodney Wallace. Despite that, they now stand against a Sounders team that impressed last week, as Lamar Neagle and Obafemi Martins proved deadly, providing a glimpse into what is expected of the team's attack going forward.