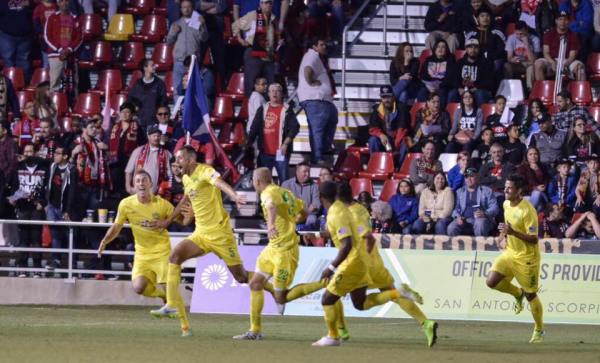 Photo by Tampa Bay Rowdies
By RYAN TOLMICH
Teams both old and new used the NASL's opening week to make major statements with their debut performances of 2015.
The Tampa Bay Rowdies used their debut to send a message, topping the reigning champion San Antonio Scorpions on their home field. It was a dominant performance from the Rowdies, whose new look lineup looks set to contend from the start.
Elsewhere, the league's newest team, the Jacksonville Armada, also proved formidable, defeating FC Edmonton, 3-1, in their first ever game. Taking just 12 seconds to get on the board, the Armada's debut was virtually flawless, ensuring a move up the rankings.
Here is a closer look at the SBI NASL Power Rankings following Week One:
SBI NASL Power Rankings (Week One)

1. (2) MINNESOTA UNITED (0-0-0)

LAST WEEK: BYE
THIS WEEK: At Tampa Bay Rowdies on Saturday
OUTLOOK: After sitting out the opening week on a bye, Minnesota United finally gets into the action in Week Two. The bye gives Manny Lagos an extra week of preparation to gel his recently-acquired veteran midfield unit to gel with the strikeforce of Miguel Ibarra and Christian Ramirez
2. (1) NEW YORK COSMOS (1-0-0)

LAST WEEK: Defeated Fort Lauderdale Strikers, 1-0, last Saturday
THIS WEEK: At Indy Eleven on Saturday
OUTLOOK: It wasn't pretty but, led by a Leo Fernandes finish, the Cosmos took care of business in their opening game against the Cosmos. However, it was not without questions, as Raul's health is certainly something to keep an eye on going forward.
3. (4) TAMPA BAY ROWDIES (1-0-0)

LAST WEEK: Defeated San Antonio Scorpions, 3-1, last Saturday
THIS WEEK: vs. Minnesota United on Saturday
OUTLOOK: The Rowdies certainly put together the NASL's most impressive performance in the opening week by swarming the Scorpions on their own field. Thomas Rongen's rebuilt side looked strong and fluid in their debut with contributions from veterans and youngsters alike.
4. (3) SAN ANTONIO SCORPIONS (0-1-0)

LAST WEEK: Lost, 3-1, to Tampa Bay Rowdies last Saturday
THIS WEEK: BYE
OUTLOOK: The opening game of their title defense couldn't have gone much worse for the Scorpions, who were completely overwhelmed by the Rowdies. It was a game that the defending champions were never really in, making this week's bye week a welcome sight to assess where it all went wrong.
5. (7) CAROLINA RAILHAWKS (1-0-0)

LAST WEEK: Defeated Ottawa Fury FC, 3-1, last Saturday
THIS WEEK: At FC Edmonton on Sunday
OUTLOOK: The RailHawks looked solid to kickoff the NASL season by knocking off the visiting Fury FC. Tiyi Shipalane led the way on the attacking end, while Hunter Gilstrap's penalty kick stop proved to be a major momentum changer en route to a season-opening win.
6. (5) FORT LAUDERDALE STRIKERS (0-1-0)

LAST WEEK: Lost, 1-0, to New York Cosmos last Saturday
OUTLOOK: In front of an impressive opening day crowd, the Strikers were dispatched by the Cosmos despite being the more aggressive side. That bodes well for the future as the team looks to work out the early-season jitters.
7. (11) JACKSONVILLE ARMADA (1-0-0)

LAST WEEK: Defeated FC Edmonton, 3-1, last Saturday
THIS WEEK: At Fort Lauderdale Strikers on Saturday
OUTLOOK: While the crowd on hand was certainly overwhelming, the most impressive aspect of the Armada's debut was the team's play on the field. In the club's first ever NASL game, the Armada dominated FC Edmonton from the start, signaling that the Armada could possibly contend from the get-go.
8. (8) INDY ELEVEN (0-0-1)

LAST WEEK: Tied Atlanta Silverbacks, 1-1, last Saturday
THIS WEEK: vs. New York Cosmos on Saturday
OUTLOOK: Indy Eleven showed some character by snatching up a late draw last week against the Silverbacks, ensuring the club wouldn't end Week One empty-handed. It was far from an impressive performance, though, and the task only gets more difficult this week against the Cosmos.
9. (10) ATLANTA SILVERBACKS (0-0-1)

LAST WEEK: Tied Indy Eleven, 1-1, last Saturday
THIS WEEK: vs. Ottawa Fury FC
OUTLOOK: Although they will surely be disappointed with a draw, head coach Gary Smith can take positives from his new-look side's debut. Dropping points is concerning, but the Silverbacks looked like a team that certainly be a handful this season.
10. (6) FC EDMONTON (0-1-0)

LAST WEEK: Lost, 3-1, to Jacksonville Armada last Saturday
THIS WEEK: vs. Carolina RailHawks on Sunday
OUTLOOK: FC Edmonton's season started off about as poorly as possible, conceding only 12 seconds into the team's 2015 campaign. Saturday's beatdown at the hands of the Armada was a rough one, and major issues lie in a defense that was opened up three times in the first half.
11. (9) OTTAWA FURY FC (0-1-0)

LAST WEEK: Lost, 3-1, to Carolina RailHawks last Saturday
THIS WEEK: At Atlanta Silverbacks on Saturday
OUTLOOK: Luck was certainly not on their side, and Fury FC was punished for what turned out to be a damning first half. After conceding a pair of first-half goals and missing a penalty kick, things only got worse for Fury FC, which saw star Julian de Guzman sent off late in the game.
—-
What do you think of this week's power rankings? Do you think any team is ranked too high? Any too low?
Share your thoughts below.