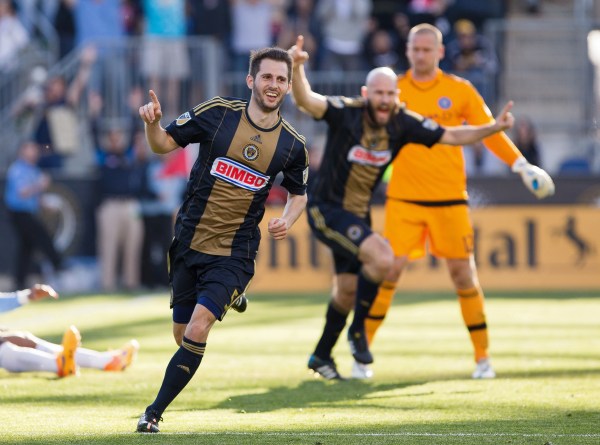 Photo by Bill Streicher/USA TODAY Sports
By AARON CRANFORD
The Philadelphia Union become the second team in two days to claim their first win of the 2015 MLS season after beating New York City FC, 2-1, in dramatic fashion.
Vincent Nogueira was the hero of the day, tucking home the game-winner in stoppage time at PPL Park. NYCFC dominated possession throughout the afternoon, but many sloppy passes, especially in the first half, led NYCFC to its second loss on the year.
David Villa tallied his second of the season, equalizing the score early on in the second half, but his effort wasn't enough for the expansion side, which now only has one win in five games.
Philadelphia native John McCarthy made his debut in goal for his hometown team, and although he couldn't keep a clean sheet, he and the Union backline didn't allow NYCFC much going forward.
Things started off slow in the first half, with both teams struggling to move forward and create chances. But Wenger's wonderful run down the left left him with plenty of room in the box, and he flashed a pass across the six-yard box, leaving Eric Ayuk and Zach Pfeffer with little to do expect put a small touch on the ball. Both players did and Ayuk celebrated with multiple backflips, but the goal was later given to Zach Pfeffer.
NYCFC answered in the 55th minute, sending the packed visitor's section at PPL Park into a frenzy. David Villa controlled the ball around a few players after receiving it from Josh Williams' blocked opportunity in the box and calmly passed it into the net from a few feet away.
Union veteran Sebastian Le Toux suffered a cut on his forearm, leading him to bleed all over his arm, hands and jersey while on the field of play, but he walked off the field to receive treatment. His replacement, C.J. Sapong, added new life to the Union attack, and the former Sporting KC forward created a few good opportunities as the game wore on.
As the clock ticked on past 90 minutes, it was Wenger, once again, who caused havoc on the left. He beat one man and whipped in a dangerous cross, forcing NYCFC goalkeeper Josh Saunders to parry it away, as Conor Casey rose for a header. The ball was not punched away to the liking of Saunders because it fell right into the feet of Nogueira, who slotted the ball through a few defenders and into the net.
With their first win of the season, the Union will try once again to take down NYCFC, as they are set to meet for the second time next Thursday.