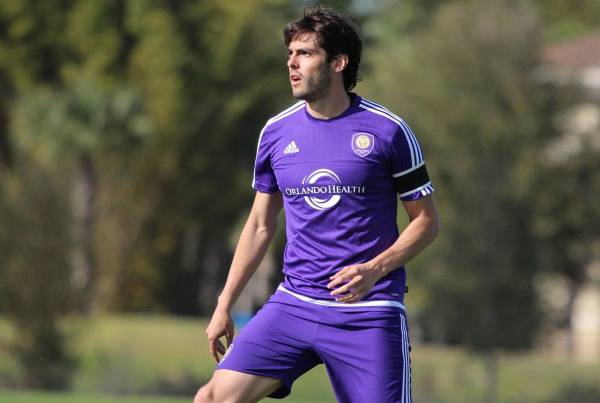 By MIKE GRAMAJO
SANFORD — Orlando City's star player Kaka picked up a calf injury earlier this week at practice, but he's not being ruled out for Friday's home against DC United according to Heath.
"He's going to be okay," said Heath. "He's just got a little slight niggle on his calf, we just don't want to aggravate it, and he's doing some work in the gym."
The Brazilian ace scored the game-tying goal for the Lions last Saturday at Montreal after assisting Pedro Ribeiro moments later. Heath also shot down suggestions about letting Brek Shea, who scored a laser free kick for the U.S. Men's National Team on Tuesday, shoot free kicks for the club pinpointing back to Kaka being the man for that job.
"[Kaka] got a bit of stick yesterday for Brek's goal," said Heath. "As we're having lunch, Ricky was in there, and he got a little bit of stick from one of the guys about who's taking the free kicks come Friday."
Here are some more Orlando City notes:
HEATH TARGETS FIRST HOME WIN
With Orlando City's first month in Major League Soccer in the rearview mirror, there's just one thing missing for a better new month.
A victory at the Citrus Bowl.
Orlando City welcome DC United on Friday, in which Adrian Heath aims to navigate his men to its first win at home after previously drawing and losing their last two stints at the Citrus Bowl.
"We can do better," Heath told reporters during Wednesday's team practice. "I think the fact that our performances have probably been slightly better than the results. The previous three games, I thought we were the better team. Obviously, the disappointment of the late goal against Vancouver was a tough one to swallow."
The Lions currently sit in fourth place in the Eastern Conference standings with five points (1-1-2), and a win at home against DC United can provisionally catapult them to first place in the conference.
Ben Olsen's men, who are coming into Friday's match after a late-game goal from Chris Pontius against the LA Galaxy, will look for its first win on the road.
RIVAS IS TRAINING, HIGUITA STILL OUT
Orlando City's injury list took a heavy hit in the club's previous matches, but a gleam of light may soon me shining after Heath hinted that Carlos Rivas (Hamstring) and Cristian Higuita (Groin) are nearing a return to the team.
"[Rivas] is training with us," added Heath. "It's probably a bit early for him to start the game on Friday, but he might be able to take some part in it. Cristian [Higuita] is probably two or three days behind, so we would think he'll be ready for Portland. We'll certainly have a lot more players available for selection for Friday."
Shea is currently on his way back to Orlando after spending the last week with the national team, and Heath said if the left-back isn't 100 percent, Luke Boden will play on Friday.
"We just have to see how [Shea] is when he arrives back," Heath continued. "Sometimes it's a day later when you start to feel one or two issues. We have an able replacement in Luke Boden, so if Brek isn't 100 percent, Luke will play."
Darwin Ceren is still on international duty with the El Salvador national team, while Estrela is still not back after spending time with Portugal U-20 national team. Tony Cascio (Sore back) and Lewis Neal (Neck) are still not training.