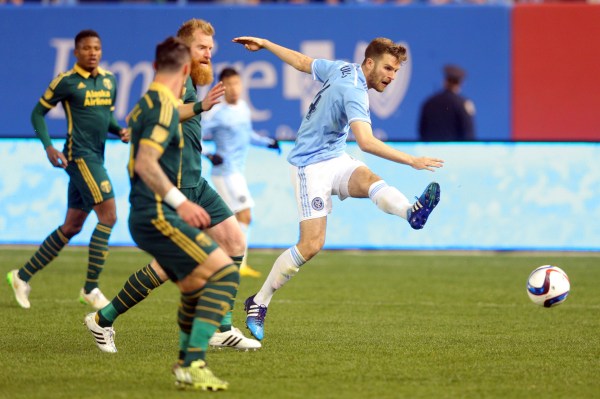 Photo by Brad Penner/USA Today Sports
BY MICHAEL PENG
NEW YORK — It's been more than a month since New York City FC last grabbed three points in a match, but the expansion club is doing its best to remain positive after its latest loss to the Portland Timbers on Sunday at Yankee Stadium.
"I'm actually very encouraged with the performances in the last two matches," NYCFC head coach Jason Kreis said after his team's 1-0 loss. "It shows me that I think we are heading in the right direction."
Kreis also said that he believes his team has the "necessary qualities" to be a competitive team in MLS, but has just been "quite unfortunate" in the last few outings.
He has a point: the loss to the Timbers became the latest NYCFC contest that was decided in the waning moments and as a result misfortunate bounces.
Portland's goal came in the 79th minute after Dairon Asprilla's shot was deflected by NYCFC defender Kwame Watson-Siriboe, bounced away from goalkeeper Josh Saunders and into the net.
This past Thursday, it was Philadelphia Union's C.J. Sapong who equalized in the 86th minute after receiving a ball off a contested header that landed right in front of him near the penalty spot.
Five days prior to that, it was the Union's Vincent Nogueira, who deposited the game-winner in the 92nd minute after Saunders' spilled a save right in front of him.
And, to trace it back even further, there was Kaka's free kick in the 91st minute that deflected off the wall and into the back of the net for the equalizer in the season-opener in Orlando.
"I think it's really important that we try to recognize that right now the results aren't going our way but the performances are," Kreis said. "I have to believe — I've been in this league long enough to know — that if the performances continue like this, that the results are right around the corner."
And if that is not enough, forward Patrick Mullins is able to offer some consolation because of his experiences with the New England Revolution last season. Before becoming the MLS Cup runners-up, the Revs suffered an eight-game losing streak that lasted nearly two months.
"I just use it as an example," said Mullins. "This isn't the first time these things have happened… We need to work on how we can figure out solutions the NYCFC way, and I think the way we will do that is to have total belief in how we are doing things and that things will start falling our way."