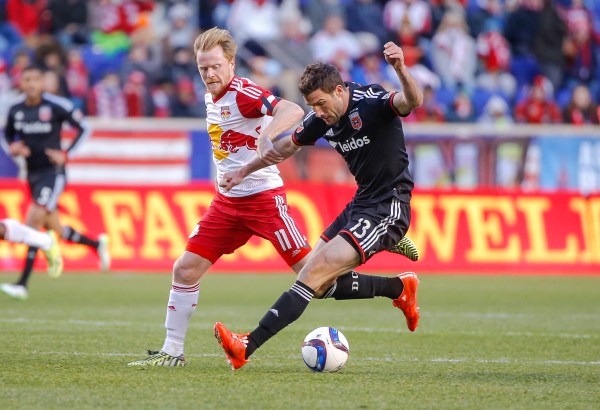 photo by Jim O'Connor/USA Today Sports
By FRANCO PANIZO
HANOVER, N.J. — Learning other teams' tendencies is part of the game, but the New York Red Bulls are unfazed about what adjustments opposing clubs will make to stop their effective high-pressure system.
The Red Bulls have scored five goals in three matches this season, and three of those have come as a direct result of the tactical wrinkle that new head coach Jesse Marsch has implemented. While that defensive strategy has proven successful so far, the Red Bulls know that teams across the league will begin to better gameplan for the high press by either being more direct, quicker with their passing, etc.
Still, New York has no intention to stray from what has worked so far. No matter what opposing clubs throw its way.
"We know that teams are going to scout us and know us a little bit more, but we feel like it's not just the goals that we've gotten from the high pressure, I think it's the grasp we've had on the game," said Marsch. "We feel like tactically if we continue to commit to that in the right way, we feel more often than not that we're going to be able to dictate the tempo. That's the goal for us."
The Red Bulls' next test comes against a team that has already seen their high-press up close and personal. D.C. United was baffled by Marsch's system and was largely overrun in a 2-0 defeat at Red Bull Arena in March.
The Eastern Conference rivals will meet again on Saturday, but this time inside of D.C.'s RFK Stadium. In years past, New York has by and large played differently and usually much more timid on the road than at home. The club, however, insists that will not be the case anymore.
"We have a mentality now, I think this year, that no matter where we are, home or away, we're going to make sure that we do the things that have made us successful," said captain Dax McCarty. "Even if they're not working, we have to adjust on the fly and make sure that the principles stay the game. Even if D.C. goes up an early goal or we go up an early goal, it's not going to change how we play.
"The coaching staff has done a good job of ingraining that in us, and making sure that we know that we're not a team that just sits off teams and lets them have possession and lets them build out of the back and get a rhythm."
D.C. United has admittedly not been playing some of its best soccer, but Ben Olsen's side has still managed to grind out results. D.C. has won each of the two games it has played since succumbing to New York, beating both the LA Galaxy and Orlando City, 1-0, via late goals to move into first place in the East.
The second-placed Red Bulls, however, are confident not only about their chances to come out on top this weekend. But also in their ability to do so by pressuring D.C. United into mistakes high up the field.
"When you saw us play against D.C. the first time they didn't have any ideas how to break us down, so they kept playing the ball back to (goalkeeper Bill) Hamid and then just kicking it up the field. I expect a little bit of the same," said midfielder Sacha Kljestan. " It's not going to be easy to break us down. I think that's a very strong point for us. A lot of our goals have come from turnovers when teams try to play out of the back, so maybe you're going to see teams trying less to play out of the back and playing more balls forward.
"We'll see how we adjust with that because D.C. is a pretty good team at winning second balls, so that's going to be important this weekend."
As much as New York wants to continue to make opposing teams uncomfortable, it knows that it still has work to do to perfect its high-pressure system. McCarty noted that there have been a few frustrating instances when the Red Bulls have been broken down too easily, and that the club is attempting to correct that.
It is all a work in progress right now for New York, but still not something it intends to shy away from regardless of how much other teams gameplan for it.
"I've said a lot that the results early on haven't mattered as much, as much as I'm focusing and we're focusing on the tempo and the pace at which the game is played," said Marsch. "We're going to go into this one again feeling the same way, and we feel that the byproduct of the way we play is results. So far it has been and (Saturday will) be another good test."