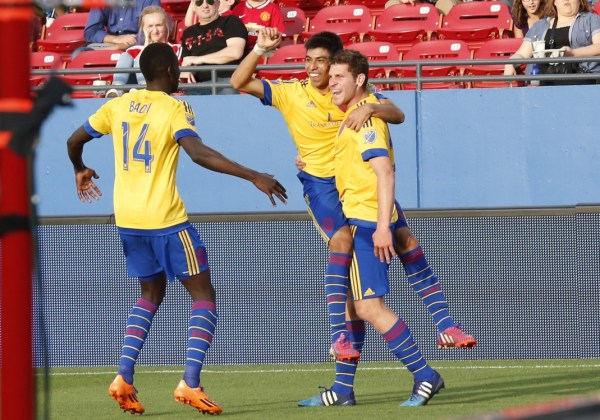 Photo by Matthew Emmons/USA Today Sports
By AARON CRANFORD
The Colorado Rapids are scoreless and winless no more.
The Rapids entered their fifth MLS game of the season having not scored a single goal and having not posted a win, but they thoroughly dominated FC Dallas, 4-0, Friday at Toyota Stadium.
Dominique Badji bagged the Rapids' coveted first goal of the season in the 2nd minute, and the Colorado side controlled the match from there, out-shooting Dallas 13 to eight and netting three more goals on the night.
Dillon Powers gave the Rapids a 2-0 advantage into halftime. Powers claimed the assist on Badji's opener after whipping in a perfect cross, and in the 43rd minute of play, he received a pass from Marcelo Sarvas, cut inside toward goal on the left flank and blasted a shot past FC Dallas goalkeeper Chris Seitz.
FC Dallas' best chance came in the 54th minute when Tesho Akindele ripped a shot toward Clint Irwin, but the Rapids goalkeeper parried the blast away.
And as the game wore on, Colorado continued to add to their tally. In the 70th minute, Juan Ramirez assisted Gabriel Torres, who coolly gave the Rapids a 3-0 lead with a right-footed finish.
Torres continued to produce, as he claimed the assist on Dillion Serna's strike from outside of the box. Serna arguably had the best shot of the night, hitting a knuckling ball toward Seitz, who had no idea how to handle it and watched it hit the back of the net past his outstretched arms.
FC Dallas started out red hot in the 2015 MLS season, but have since fizzled out, losing two consecutive matches. The Texas side will look to find that red-hot form again next Saturday against Toronto FC.
Meanwhile, the Colorado Rapids will host Seattle Sounders on the same day.