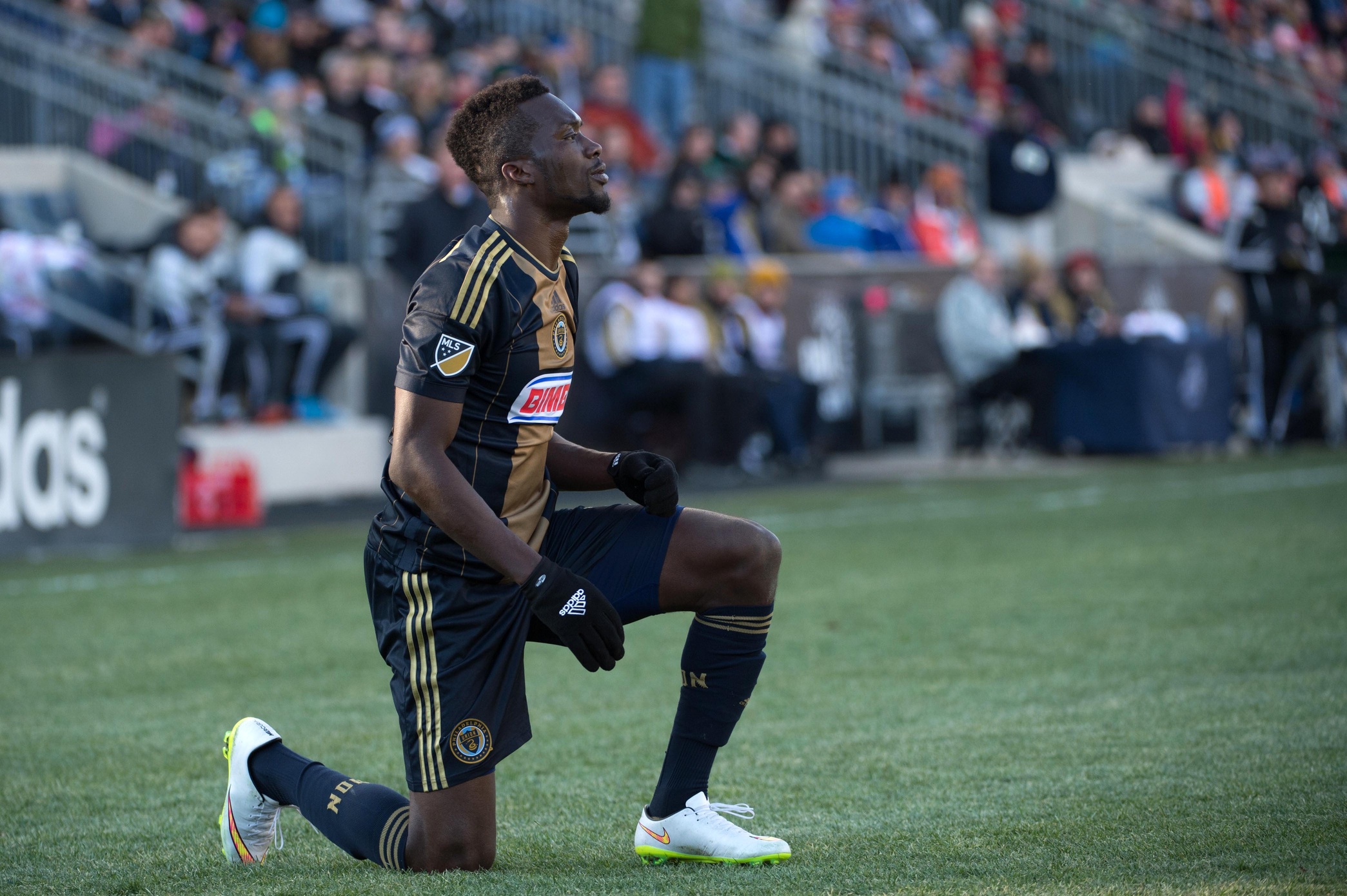 Photo by Derik Hamilton/USA TODAY Sports Images
By TATE STEINLAGE 
KANSAS CITY, Kan. — Inside the long tunnel that stretches out to the field at Sporting Park, fans sporting baby blue scarves and jerseys celebrated a come-from-behind victory. Also there was C.J. Sapong, who spent more nights in that tunnel than he could ever remember greeting fans with hugs and his signature wide smile.
Sunday night was no different. Though he his now a member of the Philadelphia Union, Sapong was greeted with smiles, shouts of "We love you, C.J.!" and the faces of longtime friends the forward will never forget.
"This field club right here, I remember just walking through and getting pure love from everybody whether I was playing amazing or not in form," Sapong told SBI. "Looking back, I really realize that these are the things that us players really need to marinate on, and you can only recognize it in hindsight."
The cheers started hours before the game when Sapong stepped off the bus and into the stadium. They continued during pregame with applause coming from both Sapong and the fans.
It all led up to the 72nd minute when Sapong was substituted into the game for teammate Eric Ayuk Mbu. As the forwarded trotted out to his position, fans stood on their feet and welcomed the player who spent four seasons with their club.
"It was a very surreal feeling, one that brought a lot of emotions all throughout the spectrum," Sapong said. "One feeling, though, I felt appreciative to come back as an opponent and still have that love and people rooting for you. I had a moment of reflection where I realized that these people like me for who I am.
"As a player, you get caught up thinking that your worth is only determined by your stats and how you do on the field. To get that assurance that people like me as a person, that was a really good feeling. I'm forever in debt to these fans. They made me the player and person that I am. I'm forever thankful."
Sapong was drafted by Sporting KC in the first round of the 2011 MLS SuperDraft. In his rookie season, Sapong tallied five goals and five assists on his way to being named the 2011 MLS Rookie of the Year. He led the team with nine goals in 2012 and played in 25 games in the club's championship season in 2013.
Sapong was traded to the Union on Dec. 8, 2014 following his fewest minutes played in a season for Sporting KC. He left the club having scored 20 goals in 112 league games, as well as earning a 2012 Lamar Hunt U.S. Open Cup medal and 2013 MLS Cup title.
"He's someone I massively look up to and still do as a player and a person," Sporting KC forward Dom Dwyer said. "He was a fantastic member of this club — you heard the fans when he came on, they still love him. I'm very happy he got to play tonight."
The biggest takeaway from his four seasons in Kansas City? Sapong says it begins and ends with the fans who made him the "player and person" he is today.
"I learned that what this city puts behind this team is ultimately what makes everything happen," Sapong said. "Players, we sometimes get caught up in our own egos and maybe even insecurities sometimes. We don't realize how much these people put in to making sure we're in the best position to win, or making sure we feel good about ourselves. That's the biggest thing, the love and support from the fans."