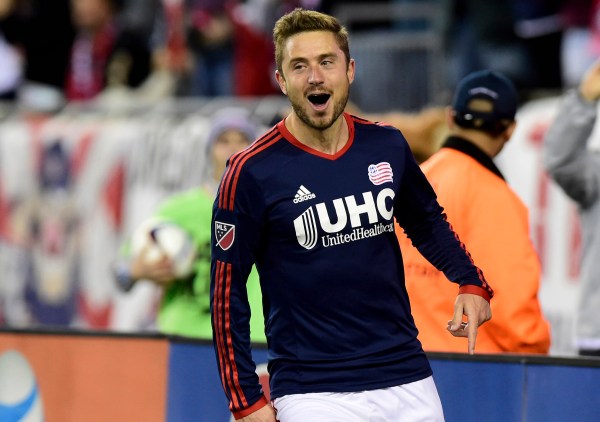 Photo by Bob DeChiara/USA Today Sports
By CARL SETTERLUND
FOXBOROUGH, Mass. — The New England Revolution hadn't beaten Real Salt Lake since 2009, but the Revs weren't at all intimidated Saturday at Gillette Stadium.
The Revolution scored multiple goals for the third time in four games and upped their unbeaten streak to six games, as they dominated RSL, 4-0, in front of 17,942 at Gillette Stadium.
"They've had our number," Revs coach Jay Heaps said. "The last time we beat them I was on the field, so that's not a good thing. The guys came out and there was a little extra energy and a little extra effort to make sure we got control of the game."
Chris Tierney, Juan Agudelo, Charlie Davies and Scott Caldwell all scored as the Revs sent in 25 shots, including 13 on target, taking advantage of an RSL back line missing Chris Schuler and Jamison Olave.
"They've stuck it to us a couple times," said longtime Revs left back Chris Tierney. "I remember my rookie year or maybe my second year, we lost 6-0 at their place, so it felt good to turn that around on them, but we're looking forward. We played really well tonight and it didn't really matter the opponent."
The Revs (4-2-2) had gone 0-6-1 in their previous seven matches against RSL (2-2-3), but they erased those memories on Saturday. Real Salt Lake has now lost its last two matches.
"The sky is the limit with this team," Davies said. "You saw tonight everyone had smiles on their faces. We're all enjoying playing with each other and we're enjoying playing well. It's still early in the season, I think we still haven't obviously hit our peak performance yet."
The game remained scoreless through a half hour, but picked up quickly after that, starting with Tierney's opener in the 39th minute. Agudelo chipped the ball over to Tierney for the assist, and the Revs longtime left back had an impressive finish. The lefty Tierney, cut the ball back inside to sent a curler past RSL goalie Jeff Attinella (9 saves) at the far post.
"He's so good with that left foot that people have to respect it and over-commit and when he takes advantage that's going to give him a little space as well," Heaps said.
Agudelo got a goal of his own four minutes later when he was rewarded for crashing the weak side on a Charlie Davies shot. Attinella parried away Davies attempt, but Agudelo was there to make it 2-0.
The Revolution expanded their lead five minutes out of halftime. Tierney played a short corner and then Caldwell sent it in. Davies got on the other end, redirecting a header in to make it 3-0.
Caldwell broke through for his first MLS goal in the 84th minute after the ball bounced around in front of goal. Kelyn Rowe played it out to Caldwell, who ran onto a left-footed shot to complete the scoring.
The Revs also completed a pretty impressive month of April defensively, as goalkeeper Bobby Shuttleworth (3 saves) picked up his third shutout in the last four matches.
"When we're playing in and around their 18-yard box, we're not going to concede many goals." Tierney said. "We're really happy with the way we played."
Jermaine Jones and London Woodberry started and went 90 minutes on the back line for a second straight week as the hosts went without Jose Goncalves and Darrius Barnes.
RSL was also depleted, notably missing goalie Nick Rimando, playmaker Javier Morales, and youngsters Jordan Allen and Sebastian Saucedo.
"We're not going to use that as an excuse at all," said RSL coach Jeff Cassar. "We always say we have a deep team and tonight wasn't our night. We got beat in every aspect: coaching, performance on the field. We got to take this one on the chin and prepare for San Jose."