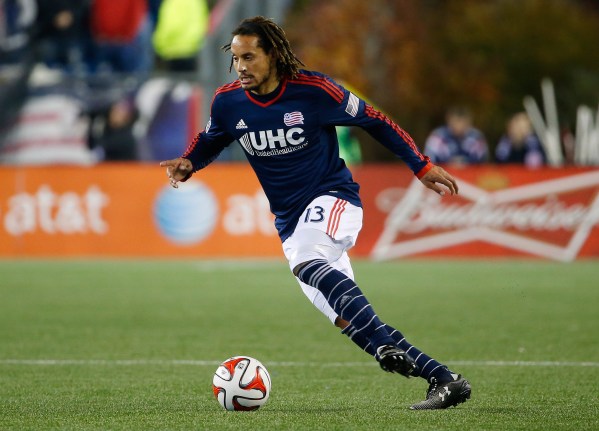 Photo by Winslow Townson/USA Today Sports
By CARL SETTERLUND
FOXBOROUGH, Mass. — Although it might not have shown in the final result, the New England Revolution are getting closer and closer to full strength.
On Saturday afternoon, in a 0-0 tie against Columbus Crew SC, the Revolution welcomed back three starters from last year's MLS Cup finalist squad as Jermaine Jones (sports hernia) made his season debut, and Teal Bunbury and Kevin Alston returned from early-season injuries.
The Revs' Designated Player returned to the field for the first time since he underwent surgery in early February following the U.S. Men's National Team's win over Panama.
Jones resumed training with the team over a week ago.
"I know that I can play better. But, it was the first game after (two) months," Jones said. "We have a good week now to train and then I hope that I can make the next step against Philadelphia."
Jones only played 45 minutes, but had an eventful game before coming off for Andy Dorman.
"Jermaine, he's a workhorse," goalkeeper Bobby Shuttleworth said. "Obviously, he's unreal on the ball and organizes the group really well. So it's a big plus for us to get Jermaine back. He's a big player for us and hopefully he can continue and just get stronger."
Jones picked up a 12th-minute yellow card for a retaliatory take down of his Columbus counterpart, midfielder Tony Tchani — "That happen when you talk too much," Jones said afterward — and he later had a chance in the box off of a Lee Nguyen corner.
"It was predetermined," Revs coach Jay Heaps said of subbing out the 33-year-old Jones at the intermission. "The idea was to get him a full warmup and get him through a normal warmup with our guys rather than bringing him in with only the 15 minutes at halftime to warm up. We thought long and hard about it and worked with our medical staff.
"(We) thought that was the best way to get him in 45 and I think he did good. I thought he came through alright and now it's about progressing him for more minutes."
Bunbury injured his shoulder in the Revs' season opener against Seattle, while Alston hobbled off against New York City FC in Week 2. Both had already seen action as substitutes the previous weekend on the road against Colorado.
"I thought Kevin was sharp defensively," Heaps said. "(He) really read the game and was connected. I thought he was key to the back line. Now we want him to get comfortable going forward and get more into the attack. You could see us on the side, we were motioning him to get more in the attack. When he does he's so fast you can't defend him."
Bunbury and Alston both went 90 minutes on Saturday, signaling their return to full health.
Left back Chris Tierney and Daigo Kobayashi both missed the Crew game, but the Revolution otherwise were able to field their preferred starting lineup and bench.
Saturday's match was marred by swirling gusts of wind that made it hard for either team to create offensive chances, but the Revs successfully integrated three regular starters back into the lineup and extended their home unbeaten streak to 13 games.
Despite an underwhelming scoreless draw on Saturday, the Revs are positioned well, having gone 2-0-2 in their last four games. And it looks like their best health is still yet to come.
—
How good are the Revs at full strength? How much of a difference will Jones' return make? Which player was more important to get back, Bunbury or Alston?
Share your thoughts below.