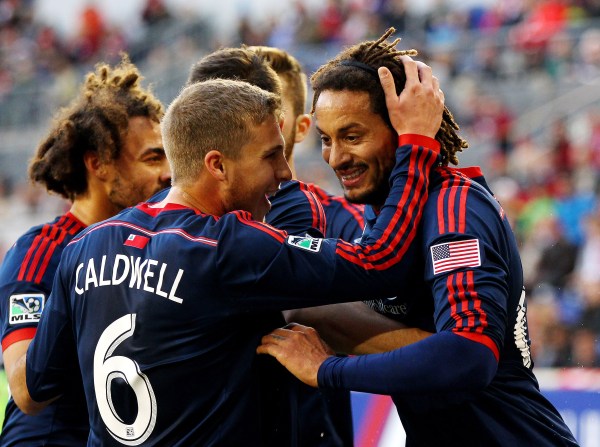 Photo by Andy Marlin/USA Today Sports
By CARL SETTERLUND
FOXBOROUGH, Mass. — When New England Revolution midfielder Jermaine Jones proclaimed club teammate Scott Caldwell as his U.S. Men's National Team successor earlier in April, most people probably brushed it off as a mix of hyperbole and fondness for an unheralded member of the team.
Jones might not have been wildly off the mark, though, as the Revs' unsung defensive midfielder has continued his stellar form from the 2014 MLS Cup playoffs into the 2015 season.
On Sunday against Real Salt Lake, the player behind the scenes got a little closer to the action as Caldwell picked up an assist and, more notably, his first MLS goal in a 4-0 rout at Gillette Stadium.
"It's definitely not the first thing on my mind each game," said Caldwell, who is better known as the player who does the dirty work to free up Lee Nguyen, and often Jermaine Jones, in front of him.
"It was a good feeling definitely to get that monkey of my back, but it was more important just to get the three points, and it was a great team performance the whole night," Caldwell said.
With Jones filling in at center back for a second straight game, the 5-foot-8 Massachusetts native ventured forward a little more often than usual on Saturday.
In the 50th minute, Caldwell picked up his first assist of 2015, serving in the ball from the right side off a short corner by Chris Tierney. Usually one to play it on the ground, Caldwell spun it in to Charlie Davies for a header that made it 3-0 at the time.
"Scotty played an amazing cross in," Davies said. "I just rose up to it to finish it."
Before the end, Caldwell also added a goal, reluctantly coming forward after RSL keeper Jeff Attinella made several stops on the goal line. Kelyn Rowe played the ball out and Caldwell ran onto it at the edge of the box for a clinical lefty finish on his off foot.
"It's been such a long time coming. Scott is such an underrated player," said teammate Chris Tierney, who also scored on Saturday. "He does so much for the team. He's really stepped into a role on this team where a lot of guys look to him and really respect him.
"He brings it every day, he's phenomenal in training, he's even better in games. We're really lucky to have him and it's great to see him get on the scoresheet. Long overdue."
It's easy to forget that the IMG Academy graduate and former U.S. youth international was a more forward-minded player in college, racking up 20 goals and 22 assists during a four-year career at the University of Akron — including the game-winner in the 2010 College Cup final.
"I was real excited about Scotty tonight," Revs coach Jay Heaps said. "He puts in such a great effort every training session, every day and every game. So when he gets out there and he does all the hard work, he's just one of those people you want to have on the field and do well — and when he does and scores a goal like that, that was special."
Despite playing the best offensive game to date in his three-year MLS career, the 24-year-old Caldwell was just as excited to glory in the details of controlling the midfield play.
"When (RSL) came out in the diamond we knew we had to switch up a few things and I thought Dorms (Andy Dorman) did a great job with me. We kind of shared the load moving side to side and also one of us moving up in the attack to help out and one of us shielding the back line.
"We were able to switch the field to get good crosses in and just get it to our attacking four or five guys and just let them run the show up there."
The player Jones described as a "pit bull" during last year's postseason has maintained his spot in a Revolution lineup that frequently pushes fellow promising midfielders such as Rowe, Diego Fagundez and Steve Neumann to the bench.
With an outsized personality like Jones as the face of the franchise and an embarrassment of riches in attack, it's easy to forget that Caldwell is the only Revolution midfielder or forward on the field for every minute of their current six-game unbeaten streak (4-0-2).
—
So, just how good is Scott Caldwell? Should he remain a fixture in the starting lineup even when Jones returns to midfield? What role has he played in the Revs' recent success?
Share your thoughts below.