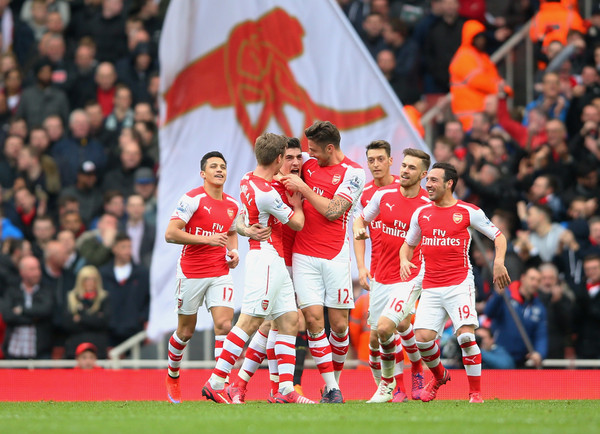 By RYAN TOLMICH
In a battle of Premier League contenders, it was Arsenal who emerged victorious at the Emirates.
Led by an eight-minute blitz that saw the Gunners score three goals toward the end of the first half, Arsenal routed Liverpool, 4-1, to move into second place for the time being.
The Bundesliga also featured a battle of perennial powers, but the struggles of Borussia Dortmund continued in a 1-0 loss to league leading Bayern Munich.
Elsewhere, Atletico Madrid topped Cordoba, Roma slipped past Napoli and Lyon reclaimed the top spot in Ligue 1 with a victory over Guingamp.
Here's a closer look at all of Saturday's European action:
ENGLAND
An eight-minute span of three Arsenal goals proved to be more than enough to hold down Liverpool.
Kickstarted by Hector Bellerin in the 37th minute, finishes from Mesut Ozil and Alexis Sanchez ensured a massive lead for the hosts heading into the second half. Jordan Henderson and Olivier Giroud exchanged converted penalty kicks in the second half, but the damage had been done as Arsenal climbs to second in the league.
Manchester United joined Arsenal in the climb up the table, as the Red Devils surged past Aston Villa, 3-1, behind a brace from Ander Herrera. Joining the Spaniard on the scoresheet was Wayne Rooney, whose volley finish helped propel Man United up to third in the table.
With the pressure increasing slightly beneath them, league leaders Chelsea responded with at 2-1 win against Stoke. Eden Hazard's penalty kick late in the first half was canceled out by a 65-yard wonder goal from Charlie Adam. Hazard later pounced on a Stoke mistake before laying the ball off to Loic Remy for the winner in the 62nd minute.
Here's a closer look at Saturday's Premier League action:
Arsenal 4 – 1 Liverpool
Everton 1 – 0 Southampton
Leicester City 2 – 1 West Ham
Manchester United 3 – 1 Aston Villa
Swansea City 3 – 1 Hull City
West Brom 1 – 4 QPR
Chelsea 2 – 1 Stoke City
SPAIN
Trailing Valencia by one point entering the weekend's action, Atletico Madrid took care of business Saturday with a victory at Cordoba.
Atleti got off to a quick start via Antoine Griezmann's fifth minute finish, as the reigning La Liga champions topped Cordoba, 2-0. The Frenchman was joined on the scoresheet by Saul Niguez, who provided the insurance goal in the 39th minute.
Elsewhere, Sevilla emerged victorious over Athletic Bilbao by a 2-0 scoreline behind first-half goals from Aleix Vidal and Carlos Bacca.
GERMANY
Bayern Munich star Robert Lewandowski provided exactly the spark his new side needed to top his former club.
The Polish striker provided the lone finish as Bayern slipped past Borussia Dortmund, 1-0, Saturday. With the loss, Borussia Dortmund remain in 10th place while Bayern maintained a 10-point lead over second-place Wolfsburg.
For their part, Wolfsburg was victorious in a 3-1 win over Stuttgart behind a brace from Ricardo Rodriguez and a finish from Andre Schurrle. Elsewhere, Borussia Monchengladbach picked up a 4-1 victory over Hoffenheim while Bayer Leverkusen topped Hamburg, 4-0.
Here's a closer look at Saturday's Bundesliga action:
Bayer Leverkusen 4 – 0 Hamburg
Frankfurt 2 – 2 Hannover
Freiburg 1 – 0 Cologne
Hoffenhem 1 – 4 Monchengladbach
Wolfsburg 3 – 1 Stuttgart
Werder Bremen 0 – 0 Mainz
Borussia Dortmund 1 – 0 Bayern Munich
ITALY
With second place as the club's main aim, Roma strengthened its case in a 1-0 victory over Napoli.
Miralem Pjanic's 15th minute goal proved to be all that Roma would need. The club maintains a one point advantage over city-rivals Lazio, who claimed a 3-1 victory over Cagliari.
Fellow European-spot contenders Fiorentina snagged a 2-0 victory over Sampdoria, while AC Milan picked up the club's first road win since October with a 2-1 victory at Palermo.
Here's a closer look at Saturday's Serie A action:
Roma 1 – 0 Napoli
Atalanta 1 – 2 Torino
Cagliari 1 – Lazio 3
Genoa 1 – 1 Udinese
Hellas Verona 3 – 3 Cesena
Inter Milan 1 – 1 Parma
Palermo 1 – 2 AC Milan
Sassuolo 1 – 0 Chievo Verona
Fiorentina 2 – 0 Sampdoria
FRANCE
Lyon's push to the top of the Ligue 1 table received a boost with Saturday's results.
Goals from Nabil Fekir, Alexandre Lacazette and Clinton Mua Njie provided the goals, as Lyon topped Guingamp, 3-1, on the road.
With the victory, Lyon holds a two-point advantage over Paris Saint-Germain, who travels to fellow title-contenders Marseille on Sunday.