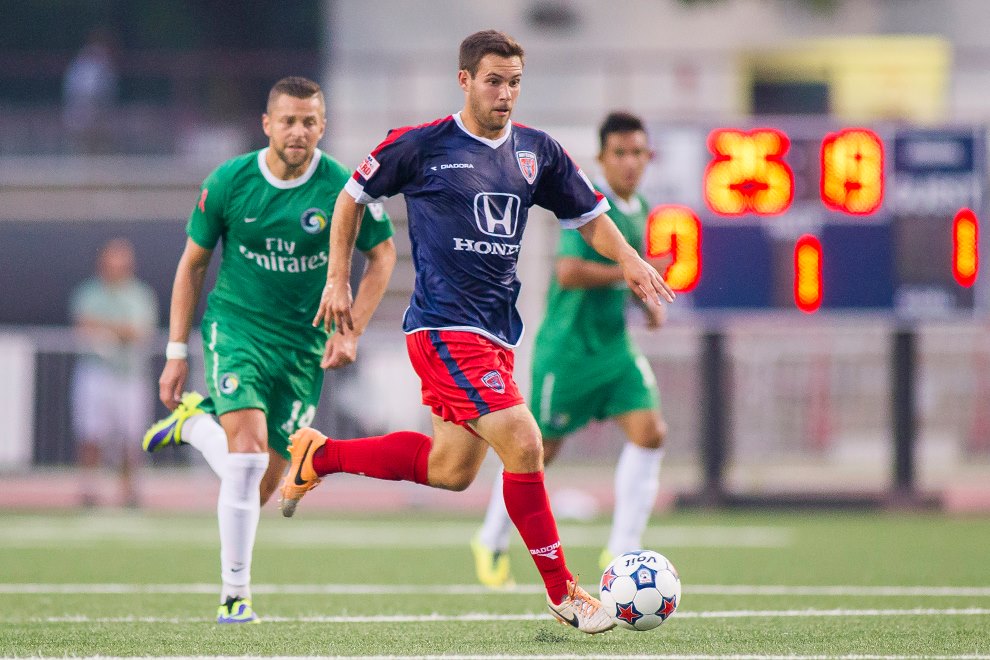 By DAN KARELL
For the first half of the 2014 North American Soccer League season, Indy Eleven was less an expansion team than a club trying to find its way.
Operating on a small budget and with staffers building the club up from scratch, the Eleven triumphantly started its professional era with a 1-1 draw in front of a sold-out crowd at Michael Carroll Stadium on the campus of IUPUI in Indianapolis. Alas, it was one of the few bright spots on the field, as the Eleven failed to win a match in the spring, even with former Brazil National Team midfielder Kleberson on the field.
Although there wasn't much success on the field in the Spring Season, Indy Eleven managed to continue their stellar off-the-field success, engaging with fans like few other teams in the league do, connecting with millenials in the city starving for a soccer team to call their own, and seeing sellout after sellout.
Following the mid-season break, Indy Eleven began to upgrade their roster with a series of shrewd loan deals and international signings, thanks to the extensive contact network of head coach Jurgen Sommer.
The additions of Victor Pineda and Marco Franco on loan from the Chicago Fire, Charlie Rugg on from the LA Galaxy, and the free agent signings of Jamaican Jermaine Johnson and Brazilian Jhulliam helped propel Indy Eleven into the win column, picking up six wins in the fall season to pick themselves up out of the basement.
Although the expansion club didn't make the playoffs, Indy Eleven ended the 2014 Fall Season on a five-match unbeaten run, taking that momentum into year two of the great experiment of soccer in Indianapolis.
Here is a closer look at Indy Eleven in 2015:
INDY ELEVEN SEASON PREVIEW
2014 FINISH: Overall – 6-9-12, 27 points (9th in combined standings); Spring Season – 0-4-5, 4 points (10th in Spring Season); Fall Season – 6-5-7, 23 points (7th in Fall Season)
KEY ACQUISITIONS: D Greg Janicki (signed), F Brian Brown (signed), M Victor Pineda (signed following loan), D Marco Franco (signed following loan), F Charlie Rugg (signed following loan)
KEY LOSSES: M Blake Smith, F Ben Spencer, F Mike Ambersley, M A.J. Corrado
NEWCOMER TO WATCH: Greg Janicki: The Indy Eleven defense last season was about as jumbled as a Picasso painting, with many players failing to come together to form a cohesive unit. Enter Greg Janicki, a seasoned veteran who starred for the San Antonio Scorpions over the past three seasons and had stints with the Vancouver Whitecaps and D.C. United. Janicki will be counted on to keep together and take charge of a back-line that conceded 46 goals in 27 games last season.
PRESSURE IS ON: Victor Pineda – Since being signed at the age of 17 by the Chicago Fire, and becoming the team's first Homegrown Player, pressure has been heaped on the technically-gifted midfielder. Despite being a regular with U.S. youth national teams, Pineda never got much of a first team look until a half-season loan stint with Indy Eleven. Towards the end of the stint, Pineda began to show his creative and playmaking abilities. Now with Pineda re-signed on a permanent basis, it's time for Pineda to live up to the expectations and begin producing in the first team, potentially earning a move back up to MLS or abroad.
OUTLOOK
For Indy Eleven head coach Jurgen Sommer, this offseason was completely unlike the one he and his coaching staff navigated through 12 months ago.
Starting an expansion club is never easy, but making life more difficult was the club's lack of experience in the NASL, from president Peter Wilt, considered the architect of the late 1990's success with the Chicago Fire, down to Sommer, in his first head coaching role, and the players, many of whom last year were just a year or less removed from playing college soccer.
Everything from getting to know all the players on Indy Eleven, to logistics at away venues, to learning about opposing teams and players, to becoming familiar with the referees was a new experience.
Now in 2015, Sommer feels the club is better prepared for the upcoming campaign.
"You've got to look at the club as a whole, we've got a year of experience under our belt," Sommer told SBI. "Everything that we touched last year was new, and we had to allocate a lot of time resources towards it."
Another positive for Sommer and Indy Eleven is that for the first time, they have a returning roster of core players, and were able to add to that this offseason.
The club shed 11 players in the winter but also added eight fresh faces to the side, including veteran defender Greg Janicki and former Philadelphia Union forward Brian Brown to take the roster to 21 players.
Janicki is expected to shore up a defense that conceded 46 goals a year ago, likely playing alongside former Chivas USA defender Jaime Frias, Honduran Erick Norales, and wing back Kyle Hyland.
In addition, the club signed midfielder Victor Pineda permanently from the Fire and and returned on loan LA Galaxy forward Charlie Rugg. Those signings add to the already promising spine of the team, one that includes German goalkeeper Kristian Nicht, Janicki, Brazilian midfielder Kleberson, Brad Ring, Dylan Mares, and Bradley University prospect Wojciech Wojcik.
Sommer praised many of the aforementioned players for their performances so far through the team's preseason schedule.
"I would say Dylan Mares has come in very focused and fit, and is probably one of the sharpest guys to come back in on day one in preseason," Sommer said of who's stood out in training. "Greg Janicki has come in very fit and very prepared. Wojciech has also surprised us as a young pro here, Wojciech has looked very good. He's strong, athletic, and he's really committed to a level of fitness and his ability to stay healthy through all of preseason.
"Victor Pineda has come in very sharp, his fitness levels are high. Last year he set the bar really high for himself and was very committed to his work rate in the group and you can see he's brought that again to the table."
One of the bigger challenges this season for Sommer, in addition to fixing the defensive struggles, is making sure that Kleberson spends more time on the field than on the training table.
Sommer revealed that Kleberson has picked up a couple of minor injuries in preseason and the club is doing their best to manage his minutes on the field so that he's available for opening day, or at least the majority of the season.
When on the field, Kleberson provided Indy Eleven a boost, scoring eight goals, five of them coming as penalty kicks.
"He sees the game and he's able to execute plays that other guys just don't see," Sommer said of Kleberson. "He kind of gives us the unexpected sometimes and has the ability to pull it off."
With his new look squad and last year's learning experience behind them, Sommer says that it's "easy to see" Indy Eleven reaching greater heights in 2015. Indy Eleven kicks off their campaign on Saturday at the Atlanta Silverbacks.
"Looking around the room now, the team is stronger than the way we finished last season," Sommer said. "A lot of great progress has been made in that respect.
"We're excited to get going this weekend in Atlanta because we know we're considerably further ahead from where we were last year. I know the team is going to perform well in the spring season.