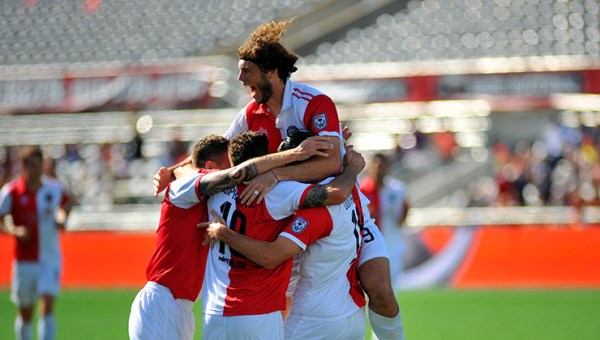 Photo by Dean Joncas/Ottawa Fury FC
By AARON CRANFORD
All Ottawa Fury FC eyes, especially those of head coach Marc Dos Santos, are fixated upon the top four spots of the NASL table as his side anticipates the arrival of the team's second season.
Dos Santos insists his side's focus is squarely on the opponent at hand, starting Saturday with the Carolina Railhawks, as the head coach believes that each match should be treated as a final en route to picking up points. However, it's hard to hide the team's ambitions of making it to the postseason.
With that goal in mind, Fury FC added two former Toronto FC players over the offseason, signing the likes of Andrew Wiedeman and Julian de Guzman, but Dos Santos said he believes the individual player should not be the focus, especially with a long and demanding NASL season.
"First of all, I'm not a fan of these two seasons," Dos Santos told SBI, "but we have to go with it, and we just focus on, we know that if you finish both seasons in the top four, you have a great chance of making the postseason.
"So, our focus is really, and our ambition is to make as much points as we can, to always stay close to being in that top-four position. That's our goal; that's our objective. We always want to be very close to that top-four group, and that's how we are going to approach every game. We're going to approach the Spring and the Fall season to be up there with the top four."
Here is a closer look at the 2015 Ottawa Fury:
FC EDMONTON SEASON PREVIEW
2014 FINISH: Overall – 7-6-14, 27 points (8th in Combined Standings); Spring Season – 3-1-5, 10 points (6th in Spring Season); Fall Season – 4-5-9, 17 points (9th in Fall Season)
HEAD COACH: Marc Dos Santos, second season
KEY RETURNING PLAYERS: F Oliver Minatel, F Karl Hayworth
KEY ACQUISITIONS: M Julian de Guzman (signed), M Brandon Poltronieri (signed), M Patryk Misik (signed), D Colin Falvey, F Andrew Wiedeman (signed), D Rafael Alves (signed), M Phil Davies (signed), D Mike Randolph (signed), F Paulo Junior (signed)
KEY LOSSES: Vini Dantas (declined option), Ramon Soria (declined option), Kenny Caceros (declined option), Pierre-Rudolph Mayard (declined option)
NEWCOMER TO WATCH: Julian de Guzman. Before joining Fury FC, the Canadian international played for eight different teams and competed internationally more than 70 times, so he will bring maturity to this two-year-old club. The midfielder will most likely play a deeper position in the midfield, and Dos Santos said he will be crucial for Fury FC if they are to do well this season.
PRESSURE IS ON: The Fury FC forwards. Ottawa could only muster 34 goals last year, tied for 8th out of 10 NASL sides. Forward Oliver Minatel netted seven on the year, but in order to compete for a playoff spot, more goals need to be scored. Dos Santos and Fury FC added former Toronto FC forward Andrew Wiedeman and former Real Salt Lake forward Paulo Junior in the offseason, and they will be expected to contribute if Fury FC want to fight for a better position on the Combined Standings table by year's end.
OUTLOOK
Ottawa Fury FC's first season did not start off with a bang, but Dos Santos knows his side can turn things around in 2015.
"We want to do better," Dos Santos said. "There's no doubt that we want to do better than last year, and we want to make sure that we give ourselves a very good chance of being in the top four at the end of the season.
"We know the road is very long and difficult. I think that in the offseason, we tried everything we could to get stronger, to get new acquisitions, to get players that are going to help us attain our goals, but we know that in this league, the road that leads you to the playoffs is long and very difficult, so we're all aware of that."
One of those additions that make Fury FC stronger ahead of the 2015 campaign is long-time Canadian international Julian de Guzman. De Guzman has an extensive resume, playing for Bundesliga side Hannover 96 and MLS teams Toronto FC and FC Dallas, among a few other clubs in the world.
The 34-year-old also appeared 78 times on the international stage, scoring four goals along the way. But Dos Santos made it clear that they are not expecting de Guzman to score at will in the NASL; rather, Dos Santos wants the midfielder to help facilitate and control the field, opening up opportunities for others in attack.
"The first thing we have to say about Julian is that he wanted to be here," the head coach said of his latest signing. "And that's very important. Julian is a player that wanted to be with us and wanted to be in this club. Julian is here with a good heart. He's here with the right intentions, and he is going to play a role that is definitely important for us.
"We don't expect him to score goals; we don't expect him to 20 assists," he added of the Canadian midfielder. "What we expect from Julian is to give rhythm to the team, to give good leadership in the team, to give good, good options to our forwards and put our forwards in right positions, and our wingers and midfielders. That's what we want. So, I think Julian is an important piece of our puzzle. I think the most important for us is the team as a whole, and Julian is part of that."
In order for Fury FC to compete for a playoff position in 2015, Dos Santos also needed to add some defenders that would fit into the head coach's defensive structure. Ottawa only conceded 38 goals last year, a defense ranked 5th out of 10 teams.
Dos Santos added two players, left back Mike Randolph and centerback Rafael Alves, who have experience winning and competing at the highest level in the NASL. Randolph helped the Atlanta Silverbacks reach the NASL Soccer Bowl in 2013 while Alves played in last year's NASL Championship semifinal against Minnesota United FC with the Fort Lauderdale Strikers.
"I really believe in what we're building as a whole here. We kept our structure from last season," Dos Saintos said. "We kept a core of players from season that we felt were important for year two, and we added some pieces that are definitely going to make our team and our club better. So, we're focusing more as a whole.
"If you ask me, 'What are the pieces that are maybe going to be difference-makers?," I think the guys that we brought in with the core of players that we had from last year, that's what's going to make this team better. We're not really going to say, 'Our objective is to win the Spring or to win the Fall,' no. Our objective is to make the playoffs, and if it is by the first place door or by the fourth place door, for us, it doesn't really matter. We just want to be in the postseason."
Ottawa Fury FC dipped its toes into the NASL water in 2014, participating in its first season as a club, but Dos Santos said he hopes the players have gained a maturity that will benefit the team each and every day.
"Our approach is very oriented in a team that doesn't want to concede goals, always wants to give them a good chance of winning, very compact team defending," he said. "I want a team that knows recognizes well when to have possession, when to counter. We want to be a team that is a mature team that knows how to win games. That's our mentality in the locker room, that's our mentality in the day-to-day is to approach every game like it is the final and think about every other game after.
"Every game is a final. We go one game at a time. We don't think about the Saturday coming after that. Our first game is Saturday against Carolina, and we'll approach the game to win finals."