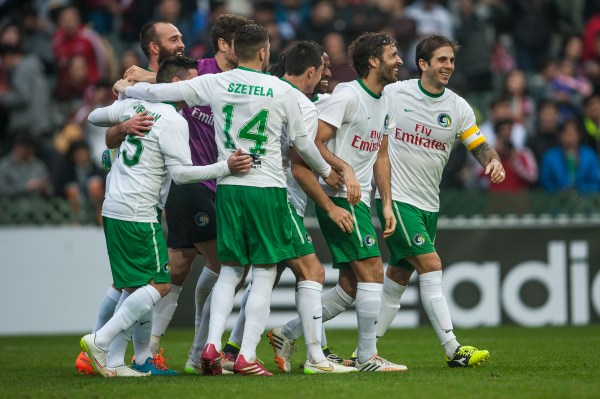 By RYAN TOLMICH
For the New York Cosmos, anything short of a championship is considered failure, and following the disappointment of 2014, the 2015 campaign is set to begin with a set of big-time reinforcements.
Leading the charge will be Raul, the legendary Real Madrid striker, as well as 2014 Best XI selection Walter Restrepo, former Houston Dynamo midfielder Adam Moffat and U.S. Under-17 international Haji Wright, offering the Cosmos a plethora of options on the attacking end.
Those options are only strengthened by the group's returning core, as Giovanni Savarese's side returns a majority of its defensive unit, as well as its primary playmaker in Marcos Senna and primary goalscorer in Mads Stokellien.
With a roster that has firepower to match any team in the league, it's once again championship or bust for a New York Cosmos side that continues to set its sight on not just a league crown, but establishing itself as the premier team in North America.
Here's a closer look at the 2015 New York Cosmos:
NEW YORK COSMOS SEASON PREVIEW
2014 FINISH:  Overall – 11-9-7, 42 points (3rd in Combined Standings); Spring Season – 6-1-2, 19 points (2nd in Spring Season); Fall Season – 5-8-5, 23 points (6th in Fall Season)
HEAD COACH: Giovanni Savarese, third year
KEY RETURNING PLAYERS: M Marcos Senna, D Carlos Mendes, F Mads Stokkelien, GK Jimmy Maurer, M Danny Szetela
KEY ACQUISITIONS: F Raul, F Haji Wright, M Adam Moffat, M Walter Restrepo, F Lucky Mkosana, D Samuel Caceres, M Leo Fernandes
KEY LOSSES: F Hans Denissen, M Joseph Nane, D Jimmy Ockford, M Jemal Johnson, F Diomar Diaz
NEWCOMER TO WATCH: Walter Restrepo. While he may have flown under the radar in the wake of the Cosmos' other offseason moves, Restrepo was a big-time threat last season for the champion San Antonio Scorpions, establishing himself as an NASL Best XI selection, recognition he also received in 2012. Restrepo offers the Comsos even more creative firepower via his wide play and pairing him with Marcos Senna and Raul should surely result in plenty of chances created up top.
PRESSURE IS ON: Mads Stokkelien. The Norwegian forward was the Cosmos' leading scorer last season, finishing 10 times in all competitions. Stokkelien admitted that he was happy with his ability to create chances last campaign, but was left slightly disappointed with his ability to finish them. With Raul, Marcos Senna and the rest of the team's playmakers pulling the strings,  those chances will come, putting the onus on Stokkelien fo fulfill his end of the bargain as the team's finisher.
OUTLOOK
After an offseason of big-name acquisitions and history-making headlines, the New York Cosmos are finally set to put the hype surrounding the 2015 team into practice.
The name that created the biggest headlines this past season was that of Raul, the former Real Madrid and Spanish National Team star. As Real Madrid's all-time leading goalscorer, Raul has both the talent and the mind to be an absolute force in the NASL, and while his abilities are surely appreciated, head coach Giovanni Savarese values his leadership and commitment as much as anything his new forward does between the lines.
"It's a privilege to have a player like Raul because, of course, what he has done in soccer," Savarese said, "but also what he brings to the club: his values, what he is as a person. He's first at every practice. He's working very hard. He's a great example, so he has elevated our intensity and expectations from each practice. This is something that we value very much.
"It's not about him being the face, it's about what he does on the soccer pitch and the example that he brings to the players. He's been great so far in the preseason and we're looking forward to this year."
While Raul has received much of the attention, the Spanish star is far from the Cosmos only option up front. Returning is last season's leading goalscorer Mads Stokkelien, who provided seven league goals last season.
Last season, Stokkelien's first with the team, provided a bit of an adjustment for the Norwegian striker, but now comfortable with his surroundings and with Raul feeding him chances, Stokkelien is confident in being more potent in front of goal this campaign.
"Last year I felt like I created a lot of chances, but I was missing on the last part: scoring the goals," Stokkelien told SBI. "This year, I know I will get the chances, so I'm not that worried because I know I can create chances, I did it last year.
"I just need to be better in front of goal, and that's what I've been working on this preseason, to be more clinical. Hopefully with Raul on the team, he's a very smart player, I'm sure he will give me a lot of good balls and assists, so I just have to focus on the finishing part."
For Savarese, Stokkelien and Raul are just a piece of the attacking puzzle. Returning is Marcos Senna, a former Spanish international himself, who has been the team's talisman since signing before the club's inaugural season. In addition, newcomers like young forward Haji Wright, proven winger Walter Restrepo and midfielder Adam Moffat ensure that the Cosmos have true goalscorers and playmakers littered throughout the field.
"They have adapted very quickly," Savarese said of his newcomers. "We have a great group because they are very welcoming. They work very hard to help everyone adjust themselves and it was home right away. They have been working hard, every player, to be fit and to understand what we ask of them. We'll continue working with every single player. We're excited with the kind of players that we've signed this year.
"I think we also have Lucky (Mkosana), we have Seba (Guenzatti), we have Restrepo. We have lots of players that are interesting this year. I think we have a style of play that we're going to believe in and we're going to continue with that direction."
The attacking unit may be as potent as ever, but last year's biggest missteps came on the defensive side of the ball. After allowing just three goals in the Spring Season, the Cosmos drifted back towards the middle of the pack in the Fall, allowing 24 goals on their way to a sixth place Fall finish.
With cohesiveness seen as a major plus, the Cosmos have returned the core of the team's backline, including goalkeeper Jimmy Maurer, Hunter Freeman, Hunter Gorskie and captain Carlos Mendes, who believes the group's solidarity and leadership should better the Cosmos' defensive record in 2015.
"I think we've talked about it and it's that defending is a team effort," Mendes told SBI. "In the Fall Season, we didn't do a good enough job. We weren't consistent enough as a team. We played some good games, but some times we gave up some goals and that was a part of a growing process. We were disapointed with the fall season last year. We learned from it, and we'll develop this year.
"The more leaders you have, the better it is. It's not just me because I'm captain. We have guys like Hunter, Jimmy behind us, Marcos, Raul. There are so many guys that are out there. You want everybody communicating, everybody helping each other out. That's what will make the team succesful this year, it's a big part of it. Just because I'm captain doesn't mean we don't have a lot of different leaders on the field."
With those leaders, Savarese hopes that the Cosmos successes can transcend the NASL campaign into the U.S. Open Cup, a competition that the team is once again targeting in 2015.
As the team's chance to test itself against the best the U.S. has to offer, the Cosmos want to use the tournament to continue asserting themselves as one of the nation's top sides, and Savarese believes that his team's combination of talent experience give them a chance to do exactly that in 2015.
"Big players are used to big things and big competitions," Savarese said. "It's very helpful to have players who have competed in the highest level of competition in soccer. It's a reality that the U.S. Open Cup is important for us because of what it brings to us, which is being able to compete outside of the United States in the Champions League, but for us it's also a good moment to show our level as well when we have a chance to play teams in the U.S. Open Cup.
"Having somebody like Raul and Marcos Senna and some of the other players that we have, it's a good thing, but it's not only about the individual players that we have, it's about the group that we're forming and at the end of the day we have a strong group."
Having reinforced last season's core with a series of veterans expected to contribute, Savarese understands the expectations placed on his team.
Those expectations, though, couldn't be more welcome, as the Cosmos look to continue to build on a legacy while creating some new chapters in 2015.
"Of course, as a New York Cosmos team, we want to be on top," Savarese said, "and we're never satisfied."