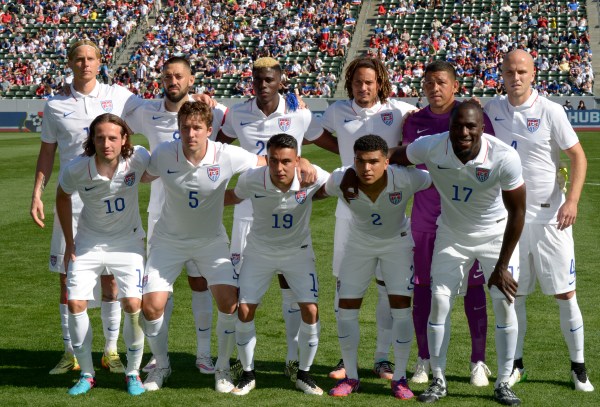 By FRANCO PANIZO
Jurgen Klinsmann took a closer look at the bulk of his European-based players in March, and this month he will get a chance to see his MLS contingent up close and personal.
The U.S. Men's National Team meets with arch-rival Mexico next Wednesday for the first time in a year, and the two CONCACAF powerhouses will play in front of a sold-out crowd at the Alamodome in San Antonio, Texas. For Klinsmann, the match presents another opportunity to gauge a sizable portion of his player pool ahead of this summer's Gold Cup title defense.
With the game being a one-off that falls outside FIFA's international calendar and the U.S. camp lasting all of a few days, Klinsmann might go with a smaller roster than usual. Even if he doesn't, the squad will be comprised of mostly MLS- and Liga MX-based players whose clubs will be more willing to release them for international duty.
While Klinsmann will be able take a look at regular players like captain Clint Dempsey and Michael Bradley, the friendly also provides an opportunity to further experiment. Klinsmann has said he wants to continue to try new things out, and the surely-intense match against El Tri's domestic-based roster provides an ideal platform to do that.
Who will get the call? Here are the 22 players SBI could see being called in for the friendly against Mexico:
PROJECTED MARCH 2015 USMNT ROSTER
GOALKEEPERS– Nick Rimando, Bill Hamid, William Yarbrough
The goalkeeping position, as it usually does, seems pretty straightforward. Rimando should again be the No. 1 option and behind him will likely be the stellar Hamid and newcomer Yarbrough. If Klinsmann decides to leave the proven Rimando with Real Salt Lake to further evaluate how his younger crop of goalkeepers are doing, throw Sean Johnson into the mix but expect Hamid or Yarbrough to get the nod.
———–
DEFENDERS– Omar Gonzalez, Matt Besler, Michael Orozco, Ventura Alvarado, Ike Opara, DeAndre Yedlin, Brek Shea, Greg Garza
Jermaine Jones and Steve Birnbaum are recovering from injuries, and yet Klinsmann still has plenty of options to choose from, especially at centerback.
After playing in last month's friendlies, Orozco and Alvarado figure to be brought back into the picture by Klinsmann to see how much they can push for starting spots before the Gold Cup. Primary options Besler and Gonzalez should also be in the mix here, especially Gonzalez, who has not been with the U.S. since October.
The fullback spots might seem tougher to fill, but many of the regulars that have played there for Klinsmann in the last few months should be available. Garza and Shea will both likely be called in, and Yedlin will probably be brought over from Tottenham, just as he was during the winter camp. If Klinsmann wants some cover at right back, he could call in Brad Evans or Michael Parkhurst.
Lights out Sporting Kansas City centerback Ike Opara could be the one wildcard selection, with Klinsmann bringing him on board just to start integrating him into the group.
———–
MIDFIELDERS– Michael Bradley, Mix Diskerud, Kyle Beckerman, Miguel Ibarra, Wil Trapp, Joe Corona, Perry Kitchen
How Klinsmann deploys his midfield in this one will be interesting, but expect Bradley to be at the heart of what tactical setup the U.S. coach goes with. Diskerud seems a likely partner after being skipped over in last month's friendlies, though there's a chance that Beckerman gets the nod given how much better the Americans seem to play when there's a true No. 6 on the field.
There are not many wide options – though Shea can double as one here – but Miguel Ibarra can slot in on the left and a returning Joe Corona on the right. Graham Zusi, a regular under Klinsmann last cycle, misses out due to a minor injury that he's dealing with.
Klinsmann almost always includes youngsters in his camps to help further their development, so Trapp and Kitchen seem like good bets here.
———–
FORWARDS– Clint Dempsey, Gyasi Zardes, Juan Agudelo, Chris Wondolowski
With there being no official word as to the availability of Jozy Altidore (red card vs. Switzerland), Klinsmann may be forced to field a team without his top striker. Dempsey should help in that regard after recovering from his injury, and he'll likely be accompanied by Wondolowski and Zardes. Juan Agudelo could also earn a call now that he's playing regularly at the club level again, and after showing vs. the Colorado Rapids this past weekend that he can still deliver magical moments in front of goal.
———-
What do you think of this roster? Would you like to see someone called in that didn't make the cut here? Should Klinsmann call in Green?
Share your thoughts below.