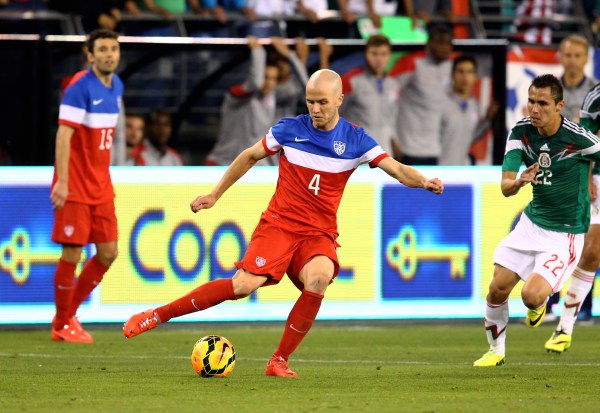 Photo by Mark J. Rebilas/USA Today Sports
By FRANCO PANIZO
The U.S. Men's National Team will renew acquaintances with Mexico this week, but will have to come together quickly if it wishes to defeat its heated southern rival.
Counting on mostly MLS- and Liga MX-based players that played over the weekend, the U.S. will host Mexico in a friendly on Wednesday at the Alamodome. The sold-out match is the first meeting between the two nations in about a year and will give both Jurgen Klinsmann and Mexico manager Miguel Herrera an opportunity to further assess where players stand ahead of July's CONCACAF Gold Cup.
Klinsmann, himself, has plenty to consider after last month's European friendlies, especially since both Jozy Altidore and Clint Dempsey are out for this one. The U.S. head coach needs to find replacements for them to lead the attack while also having to pinpoint what formation best suits this group of players.
Klinsmann also needs to figure out what to do in defense, where Brek Shea and Greg Garza are both trying to lock down the left back spot. Center back is also a position that seems up for grabs, even with both Matt Besler and Omar Gonzalez returning to the fray.
Who could start against El Tri? Here is the USMNT lineup we could see taking the field on Wednesday: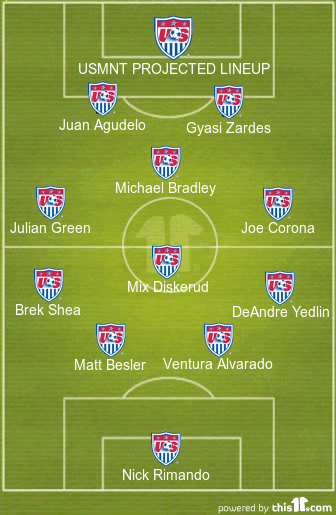 Some thoughts:
Nick Rimando could continue to start in between the pipes for the U.S., but don't rule out the possibility of him just being in camp to provide a veteran presence. Klinsmann has said he is still open to experimenting, and that could see Bill Hamid and William Yarbrough split the goalkeeper duties. Hamid would likely start in that scenario, with Yarbrough coming off the bench at halftime and playing the second half against the nation he chose not to represent.
The defense is an area that has several question marks. DeAndre Yedlin seems like a shoo-in to start at right back given that he's flying all the way from England for this one, but who lines up centrally and on the left is not clear. Brek Shea and Greg Garza have both gotten looks at left back in recent games, but Klinsmann may want to continue to assess the former for at least a half after seeing Shea show well there in recent weeks for Orlando City.
In the middle, Matt Besler and Omar Gonzalez would appear to be the preferred starting tandem. Klinsmann, however, could have each of the World Cup veterans play a half in an effort to give Mexican-American Ventura Alvarado a long run-out against many of the Liga MX players he faces on a consistent basis. The jury is still out on how serviceable Alvarado can be at the international level, and this match vs. El Tri could help provide a better answer.
How Klinsmann lines up the U.S. midfield is fuzzy, especially given all the different formations he's deployed in recent matches. The personal at hand seems like it would be best suited for a four-man midfield, though it could be flat or in a diamond.
The inclusion of Julian Green for this brief camp hints at Klinsmann going with the former, as it would allow the inactive Hamburg SV youngster to be able operate in his more comfortable spot out wide. Klinsmann could then deploy Joe Corona on the right, a position the Tijuana midfielder is familiar with, while pairing Michael Bradley and Mix Diskerud in the middle again.
At forward, the absences of Jozy Altidore and Clint Dempsey open the door for other players to make an impression. Klinsmann has used Chris Wondolowski plenty over the past year despite ongoing criticism, but the U.S. head coach might prefer to go with the likes of Gyasi Zardes and Juan Agudelo to see what they can offer. That might seem like a young front line, but Agudelo has a good amount of experience at the international level that Klinsmann could lean on.
What do you think of this projected lineup from SBI? Think Klinsmann will do something else, especially in the midfield? Who would you start if you were the U.S. head coach?
Share your thoughts below.