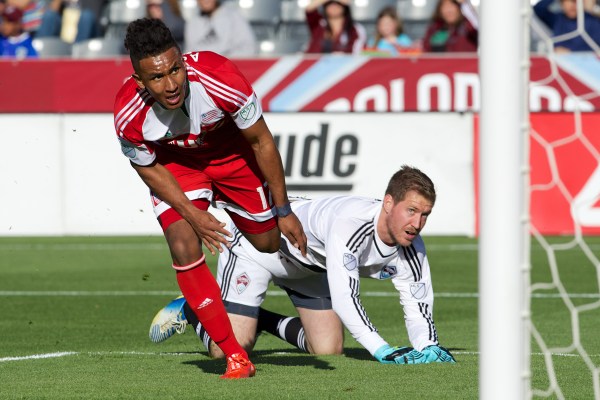 Photo by Isaiah J. Downing/USA Today Sports
By CARL SETTERLUND
FOXBOROUGH, Mass. — Juan Agudelo was searching for stability in his club career the past few years, and as Agudelo bounced around, his U.S. Men's National Team prospects also took a hit.
The New England Revolution forward made 14 appearances for the United States in 2011 — predominantly as an 18-year-old — but Agudelo has gone on to switch club teams five times since May 2012, and during then he's only donned the red, white and blue twice.
Over a year after his last USMNT cap in a friendly against Ukraine, Agudelo is back. U.S. Soccer announced tonight that the now-22-year-old will join the USMNT squad for its upcoming friendly against Mexico on Wednesday at the Alamodome in San Antonio.
"I'm very grateful and very happy to be back," Agudelo said following the Revs' 0-0 tie against Columbus on Saturday. "It's something I've thought about for the past year."
The call-up follows an audacious side-footed flick past Colorado Rapids goalkeeper Clint Irwin last weekend that earned him SBI MLS Goal of the Week honors. It was Agudelo's first goal in six games since returning for a second stint with the Revolution.
"I just tried to do what I can with the Revolution these first couple of games and I feel like I'm getting a lot (more) comfortable with every game that I play with this squad," Agudelo said. "I'm just really happy that I got the call, whether if it was now or later."
After originally coming up as a Homegrown player with the New York Red Bulls, Agudelo's game of musical chairs began when he was traded to Chivas USA early in the 2012 season.
The Revs then traded for Agudelo during the 2013 season after Chivas had given up hope of resigning him. Agudelo finished out the season with the Revs, helping them return to the playoffs, and then signed with Stoke City, but he was twice denied a work permit.
Stoke then loaned Agudelo out to Dutch side FC Utrecht, and Agudelo opted to return to MLS in 2015, reportedly signing a multi-year contract with the Revolution.
Agudelo said he partly just wanted to get back in the habit of playing every weekend.
"Hopefully I found that secret," Agudelo said. "Just focus on performing well and playing every weekend, and starting and getting a lot of touches in games, and trying to do everything that I can to help out the team. I'm happy to be rewarded for the effort."
Agudelo said he knows this might be his best opportunity to convince USMNT coach Jurgen Klinsmann to consider him for the CONCACAF Gold Cup this July.
"I'm going to do everything that I can to show what I got and to show that I should stay in the pool," Agudelo said. "It's a short little call-up because we return on Thursday, but I'm going to try to make the most of it."
Agudelo said he did not receive a phone call, but rather an email telling him of the news. "It was a very nice email," Agudelo said with a grin.
"Everything feels like it used to be and now I'm just happy to get the ball rolling down the hill," he said.