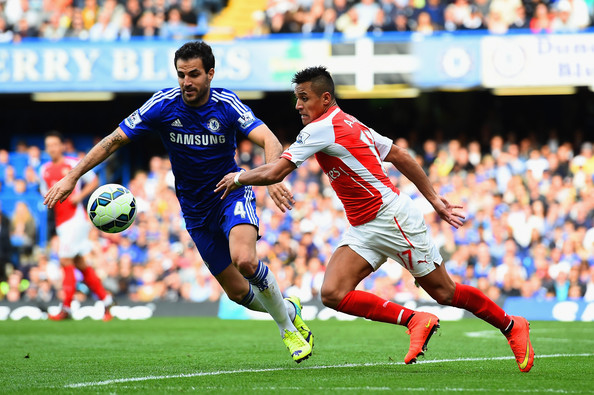 By AARON CRANFORD
Chelsea has the title in the bag, but Arsenal are arguably the best English Premier League team in 2015, and a win against their London foe could force the league-leaders to hold off their celebrations.
After Manchester City's win Saturday, Arsenal sit in third place on the EPL table, and the Gunners would not like to lose a top three posiition, which awards an automatic bid into the 2015-2016 UEFA Champions League group stage.
Meanwhile, El Super Clasico kicks off in Zapopan, Mexico when CD Guadalajara hosts Club America. Chivas are tied for first with 25 points on the year while Club America could match that Sunday with a road win.
If you will be watching today's action, feel free to leave your thoughts, opinions, and some play-by-play in the comments section below.
Enjoy the action (today's soccer on TV schedule after the jump):
1 a.m. — Fox Soccer Plus — Wellington Phoenix vs. Sydney FC
7:30 a.m. — Fox Soccer Plus — Dundee United vs. Celtic
8:30 a.m. — NBCSN — Everton vs. Manchester United
9 a.m. — beIN Sports en Espanol — Lazio vs. Chievo
9 a.m. — beIN Sports USA — Torino vs. Juventus
11 a.m. — NBCSN — Arsenal vs. Chelsea
11 a.m. — beIN Sports USA — Lens vs. Monaco
11 a.m. — beIN Sports en Espanol — Almerica vs. Eibar
11:30 a.m. — GolTV USA — Borussia Moenchengladbach vs. Wolfsburg
1 p.m. — beIN Sports USA — Sevilla vs. Rayo Vallecano
1 p.m. — Univision — Toluca vs. Tijuana
3 p.m. — beIN Sports USA — Celta de Vigo vs. Real Madrid
3 p.m. — GolTV USA — Palmeiras vs. Santos
5 p.m. — ESPN2 — New York Red Bulls vs. LA Galaxy
5 p.m. — GolTV USA — Rentistas vs. Nacional
7 p.m. — Fox Sports 1 — Orlando City vs. Toronto FC
7:30 p.m. — Univision — Guadalajara vs. America
9:30 p.m. — Fox Sports 1 — Seattle Sounders vs. Portland Timbers