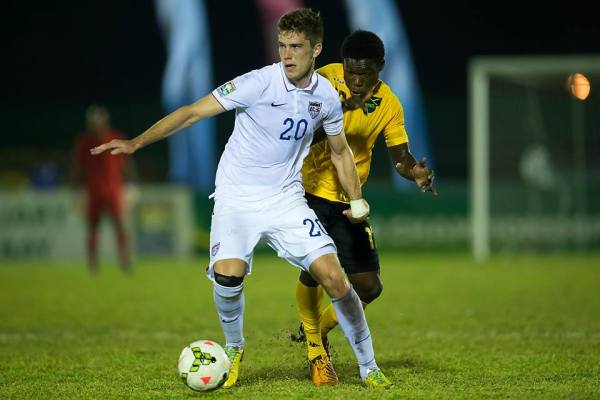 By FRANCO PANIZO
With playing time looking scarce in Norway and the Under-20 World Cup looming, Ben Spencer knew he needed to find consistent games in order to avoid a down year.
Spencer found a more than suitable situation at Toronto FC, reuniting with some familiar faces while giving himself a good shot at earning minutes with the club's USL team.
Toronto FC announced last week that it had signed Spencer, a U.S. Under-20 Men's National Team forward, to a year-long loan deal with its third division side Toronto FC II. The move reunited Spencer with Greg Vanney and Robin Fraser, who were at the helm of Chivas USA back in 2012 when the hulking 6-foot-5 striker joined its academy after leaving Real Salt Lake's.
It also gave Spencer a better opportunity to regularly see the field. critical for not only his World Cup chances but also his growth as a player.
"Playing time was definitely a factor into that decision," Spencer told SBI. "Molde and I had spoke and we thought it best that I go somewhere where I can consistently play and continue my development. I'd played for the coaching staff that's currently at Toronto before, so I have that relationship with them and when the opportunity came up I talked to them.
"Toronto has unbelievable facilities and a really great program and club. They're heading in the right direction with everything they're doing, so it was something that I was really happy to be a part of."
While there is a refreshing familiarity, there are no assurances. Spencer knows he will have to prove himself at Toronto FC II, especially since it is one of the more talented MLS-owned USL teams right now with the likes of goalkeeper Alex Bono and forward Jordan Hamilton on the roster.
But the 20-year-old Spencer – who is not eligible to play for Toronto FC's first team this year – is no stranger to having to break into a new club. He did it in 2014 at NASL's Indy Eleven, which he also joined on a season-long loan from Molde. Spencer featured a combined 11 times for the club during its spring and fall campaigns, making six starts and scoring two goals.
The time in Indianapolis was beneficial for him as a maturing professional.
"I got the playing time I was looking for there," said Spencer. "The NASL was a good level to play at and it was challenge, so it was a good experience for me to get consistent minutes and feel what it's like to train all week and prepare for a match week in and week out for months in a row.
"From that aspect, it was a great year while on loan and I'm very happy that I did it."
Spencer is also very pleased to have been apart of the U.S. U-20s' successful World Cup qualifying campaign in Jamaica back in February. He served as a target striker for head coach Tab Ramos in that tournament, starting in four of the five games he appeared in and scoring twice.
The second of those tallies was arguably the biggest of his young career, as it was the winner in the 2-0 victory over El Salvador that punched the Americans' tickets to the World Cup.
"It was a great experience for me to play in a World Cup qualifying and just have that experience under my belt," said Spencer. "What it feels like to play a game every third day against a top CONCACAF opponent, and just kind of feel what it feels like to have that pressure to qualify for a world event like a World Cup."
Some bad news came out of that win against El Salvador, however. Spencer sprained an MCL in that match, and had to come off at halftime. He returned to Molde with the injury, and only recently recovered from it.
Healthy again, Spencer hopes to be able to integrate himself quickly into his new surroundings at Toronto FC II. He knows that competition to make the U-20 World Cup team is steep given the number of talented attacking options that Ramos has at his disposal, and regular playing time could drastically improve Spencer's chances.
The opportunity Spencer wanted is there now. He just has to capitalize on it.
"From the first team with Jurgen Klinsmann all the way down to Tab, guys who are playing good minutes, that's important for getting called up," said Spencer. "It's definitely played into my decision coming here. If I'm playing and doing well and scoring goals then I have a better chance of getting called up, so it definitely plays into it."