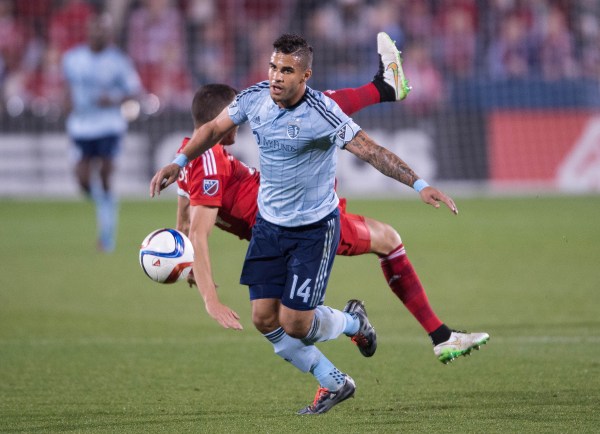 Photo by Jerome Miron/USA Today Sports
By FRANCO PANIZO
After a scoreless first month to the season, Dom Dwyer bounced back by netting twice in four games in April.
Sporting Kansas City is confident that even more will come.
Through the first eight games of an uneven start to the year for Sporting KC, Dwyer has netted just two goals. He has struggled with his finishing despite taking the fourth-most shots (26) in the league, and been left frustrated more often than not by opposing defenses. This, after a stellar 2014 campaign that saw the 24-year-old striker explode for 22 goals to finish second in MLS's Golden Boot race.
Opposing teams are playing him a bit differently and tighter than they were last year, but that's not all that is contributing to Dwyer's finishing woes right now. Dwyer has also failed to put some golden looks away, like one in the first half of this past weekend's wild 4-4 draw with the Houston Dynamo in which he inexplicably sent a low cross wide of the frame.
Regardless, Kansas City sees him getting into more of a rhythm now and believe it's just a matter of time before the floodgates open.
"It's a combination of things, but the one thing about Dom that I know is that he is a pure goal-scorer, and he also has a relentlessness as a goal-scorer," Peter Vermes told SBI. "There's other guys that sometimes they're okay if they're the guy that makes the assist, if they didn't score. He wants to score, and he's relentless at trying to make that happen.
"I think that's what gives him his strength about scoring. He's just relentless to it, and that's why I never really doubt that he's going to because not every goal-scorer thinks that way. Not every goal-scorer goes out that way and approaches the game the way. He does, and that's why I think not only the chances will continue to come, but the goals will."
Dwyer's teammates also share that sentiment. They've seen some of the Englishman's goals nullified by just the tightest of offside calls, and also one or two called back over questionable fouls.
Benny Feilhaber points to a header that Dwyer netted in an April 5 win over the Philadelphia Union as one that the midfielder thinks was bogusly disallowed. Misfortune, Sporting KC believes, has played a role in Dwyer's lack of production.
"He's been getting a little bit unlucky, but it's about getting some goals and getting some confidence," Feilhaber told SBI. "With forwards, even sometimes it's not about confidence. It's just for whatever reason you go 10 games, you score one goal, then you go five games and you score 10. It's all about up and down for strikers, so we have full confidence in him.
"He's not a guy that only produces goals. He's up there as well working his tail off for our team and making it tough for the other team and opening up space for everybody else. That's definitely not the only thing he does, so we're going to be patient and I hope he is, too, because goals will start coming. No doubt about it."
The good news for Sporting KC is that Dwyer netted in the last match against the Dynamo, pouncing on an errant back-pass from Giles Barnes and slipping by goalkeeper Tyler Deric to slot a shot into the open net.
It was an opportunistic strike, but one that just might get Dwyer rolling.
"I also think that he's now starting to get on the area of feeling comfortable," said Vermes. "At the same time, he's getting those opportunities, which I think he's starting to stick them away I think that'll continue to happen as the season goes on, because I see us continuing to get chances. Not less of them, more of them."