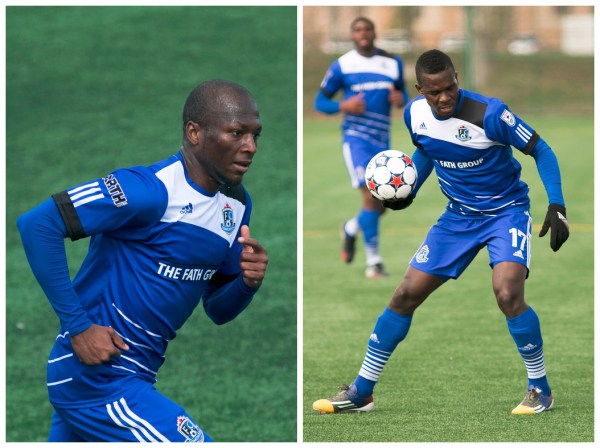 Photos by Tony Lewis/FC Edmonton
By AARON CRANFORD
In the first three weeks of NASL action, there has arguably been no better dual-threat in attack than FC Edmonton wingers Lance Laing and Sainey Nyassi.
Laing has two assists to start the 2015 campaign while former D.C. United and New England Revolution attacker Nyassi has a goal and two assists to his name.
"I know whenever he gets the ball, he's going to put it in the box," Nyassi told SBI, "and whenever I have it, he's going to make those same runs, try to get by the defender, and we'll just whip it in. As the season goes, we'll hopefully have a better understanding about the game, what we want, where we want the ball, where to target my crosses, things like that."
Laing's numbers are not uncommon as well, leading the 2014 Eddies in goals and assists — seven and six respectively. He was also named MVP by FC Edmonton's supporters group (ESG) two years running. But having another player across the field with a good skill set and the same thoughts toward goal is exactly what Laing says he wants.
"For me, from my point of view, it's been very good to have (head coach Colin Miller) play us on both sides, me and (Nyassi), and we expect the teamwork to continue," Laing told SBI. "Personally, on my side, it's not about starts for me, so we'll see how (the season) goes. I'm expecting to get better, and it's not going to be easy, but we'll work under the coaching staff, it's always hard work, each day and out."
So far this season, the two have been utilized as wingers, making quick cuts in on goal from out wide or serving in cross after cross into the penalty area to create havoc for NASL defenses. And in the Eddies' most recent 3-2 win over the Fort Lauderdale Strikers, the two displayed a keen awareness to help each other out by switching sides in attack and defense throughout the match.
"Sometimes it just happens," Nyassi said in reference to he and Laing switching sides. "I think it's more of an understanding between us that we just realize someone's on the other end, and we just cover for him, and he's going to cover for you, and as time goes on, we'll get back to our normal positions."
"It's freedom," Laing also said of the switching during the game. "That's another thing the coach tells us a lot. We need to play with freedom; he's not restricting us, letting us do what we want to do. We cover very well for each other as a team."
Nyassi spent the better part of last year in Finland, playing for Rovaniemen Palloseura (RoPS), a first-division Finnish club. But after his time with RoPS ended, he had a few options on the table. And while the 26-year-old said "contract issues" was a part of the reason for choosing to sign with FC Edmonton instead of an MLS side again, the Gambia international also said his brother, current San Jose Earthquakes midfielder Sanna Nyassi, played an important role in choosing his next club.
"My agent called me and told me about Edmonton, so I talked to my brother, and he was talking a lot of positives about the club because he played against them when he played with Montreal (Impact)," Nyassi said. "He made my decision easier, so I didn't have to think twice about it. I talk to him every day. He calls me after every training, even though the time difference, we try to talk every day. We try to encourage each other, help each other learn from our mistakes, and figure out what we need to work on.
"I'm definitely happy to be there, and Colin (Miller) is someone that has a lot of understanding, and I like his mentality. He's definitely given me an opportunity and encouraging me, and I think it's paying off."
While Nyassi joined the club months from the start of the 2015 Spring Season, Laing is a household name in FC Edmonton, and he's learned a lot from his experiences with the club and coaching staff.
"The education here is pretty good," Laing said. "I mean, the information that these guys cover, Colin (Miller) and Jeff (Paulus) and the coaching staff covers, is very much amazing. Some things I've never even heard of where this is coming from, so I've learned a lot."
Even after receiving the consecutive MVP accolades from ECS and leading his side in goals and assists, Laing said he has not been in contact with anyone from the Jamaican national team recently, making his last appearance for the Reggae Boyz in 2012. He continued and said the process for receiving call-ups is "political," but he's not down and out about not playing for country. He only wants to see FC Edmonton continue succeeding.
"I'm not focused on that at the moment," the 27-year-old said of not being called up to the national team in recent years. "I'm loving my club, and I'm not worried about being called up, I know, hopefully, it happens.
"Once I'm doing good, anything can happen. At the moment, it's club first, no worries about nationality."
He won't have to do all of the work alone this time around, though, as Nyassi is ready to pitch in and be FC Edmonton's producer when called upon.
"The first goal, for me, I think it's motivated me more to work hard and get more goals," he said. "And I'm looking forward to scoring more goals for the team."