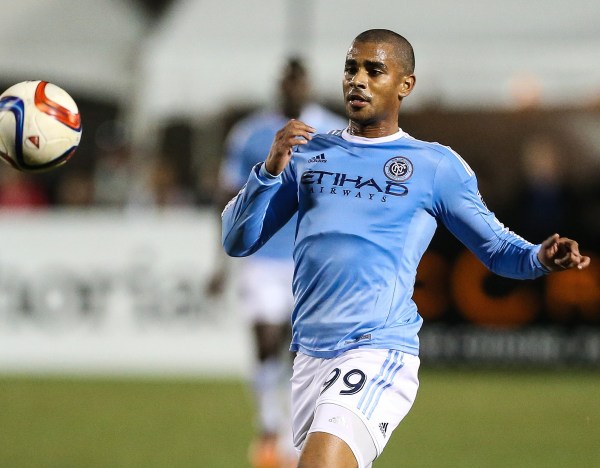 Photo by Jim Dedmon/USA Today Sports
By CARL SETTERLUND
Just when things were looking up for New York City FC's Tony Taylor, his second season in Major League Soccer took a devastating turn for the worse.
NYCFC announced on Tuesday that the apparently serious left knee injury that saw Taylor stretchered off in the 35th minute on Sunday against the Portland Timbers will, in fact, end his season.
The 25-year-old forward, who was playing in place of David Villa, tore his left anterior cruciate ligament (ACL) in a non-contact injury in his first ever MLS start.
"Tony is a great young professional and I know his teammates are going to miss him on the field," NYCFC head coach Jason Kreis said. "Everyone at New York City FC is 100 percent behind him in his recovery and will be there to help every step of the way… I'm confident that he'll come back fitter and stronger than ever."
After trying his luck in Europe, the former U.S. youth international joined the New England Revolution in 2014, but only made one brief substitute appearance.
NYCFC selected Taylor in the 2014 MLS Expansion Draft last December. He had made two appearances for NYCFC this season, totaling 66 minutes.
Here are a few other notes from around MLS:
MONTREAL IMPACT SELLS OUT CCL FINAL
Don't let the Montreal Impact's recent MLS track record fool you: soccer is alive and well in Montreal.
The Impact announced on Tuesday that they have already sold out the 59,020 seats at Montreal's Olympic Stadium for the decisive CONCACAF Champions League final second leg against Mexico's Club America on Wednesday, April 29.
This will be the second-highest attendance in club history, behind the 60,080 that attended the Impact's clash with David Beckham's LA Galaxy in 2012. Next Wednesday will top the Impact's total of 58,912 in attendance for their inaugural MLS home opener against the Chicago Fire, also in 2012.
"This is a new record for the club in terms of sales pace, as we filled the stadium in less than two weeks, which is exceptional," Impact executive vice-president Richard Legendre said. "We will be relying on our 12th man to help the club become CONCACAF champions."
Legendre said that the club is currently exploring whether it would be possible to add even more seats.
"We've already done a lot of work to make sure we get it up to 59,000, but we're going to look at it again," Legendre said. "We're going to see if there are other ways in which we could add seats, but we're still very happy about how many tickets we've already sold."
The Impact will play in front of quite the crowd in the first leg, as well. Mexican newspaper Récord reported that Wednesday's game at the Estadio Azteca in Mexico City will also be a sellout, with roughly 105,000 people in attendance.
REAL SALT LAKE'S SCHULER UNDERGOES MENISCUS SURGERY
Chris Schuler's day was over before it started on Saturday when he hurt his knee during warmups of Real Salt Lake's match against the Vancouver Whitecaps.
The news got worse after an MRI on Monday.
RSL announced that Schuler suffered a torn right meniscus and will be out four to six weeks after undergoing successful surgery on Monday.
The talented 27-year-old center back has a history of assorted injuries. Schuler played in a career-high 25 games in 2014, but might have a tough time matching that total this year.
"He should do well. He's very resilient," RSL team physician Dr. Andrew Cooper told The Salt Lake Tribune. "He and I have gone through many injuries through the years. He's tough and I think he'll fight through this and do very well and be playing fairly soon."
MINNESOTA SENATE BLOCKS SPENDING, EXEMPTIONS FOR STADIUM
Minnesota United will not receive state aid in financing for a potential new stadium.
The Minnesota Senate voted 61-4 on Monday to deny the state spending, borrowing or tax exemptions to "fund the construction of a new Major League Soccer stadium."
Club ownership had reportedly proposed that the state provide state and Minneapolis property tax exemptions in an effort to build a $250 million privately-financed stadium.
It might just be bad timing for the future MLS expansion side as Minnesota is currently helping to finance a new stadium for the National Football League's Minnesota Vikings, and recently helped Major League Baseball's Minnesota Twins build Target Field, which opened in 2010.
—
What does Taylor's knee injury mean for his career? What do you think of the Impact selling out Olympic Stadium? What does Schuler's injury mean for RSL? Should Minnesota have helped Minnesota United?
Share your thoughts below.