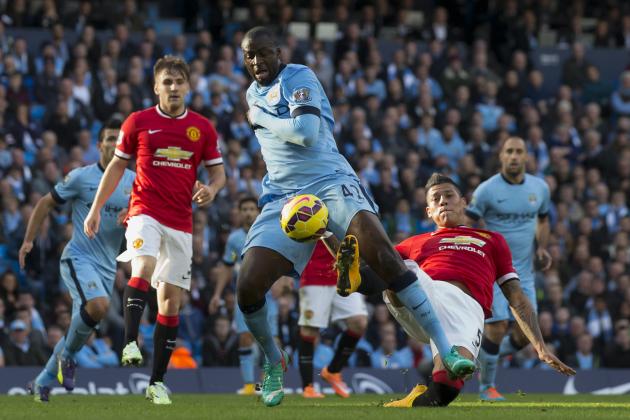 By ADAM TROXTELL
One of the most anticipated matchups in the club soccer calendar leads the way, as the Manchester Derby headlines this weekend's soccer on TV.
Manchester United hosts Manchester City with eyes trained on more than local pride. Five consecutive league wins coupled with Man City's inconsistent form has taken the Red Devils above their rivals into third place. A win solidifies Man United's position to automatically qualify for the UEFA Champions League group stage. On the other hand, the Citizens would like nothing better than to spark a late charge with a win in their rivals' back yard.
In one of its most challenging games since taking top spot in La Liga away from Real Madrid, Barcelona travels to Sevilla hoping to maintain a four-point gap. The home side is chasing Champions League soccer next season along with Valencia.
Hamburg faces a difficult test while trying to climb away from the Bundesliga relegation scrap in a home game against second-place Wolfsburg. Sitting in 16th place, Hamburg has not won a game since Feb. 7.
Club America will try to maintain its effort in a four-horse race for the top spot in Liga MX in a road contest against Monterrey. League leaders Tijuana plays struggling Queretaro, while second place Veracruz hosts bottom club Morelia on Friday.
Soccer Sunday in MLS moves westward this week, starting with the Portland Timbers against Orlando City. National television coverage moves south later with LA Galaxy playing Seattle Sounders in a rematch of last season's Western Conference Final.
Here is this weekend's soccer on TV (schedule after the jump):
FRIDAY
2:30 p.m. — beIN Sports USA — Caen vs. Monaco
2:30 p.m. — GolTV USA — Hannover vs. Hertha Berlin
7 p.m. — UniMas — FC Dallas vs. Colorado
8:30 p.m. — ESPN Deportes — Queretaro vs. Tijuana
9:30 p.m. — Univision Deportes — Veracruz vs. Morelia
10:30 p.m. — GolTV USA — Deportivo Tepic vs. Alebrijes de Oaxaca
SATURDAY
3 a.m. — Fox Sports 2 — Adelaide United vs. Brisbane Roard
7:15 a.m. — beIN Sports USA — Derby vs. Brentford
7:45 a.m. — NBCSN — Swansea vs. Everton
7:45 a.m. — Fox Soccer Plus — Inverness vs. Celtic
9:30 a.m. — GolTV USA — Bayern Munich vs. Eintracht Frankfurt
10 a.m. — NBCSN — Tottenham vs. Aston Villa
10 a.m. — Premier League Extra Time — Southampton vs. Hull
10 a.m. — Premier League Extra Time — Sunderland vs. Crystal Palace
10 a.m. — Premier League Extra Time — West Brom vs. Leicester
10 a.m. — Premier League Extra Time — West Ham vs. Stoke
10 a.m. — beIN Sports USA — Real Madrid vs. Eibar
Noon — beIN Sports USA — Parma vs. Juventus
Noon — beIN Sports en Espanol — Malaga vs. Atletico Madrid
12:30 p.m. — NBC — Burnley vs. Arsenal
12:30 p.m. — GolTV USA — Hamburg vs. Wolfsburg
2 p.m. — beIN Sports USA/beIN Sports en Espanol — Sevilla vs. Barcelona
2:30 p.m. — beIN Sports USA — PSG vs. Bastia
3 p.m. — DirecTV/MLS Live — New England Revolution vs. Columbus Crew
3 p.m. — GolTV USA — Penarol vs. Danubio
4 p.m. — DirecTV/MLS Live — Philadelphia Union vs. New York City FC
4 p.m. — beIN Sports en Espanol — Celta de Vigo vs. Rayo Vallecano
6 p.m. — Univision — Cruz Azul vs. Tigres
7 p.m. — DirecTV/MLS Live — D.C. United vs. New York Red Bulls
7:30 p.m. — ESPN3 — Atlanta Silverbacks vs. Ottawa Fury
7:30 p.m. — ESPN3 — Fort Lauderdale Strikers vs. Jacksonville Armada
7:30 p.m. — ESPN3 — Indy Eleven vs. New York Cosmos
7:30 p.m. — ESPN3 — Tampa Bay Rowdies vs. Minnesota United
8 p.m. — Univision Deportes — Monterrey vs. Club America
8:30 p.m. — DirecTV/MLS Live — Houston Dynamo vs. Montreal Impact
8:30 p.m. — DirecTV/MLS Live — Sporting Kansas City vs. Real Salt Lake
9:06 p.m. — Telemundo — Pachuca vs. Pumas
10 p.m. — Univision Deportes — Universidad Guadalajara vs. Puebla
10:30 p.m. — DirecTV/MLS Live — San Jose Earthquakes vs. Vancouver Whitecaps
SUNDAY
7:15 a.m. — Fox Soccer Plus — Kilmarnock vs. Aberdeen
8:30 a.m. — NBCSN — QPR vs. Chelsea
9 a.m. — beIN Sports en Espanol — Napoli vs. Fiorentina
9 a.m. — beIN Sports USA — Torino vs. Roma
9:15 a.m. — Fox Soccer Plus — Hibernia vs. Hearts
9:30 a.m. — GolTV USA — Koln vs. Hoffenheim
11 a.m. — NBCSN — Manchester United vs. Manchester City
11 a.m. — beIN Sports en Espanol — Espanyol vs. Athletic Bilbao
11:30 a.m. — GolTV USA — Stuttgart vs. Werder Bremen
1 p.m. — beIN Sports en Espanol — Real Sociedad vs. Deportivo La Coruna
1 p.m. — Univision — Toluca vs. Atlas
2:45 p.m. — beIN Sports USA — Milan vs. Sampdoria
3 p.m. — beIN Sports en Espanol — Bordeaux vs. Marseille
4 p.m. — ESPN3 — FC Edmonton vs. Carolina RailHawks
5 p.m. — ESPN2 — Portland Timbers vs. Orlando City
6 p.m. — UniMas — Chivas de Guadalajara vs. Leon
7 p.m. — Fox Sports 1 — LA Galaxy vs. Seattle Sounders