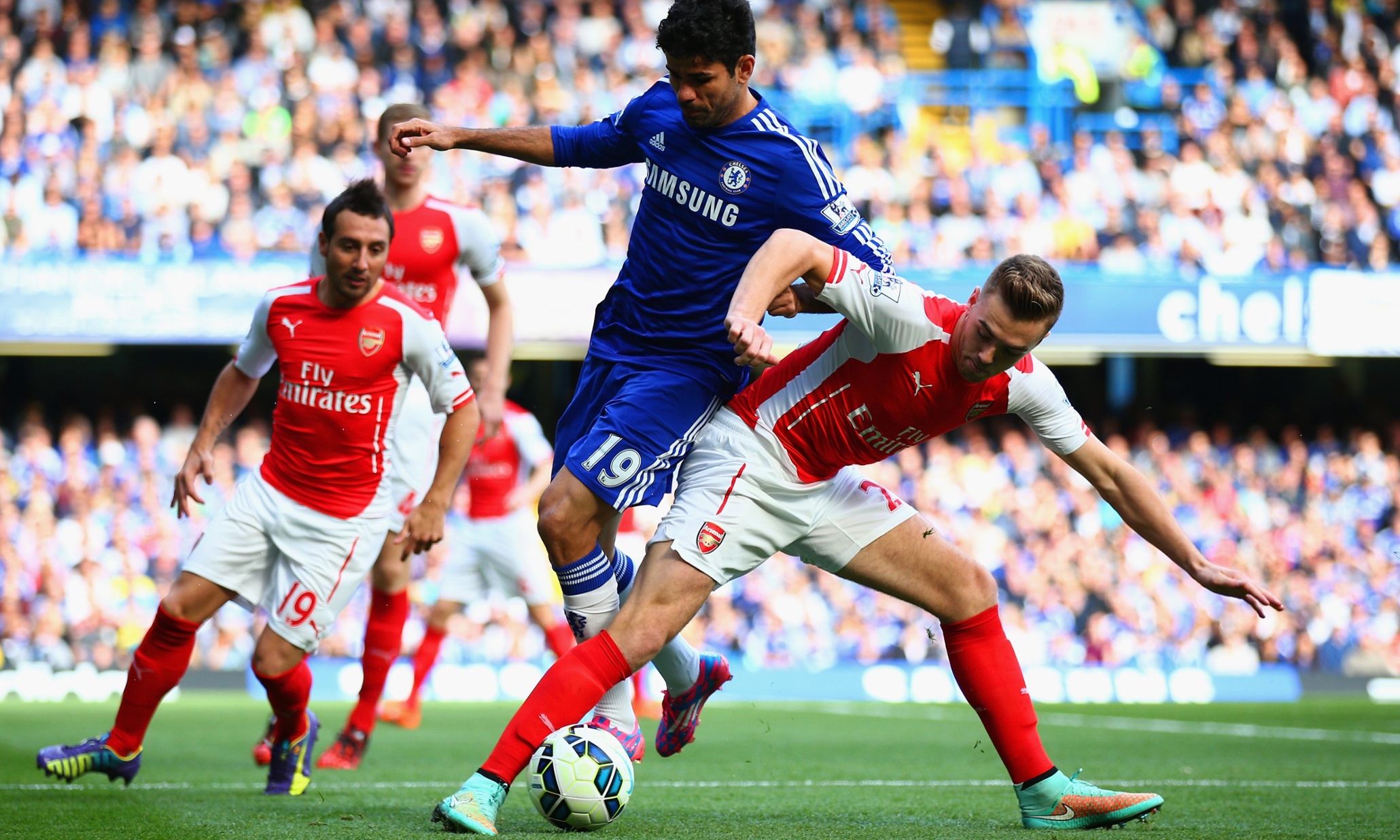 By ADAM TROXTELL
There may be no loosening of Chelsea's grip on the English Premier League title, but Arsenal can at least make the Blues work harder for it in their weekend clash.
The Gunners host Chelsea on Sunday in a clash that could still have implications on how the top four clubs finish. While Arsenal are 10 points behind league leaders Chelsea, the club is still two points ahead of fourth-place Manchester City with an automatic bid into the UEFA Champions League group stage on the line.
Cesc Fabregas will also be returning to the home of his former club for the first time since his switch to Barcelona in 2011. Last time around it was the Spaniard's new club who got the better of Arsenal, 2-0 at Stamford Bridge in October.
Bayern Munich can all but claim the Bundesliga title on Saturday against Hertha Berlin. A win for the defending champions would at least maintain a 12-point advantage over second place Wolfsburg with four games remaining.
Sampdoria can climb even with fourth-place Napoli on points with a win during Sunday's Serie A action.
A clash of titans in Liga MX is also a clash of top teams on Sunday in El Super Clasico, when CD Guadalajara hosts Club America. First-place Guadalajara is attempting to consolidate its position in the table, while America can draw even on points with its big rival with a win.
Finally, MLS offers up three nationally televised matches on Soccer Sunday, starting with New York Red Bulls and LA Galaxy. Orlando City hosts Toronto FC later in the evening, before the night wraps up with a Cascadia Cup clash between the Seattle Sounders and Portland Timbers.
Here is this weekend's soccer on TV (schedule after the jump):
FRIDAY
2:30 p.m. — beIN Sports USA — Marseille vs. Lorient
2:30 p.m. — GolTV USA — Mainz vs. Schalke
2:45 p.m. — beIN Sports en Espanol — Cordoba vs. Athletic Bilbao
2:45 p.m. — Fox Soccer Plus — Hamilton Academical vs. Motherwell
7:30 p.m. — ESPN3 — Mexico Under-17s vs. Notre Dame
8 p.m. — UniMas — Chicago Fire vs. New York City FC
8:30 p.m. — ESPN Deportes — Queretaro vs. Tigres
9:30 p.m. — Galavision — Veracruz vs. Pumas
10 p.m. — DirecTV/MLS Live — Colorado Rapids vs. FC Dallas
SATURDAY
5:30 a.m. — Fox Sports 2 — Adelaide United vs. Melbourne City
7:15 a.m. — beIN Sports USA — Brighton vs. Watford
7:45 a.m. — NBCSN — Southampton vs. Tottenham
9:30 a.m. — GolTV USA — Borussia Dortmund vs. Eintracht Frankfurt
10 a.m. — NBCSN — Burnley vs. Leicester
10 a.m. — Premier League Extra Time — Crystal Palace vs. Hull
10 a.m. — Premier League Extra Time — Newcastle vs. Swansea
10 a.m. — Premier League Extra Time — QPR vs. West Ham
10 a.m. — Premier League Extra Time — Stoke vs. Sunderland
10 a.m. — Premier League Extra Time — West Brom vs. Liverpool
10 a.m. — beIN Sports USA — Espanyol vs. Barcelona
Noon — beIN Sports en Espanol — Atletico Madrid vs. Elche
12:30 p.m. — NBC — Manchester City vs. Aston Villa
12:30 p.m. — GolTV USA — Bayern Munich vs. Hertha Berlin
2 p.m. — beIN Sports en Espanol — Getafe vs. Levante
2:45 p.m. — beIN Sports USA — Inter vs. Roma
3 p.m. — ESPN3 — Ottawa Fury vs. Fort Lauderdale Strikers
3 p.m. — GolTV USA — Penarol vs. Wanderers
4 p.m. — beIN Sports en Espanol — Real Sociedad vs. Villarreal
6 p.m. — Univision — Cruz Azul vs. Chiapas
7:30 p.m. — DirecTV/MLS Live — Columbus Crew vs. Philadelphia Union
7:30 p.m. — DirecTV/MLS Live — New England Revolution vs. Real Salt Lake
7:30 p.m. — ESPN3 — Atlanta Silverbacks vs. New York Cosmos
7:30 p.m. — ESPN3 — Indy Eleven vs. Carolina RailHawks
7:30 p.m. — ESPN3 — Tampa Bay Rowdies vs. Jacksonville Armada
8 p.m. — ESPN3 — Minnesota United vs. San Antonio Scorpions
8 p.m. — Univision Deportes — Monterrey vs. Morelia
8:30 p.m. — DirecTV/MLS Live — Houston Dynamo vs. Sporting Kansas City
9 p.m. — Telemundo — Pachuca vs. Puebla
10 p.m. — Univision Deportes — Atlas vs. Leon
10:30 p.m. — DirecTV/MLS Live — Vancouver Whitecaps vs. D.C. United
SUNDAY
1 a.m. — Fox Soccer Plus — Wellington Phoenix vs. Sydney FC
7:30 a.m. — Fox Soccer Plus — Dundee United vs. Celtic
8:30 a.m. — NBCSN — Everton vs. Manchester United
9 a.m. — beIN Sports en Espanol — Lazio vs. Chievo
9 a.m. — beIN Sports USA — Torino vs. Juventus
11 a.m. — NBCSN — Arsenal vs. Chelsea
11 a.m. — beIN Sports USA — Lens vs. Monaco
11 a.m. — beIN Sports en Espanol — Almerica vs. Eibar
11:30 a.m. — GolTV USA — Borussia Moenchengladbach vs. Wolfsburg
1 p.m. — beIN Sports USA — Sevilla vs. Rayo Vallecano
1 p.m. — Univision — Toluca vs. Tijuana
3 p.m. — beIN Sports USA — Celta de Vigo vs. Real Madrid
3 p.m. — GolTV USA — Palmeiras vs. Santos
5 p.m. — ESPN2 — New York Red Bulls vs. LA Galaxy
5 p.m. — GolTV USA — Rentistas vs. Nacional
7 p.m. — Fox Sports 1 — Orlando City vs. Toronto FC
730 p.m. — Univision — Guadalajara vs. America
9:30 p.m. — Fox Sports 1 — Seattle Sounders vs. Portland Timbers