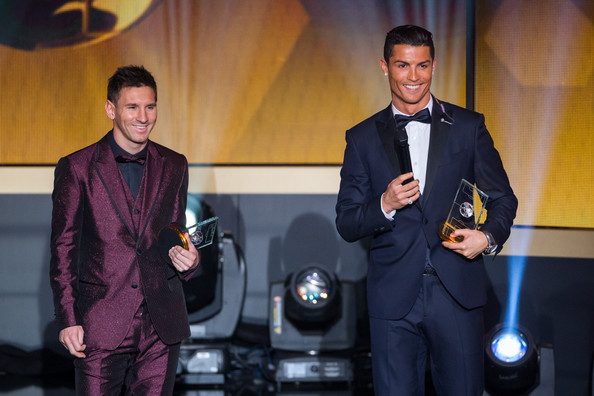 By DAN KARELL
Soccer purists may dislike the MLS All-Star Game, but it could be catching on in Europe in the coming years.
According to a report from Barcelona-based newspaper Mundo Deportivo, UEFA and some of Europe's biggest clubs have received a proposal from an undisclosed "multinational marketing company" to stage an All-Star Game. While most of the details are still vague, the game would pit players in Europe's northern leagues (English Premier League, Bundesliga, Russian Premier League) with Europe's southern leagues (La Liga, Serie A, Ligue 1).
Clubs could contribute two to three players to the teams, and it could feature the likes of Lionel Messi and Cristiano Ronaldo playing against Sergio Aguero, Eden Hazard, and Arjen Robben. Mundo Deportivo put together a mock XI for the northern and southern teams.
The proposal still has yet to be approved by UEFA but it is currently being studied in order to determine its feasibility, according to the report.
Here are some more stories to kick off your Tuesday:
MAN CITY PREPARING FOR NEW-LOOK SQUAD NEXT YEAR
Manchester City's squad could have a much younger look next season.
Playing with one of the oldest squads in the English Premier League and struggling to live up to expectations, Manchester City are considering offloading up to eight first-team players this summer to revamp their squad, according to a report in The Telegraph.
The report states that along with James Milner, who is expected to leave on a free transfer, and Frank Lampard, who is heading to New York City FC, Man City could sell Yaya Toure, Edin Dzeko, Samir Nasri, Aleksandar Kolarov, Gael Clichy, and Stevan Jovetic this summer.
Replacing the octet of players could be 21-year-old Everton midfielder Ross Barkley, 20-year-old Liverpool midfielder Raheem Sterling, 22-year-old Juventus midfielder Paul Pogba, and 23-year-old Wolfsburg winger Kevin De Bruyne. All four of those players are summer targets for Man City.
AUSTRALIA, SOUTH KOREA, JAPAN, IRAN ALL DRAWN IN AFC WORLD CUP SECOND ROUND QUALIFIERS
The Asian Football Confederation conducted the draw for the second round of qualification for the 2018 World Cup on Tuesday morning, and it saw Asian giants Japan, Australia, South Korea, and Iran all drawn in separate groups.
Defending AFC Asian Cup champions Australia were drawn in Group B, Japan were drawn in Group E, South Korea were drawn in Group G, Iran were drawn in Group D, and Iraq were drawn in Group F.
Surprise participants Bhutan were drawn with neighbors China in Group C.
The teams, placed in groups of five, will play each team once at home and once away. The winners of the groups automatically qualify for the third round of World Cup qualifying and qualify for the 2019 Asian Cup in the United Arab Emirates.
The best four runners-up will qualify for the third round of World Cup qualifying while the remaining four runners-up will move on to the third round of Asian Cup qualifying.
Here's the draw for the second round of AFC World Cup qualifying:
Group A: United Arab Emirates, Saudi Arabia, Palestine, Timor-Leste, Malaysia
Group B: Australia, Jordan, Tajikistan, Kyrgyzstan, Bangladesh
Group C: China, Qatar, Maldives, Bhutan, Hong Kong
Group D: Iran, Oman, India, Turkmenistan, Guam
Group E: Japan, Syria, Afghanistan, Singapore, Cambodia
Group F: Iraq, Vietnam, Thailand, Indonesia, Chinese Taipei
Group G: South Korea, Kuwait, Lebanon, Myanmar, Laos
Group H: Uzbekistan, Bahrain, Philippines, North Korea, Yemen
QUICK KICKS
Speaking at the Laureus World Sports Awards ceremony in Shanghai, French legend Eric Cantona claimed that Paris Saint-Germain midfielder Javier Pastore is the best player in the world, over Cristiano Ronaldo and Lionel Messi. (REPORT)
Former World Cup winner Lilian Thuram stated that he once turned down a move to Juventus in order to go to Parma in 1998, before eventually making his way to Turin in 2001. (REPORT)
Stoke City forward Bojan has revealed that AS Roma could have signed Marco Verratti back in 2012 and were about to complete Verratti's transfer from Pescara before then-head coach Luis Enrique pulled the plug on the deal. (REPORT)
Arsenal boss Arsene Wenger has revealed his surprise that his team have won eight league games in a row. (REPORT)
What do you think of these reports? Would you like to see an UEFA All-Star Game? Do you see UEFA approving it? Do you see Man City offloading so many players this summer?
Share your thoughts below.