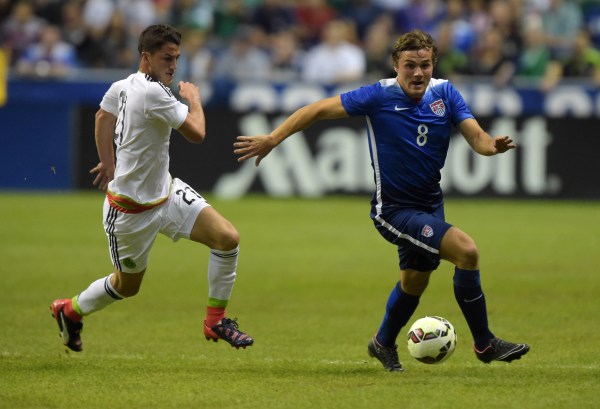 Photo by Kirby Lee/ USA Today Sports
By RYAN TOLMICH
Jordan Morris is developing quite the reputation for his recent performances against Mexico.
Just one week after scoring against the Mexican senior team, the Stanford forward repeated the feat Wednesday night on the Under-23 level, leading the U.S. Under-23 Men's National Team to a 3-0 victory.
Morris' finish came in the 69th minute and was the third of the U.S.'s tallies. The Stanford product provided a finish on the volley, smashing home a cross from defender Shane O'Neill to cap off a second half that saw the U.S. dominate despite sleepwalking through the opening half.
Following a first half that saw Mexico dominate while the U.S. was reduced to counters and physical play, it was forward Mario Rodriguez who set the tone just three minutes into the second half.
Played in by an inch-perfect ball from Luis Gil, Rodriguez slid in between a pair of Mexican defenders, poking the ball into the back of the net from close range to open the U.S. lead.
That lead was doubled in the 58th minute via Christian Dean, whose finish also came off a spectacular display of U.S. service.
Dean's goal came via a header, as the Whitecaps product soared through the box untouched to smash home a well-place free kick from the Rapids' Dillon Serna.
With Dos a Cero appearing to be a prevailing theme, Morris' finish in the 69th ensured the Tres a Cero victory for a U.S. team that looked much better than the squad that struggled through much of the first half.
While dominant, the U.S. did give up its share of chances, but the clean sheet was repeatedly preserved by goalkeeper Cody Cropper. The Southampton goalkeeper provided the U.S. with five saves on the evening, the best of which came in the 65th minute via a diving effort.
The victory marks the second in three games for the U.S. in 2015 after previously defeating Bosnia and Herzegovina, 5-2, before falling 1-0 to Denmark in a pair of March friendlies.
The U.S. Under-23 team will take part on CONCACAF Olympic qualifying in October. The qualifying tournament will take place in the United States, though the location has yet to be announced.