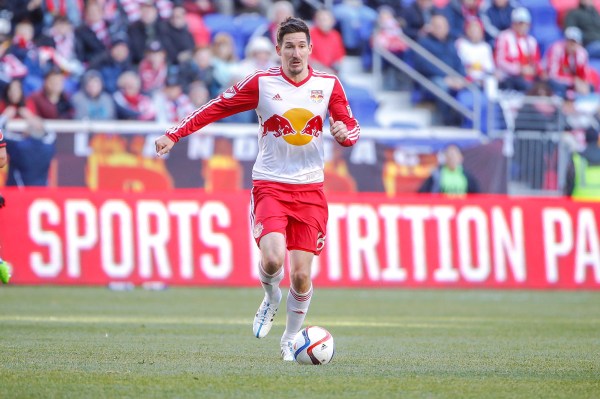 photo by Jim O'Connor/USA Today Sports
By FRANCO PANIZO
HANOVER, N.J. — Sacha Kljestan has a lot of positive things to say about how much MLS has changed since he was last in the league.
The league's schedule is not one of them.
The New York Red Bulls are set to visit D.C. United on Saturday in a match-up of the top two teams in the Eastern Conference right now, but the game at RFK Stadium comes only after some early-season scheduling quirks for New York. The Red Bulls are heading into the match against United after coming off their second bye week of the year, a start-stop structure that has left New York head coach Jesse Marsch and his players somewhat irritated.
Kljestan, who returned to MLS this past winter after five years in Belgium, was the member of the team to voice his displeasure with the scheduling on Thursday. The veteran midfielder was not only less than thrilled with having had two early bye weeks, but also with the fact that New York is already playing D.C. for the second time this season.
"It's been very annoying," said Kljestan. "You want to play every week, especially when you're kind of getting into a rhythm. Obviously, this has given us a little bit extra time to continue to prepare for the season. It's almost like we're still in preseason and now it's coming up soon where later in this month we're going to have three games in a week, and hopefully this extra time off has prepared us for that.
"The scheduling in MLS it sucks because it's not like anywhere else in the world where you're going to play the same team in three weeks almost in a back-to-back game. But it is what it is, we accept it, and we're ready to play."
The Red Bulls' first bye came very early in Week 2, and they followed that up by defeating D.C. United, 2-0, at Red Bull Arena. New York then hit the road in Week 4 and picked up a 2-1 win vs. the Columbus Crew before being given another round of action off this past weekend.
While New York was originally scheduled to play the Montreal Impact last Saturday, the Canadian club's continued participation in the CONCACAF Champions League saw the Red Bulls have to take another break. The league arranged for their match to be pushed back, leaving New York to have to serve as a bystander in Week 5.
"We were nice enough to help Montreal out, which doesn't help us much," said Marsch earlier in the week. "It's not ideal, but I think that our focus and attention to making sure that we keep training hard every day so that we're ready when game time comes means that we should be ready for the weekend."
New York is not the only team to express dismay with MLS's scheduling this week. The Crew – who are the only other club to have had two bye weeks so far – were none too happy about having to play two Week 6 games in four days on two opposite sides of the North America after not playing in Week 5.
The good news for New York is that the games will be coming hot and heavy soon. The club will begin a stretch of three games in eight days at the end of April, and doesn't have another bye until Week 15 in June.
Still, the Red Bulls are champing at the bit to get back on the field after playing just three times in the opening five weeks of the new season.
"We're excited to get back out there," right back Chris Duvall told SBI. "It's nice to have a week off so that you can prepare for the next week, but we want to play."