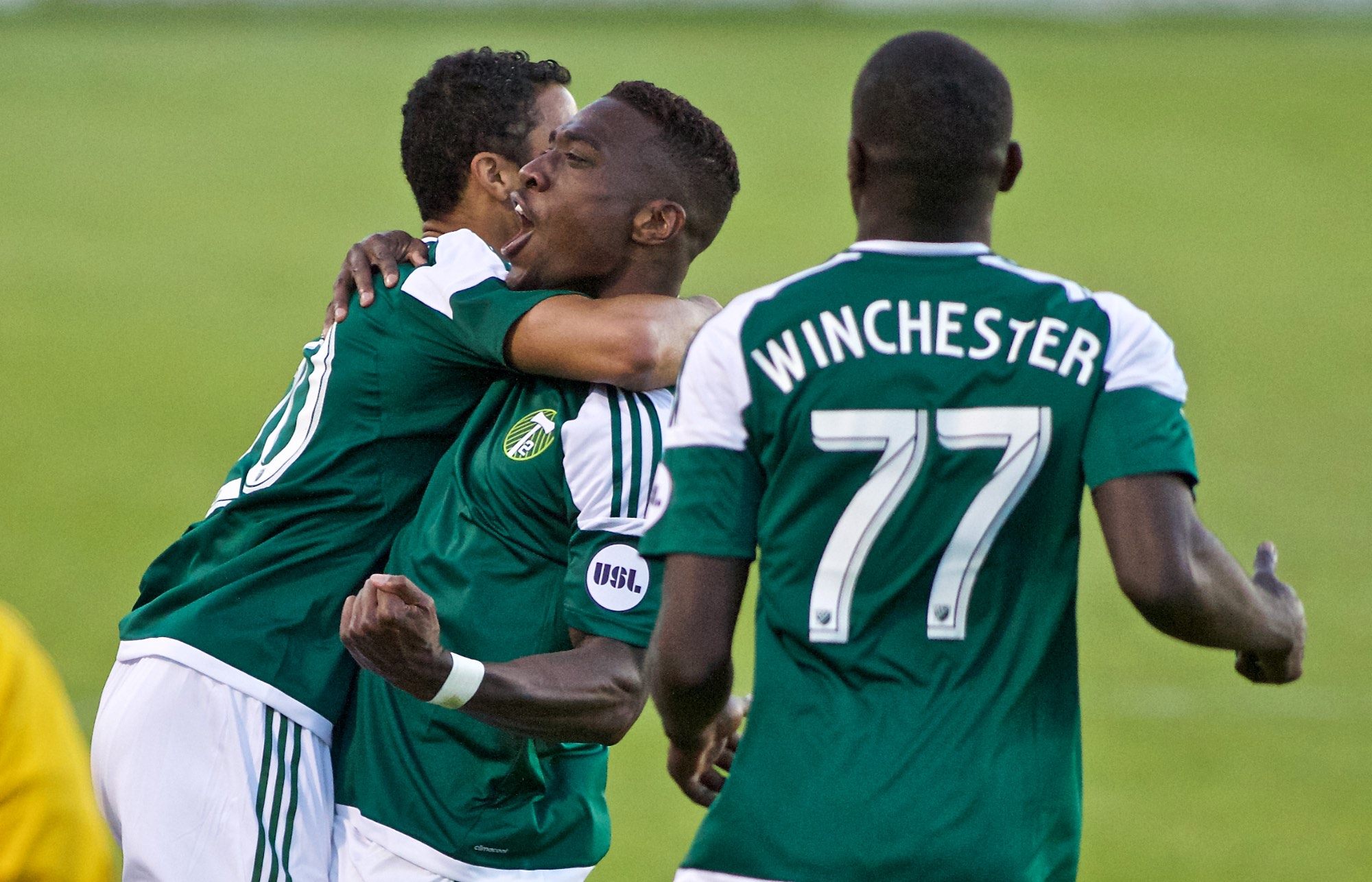 Photo by Craig Mitchelldyer/Timbers 2
By ADAM TROXTELL
After securing their first wins of the season, Portland Timbers 2 and Sacramento Republic FC get an early start to Week 3 in the USL.
T2 started its professional soccer life with a 3-1 win against fellow MLS affiliates Real Monarchs SLC on Sunday, and the club now has sights set on the defending champions. It's one of three Thursday night kickoffs.
In the east, the Richmond Kickers host newcomers Louisville City in their home opener while New York Red Bulls II play Toronto FC II in a battle between MLS affiliates.
Here is a closer look at the Week 3 action:
PORTLAND TIMBERS 2 vs. SACRAMENTO REPUBLIC FC (10 p.m., Thursday, YouTube)
Kharlton Belmar will look to build on the brace that led Timbers 2 to victory last week when Sacramento pulls into town.
The 2015 second-round draft pick scored twice in T2's opening game, but his team faces worries of its own against Octavio Guzman. The Sacramento attacker has already scored three goals this season, two coming from the penalty spot in a comeback win against LA Galaxy II on Saturday.
LA GALAXY II vs. ARIZONA UNITED SC (10:30 p.m., Thursday, YouTube)
Winless in its first two games, Galaxy II looks for the third time to be a charm against Arizona United at the StubHub Center's track and field facility.
Daniel Steres and Travis Bowen handed Los Dos their first two goals of the season against Sacramento over the weekend, but a late comeback denied them victory. Arizona United is looking to build on Saturday's win against the Orange County Blues.
NEW YORK RED BULLS II vs. TORONTO FC II (3:30 p.m., Saturday)
Toronto FC II looks for its second consecutive win on Saturday afternoon against a New York Red Bulls II side that has a scoreless draw under its belt in USL play.
Leo Stolz's saved penalty kick against Rochester Rhinos was as close as NYRB II came to opening its account in the inaugural season. Mo Babouli will be identified as a danger man for the visitors, having scored in both TFC II games so far.
RICHMOND KICKERS vs. LOUISVILLE CITY FC (5 p.m., Saturday, YouTube)
After fighting back for a hard-earned draw last weekend, the Richmond Kickers will try to give Louisville City FC a proper welcome to the USL.
Louisville beat fellow first-year team Saint Louis FC last weekend in its debut game, and might find things a little more difficult against USL stalwarts Richmond. Jalen Robinson and Matthew Delicate scored crucial second-half goals last weekend to give the Kickers momentum heading into their home opener.
CHARLESTON BATTERY vs. HARRISBURG CITY ISLANDERS (7:30 p.m., Saturday, YouTube)
A 3-2 win against Eastern rivals Charlotte Independence last week has Charleston Battery in a good mood ahead of its home opener.
The Battery can take extra confidence into their meeting with the Harrisburg City Islanders knowing the visitors were on the end of a 5-2 drubbing against in-state rivals Pittsburgh Riverhounds last weekend. Heviel Cordoves will look to add to his Charleston goal tally, having already scored twice last Saturday.
TULSA ROUGHNECKS FC vs. SAINT LOUIS FC (8 p.m., Thursday, YouTube)
WILMINGTON HAMMERHEADS vs. CHARLOTTE INDEPENDENCE (7 p.m., Friday, YouTube)
COLORADO SPRINGS SWITCHBACKS vs. OKLAHOMA CITY ENERGY FC (3 p.m., Saturday, YouTube)
PITTSBURGH RIVERHOUNDS vs. ROCHESTER RHINOS (7 p.m., Saturday)
TULSA ROUGHNECKS FC vs. AUSTIN AZTEX (8 p.m., Saturday, YouTube)