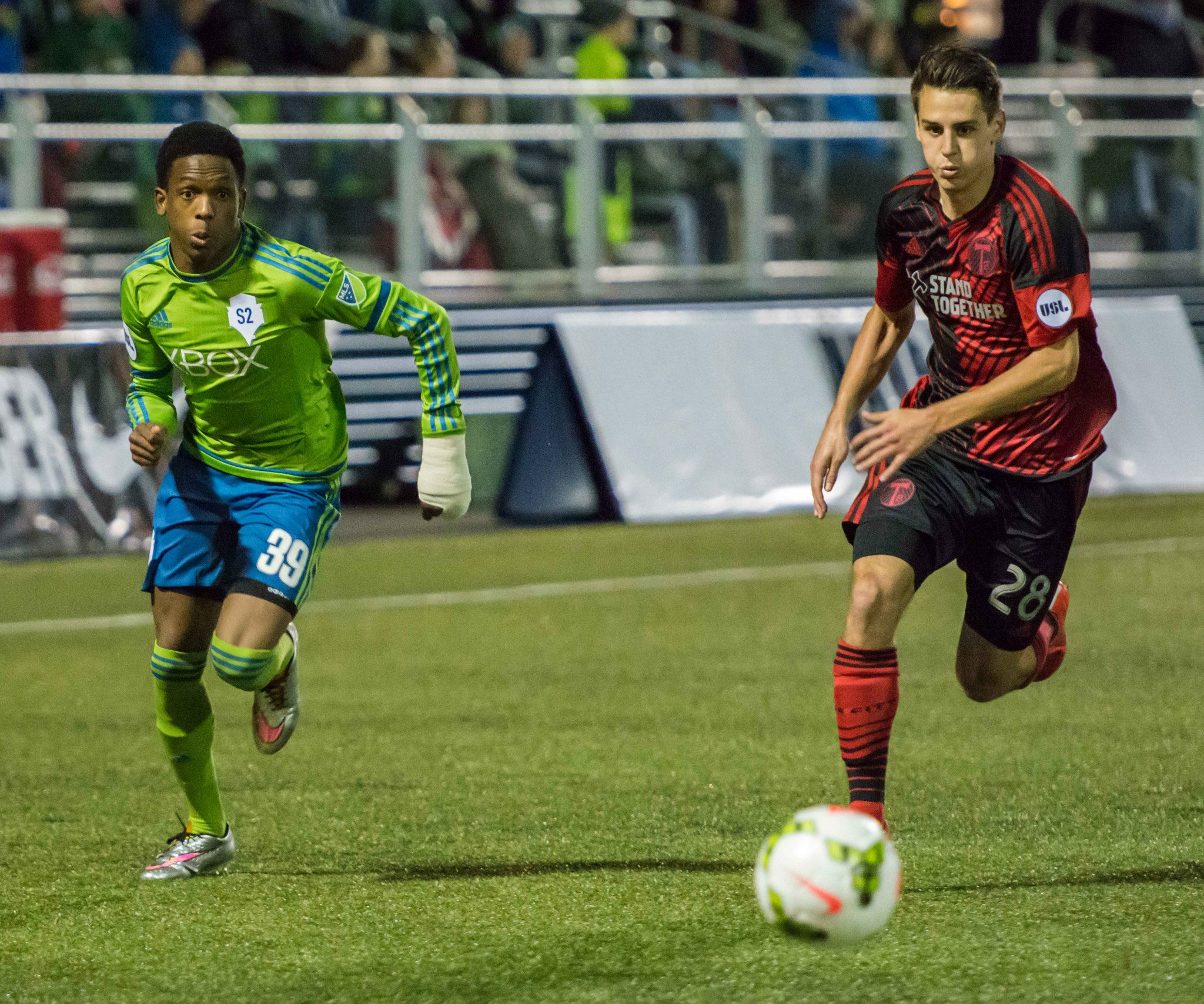 Photo by Sounders 2
By ADAM TROXTELL
Seattle Sounders FC 2 will hope to end its Oklahoma swing better than it began.
The Western Conference leaders suffered their first defeat of the season against Tulsa Roughnecks FC on Thursday, and they now must bounce back quickly against Oklahoma City Energy FC on Saturday.
In the east, undefeated Charleston Battery tries to keep its record spotless at home against New York Red Bulls II. Fresh off a midweek win, third place Sacramento Republic will try to exact revenge against Portland Timbers 2. On Sunday, Canadian rivals Vancouver Whitecaps 2 and Toronto FC II clash in the northwest.
Here is a closer look at the weekend's USL action:
CHARLESTON BATTERY vs. NEW YORK RED BULLS II (7:30 p.m., Saturday, YouTube)
Coming off of a bye week, the Charleston Battery face a big test to ensure they remain on top of the Eastern Conference at home against New York Red Bulls II.
The Battery have scored eight goals in the first three games of the season, led by either Heviel Cordoves or Dane Kelly in attack. Their goals helped Charleston edge its first two matches, while the defense stepped up to hold Harrisburg City goalless in the latest victory.
After a surprisingly one-sided loss to Wilmington Hammerheads, NYRB II will try to bounce back in its first road game of the season. Santiago Castano will be unable to start in goal after picking up a red card in last week's loss, meaning Rafael Diaz will most likely replace him.
OKC ENERGY FC vs. SEATTLE SOUNDERS FC 2 (8 p.m., Saturday)
So far, the Sounders 2 road trip to Oklahoma hasn't gone so well, but they'll attempt to fix that while also spoiling OKC Energy FC's home opener on Saturday.
Up in Tulsa, Sounders 2 succumbed to a 4-3 loss, they're first of the season. Energy FC is coming off of a bye week, but before that the squad took three points home from Colorado Springs behind two goals from striker Danni Konig.
SACRAMENTO REPUBLIC vs. PORTLAND TIMBERS 2 (10:30 p.m., Saturday, YouTube)
The defending champions get a rematch with Portland Timbers 2 this weekend, but with an added bonus.
Attacker Rodrigo Lopez is in good form for Sacramento ahead of the game, having scored twice against Vancouver Whitecaps 2 in the middle of the week to take his season tally to four. T2 triumphed the last time these teams met, with Kharlton Belmar and Steven Evans bagging the goals.
VANCOUVER WHITECAPS FC 2 vs. TORONTO FC II (6 p.m., Sunday)
Each with just one win, Vancouver Whitecaps FC 2 and Toronto FC II would like nothing more than to spark an early season run against Canadian rivals.
TFC II has already disposed of one Canadian club in a 2-0 win against FC Montreal. Whitecaps FC's only win came in a 3-0 road victory against Austin Aztex, but the team has been shut-out in its other three outings.
LA GALAXY II vs. AUSTIN AZTEX (8 p.m., Sunday, YouTube)
In need of a lift, last place LA Galaxy II will try to make experience count against expansion club Austin Aztex.
The Aztex won their only road game so far this season, with Kris Tyrpak scoring a brace against Tulsa. Los Dos have yet to record a win this season, though two of their losses have come from last-minute goals.
COLORADO SPRINGS SWITCHBACKS vs. REAL MONARCHS SLC (9 p.m., Friday, YouTube)
RICHMOND KICKERS vs. CHARLOTTE INDEPENDENCE (7 p.m., Saturday, YouTube)
HARRISBURG CITY ISLANDERS vs. FC MONTREAL (7 p.m., Saturday)
SAINT LOUIS FC vs. ROCHESTER RHINOS (8:30 p.m., Saturday, YouTube)
ORANGE COUNTY BLUES vs. ARIZONA UNITED (10:30 p.m., Saturday, YouTube)
PITTSBURGH RIVERHOUDS vs. LOUISVILLE CITY FC (3 p.m., Sunday)