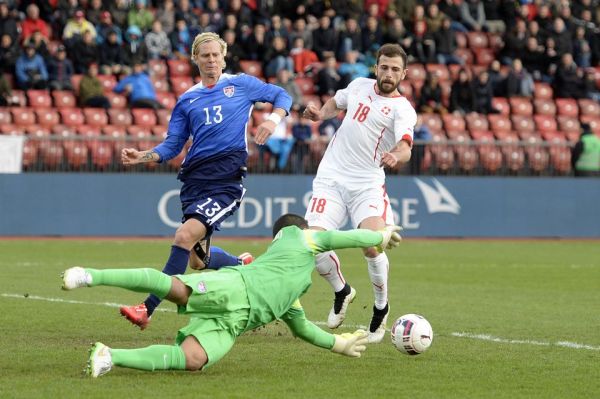 By FRANCO PANIZO
It may not have ended the way some fans and observers had hoped, but the U.S. Men's National Team made positive strides in its 1-1 friendly against Switzerland
The Americans conceded another late goal after Jozy Altidore was sent off on Wednesday, but there were plenty of good things for U.S. head coach Jurgen Klinsmann to draw from the match. From looking more dangerous in the attack than in the previous game vs. Denmark, to defending better as a unit, the U.S. showed in Zurich that it might just be finding a groove before its CONCACAF Gold Cup title defense this summer.
Not everything was positive, however. Altidore provided the latest example of him losing his temper, and forward partner and up-and-coming prospect Gyasi Zardes had a tough time finding a rhythm against the Swiss. Then, there was the whole conceding late thing again.
Here is what SBI is taking away from the U.S.'s 1-1 draw with Switzerland:
ALTIDORE NEEDED THIS REMINDER
Let's get this out of the way: Jozy Altidore is a big, strong, imposing forward. Overmatched defenders that are not as gifted physically tend to try and slow him down by fouling him, and sometimes calls don't go his way. Frustration is bound to kick in.
Still, Altidore long needed a reminder on how to keep his cool. He had been jawing at referees for several U.S. matches now, complaining adamantly about challenges that he felt were uncalled fouls. It was only a matter of time before he was punished for it, and thankfully for him and the U.S. it happened in a friendly and not in a more important setting like the Gold Cup or World Cup qualifying.
Altidore should know better, yes, but even the most poised veterans can lose their cool – Zinedine Zidane in a World Cup final, anyone? – during the heat of a match.
However, the 25-year-old Altidore has shown this type of behavior before at the club level. He was sent off in similar fashion with two successive yellow cards back when he was with AZ Alkmaar, and also allowed his emotions to get the best of him when he head-butted an opponent and got sent off in his final Hull City match.
CHANDLER PROVING A GOOD OPTION AT RIGHT BACK
This will surely draw the ire of some, but some of the criticism directed at Timmy Chandler during the past two games seems misguided. Is Chandler the most sound defender in the U.S. pool? Absolutely not. But what he is is an offensive-minded fullback that gets forward into the attack often to provide an outlet for midfielders that might be under pressure. Chandler's crosses can also be quite dangerous, as evidenced by some of the balls he whipped in against Switzerland.
Chandler was one of the only wide players to actively and aggressively make darting runs down the flank in both these March friendlies. The defensive issues were there – especially against Denmark because the U.S. back line was under constant pressure – but Klinsmann has long said he wants fullbacks who can jump into the attack and help play a more proactive style. Chandler showed, vs. the Swiss especially, that he fits that billing.
WILLIAMS MAKING CASE FOR NO. 6 ROLE
Mix Diskerud has been tipped to be Michael Bradley's central midfield partner in recent months, but Danny Williams helped his cause greatly vs. Switzerland.
Making his U.S. return vs. the Swiss, Williams was very adept at cleaning up things and quickly pushing the ball forward to one of his teammates. There were times where he could not cover as much space as necessary – he doesn't have the range of a Jermaine Jones – but his defensive bite was necessary and something that had been lacking in recent matches.
With the aging Kyle Beckerman seemingly falling out of the U.S. picture, Williams could be the de facto No. 6 that Klinsmann will need to turn to on occasion. The Reading midfielder allows Bradley to have less defensive responsibility and operate further up the field.
This was just one game, however. Let's see how he does in the summer friendlies before the Gold Cup.
BEDOYA BEST SUITED FOR WIDE RIGHT SPOT
Alejandro Bedoya put on a Man-of-the-Match performance against Switzerland on Wednesday, and it only reemphasized the fact that at the international level he is best suited out wide on the right. Sure, Bedoya can fill in centrally when need be, and plays inside at the club level every now and then. But his most effective matches for the U.S. dating back to the Bob Bradley era have come when he has been out on the right side of the midfield. Look no further than the 2011 Gold Cup or 2014 World Cup.
Against Switzerland, Bedoya used his array of skills to get forward and provide width to the American attack. He combined well with the marauding Chandler, moved forward with a purpose when he didn't have the ball, and also whipped in an incredible cross to a wide open Gyasi Zardes that should've been put on frame in the first half.
The right midfield spot best suits Bedoya, and it is where he should line up more often than not from here on.
ZARDES ADJUSTING TO SPEED OF PLAY
A change of positions still could not help Zardes have the type of impact he had in his first two U.S. appearances during this year's winter camp.
Zardes was used up top against Switzerland instead of out wide like against Denmark, but again struggled to find the game. He did have moments where he looked good, but largely was unable to get into the flow of things and missed badly on his one golden opportunity to score in the first half.
While this might be seen as a step back from his first couple of caps, the youngster is still adapting to the international game. You could see from watching him against Switzerland and Denmark that he has trouble with the speed of thought at this level and is unsure what to do with the ball at times. But all that will come with time and more exposure to the international game, and Klinsmann should and likely will keep the talented prospect in the picture in the immediate future.