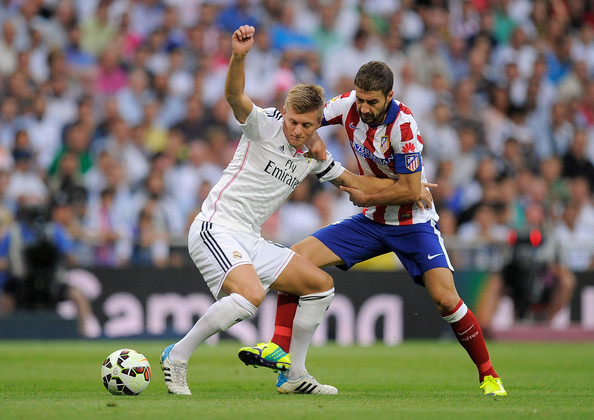 By RYAN TOLMICH
Much like La Liga rival Barcelona, Real Madrid and Atletico are in danger of receiving punishment in the form of a transfer ban.
Reports from Spain state that the two Madrid sides are set to receive a one-year transfer ban from FIFA due to irregularities in signing youth players. The offense is similar to that that has seen Barcelona blocked from registering new players until 2016.
The punishment would stem from rules preventing the international transfer of youth players. Rules state that a transfer can be made if the player's family moves for an unrelated reason, if the player is between the ages of 16-18 and from a European nation or is from within 50 kilometers from the national border.
Atletico Madrid reportedly house 43 youths from 26 different countries, while Real's youth system has many players from Asian countries.
Following to Wednesday's reports, Real released a statement stating that the reports are "completely false" while the club "reiterates once again its absolute commitment to the defense, protection and the correct and healthy development of minors, which take precedence over sporting interests and, as a consequence, confirms its total support of these FIFA regulations and the club's adherence to them".
Here's some more news and notes to kick off your Wednesday morning:
ROBBEN RULED OUT FOR SEASON; LEWANDOWSKI INJURED
If Bayern Munich are to push on and claim the Champions League title, they will have to do so without their star winger.
Arjen Robben has been ruled out for the rest of the season after suffering a torn calf muscle. The Dutch star lasted just 16 minutes in Tuesday's matchup with Borussia Dortmund, a game that was to serve as his comeback after missing time with an abdominal injury.
In addition, forward Robert Lewandowski is set to miss time with a broken jaw and nose, as well as a concussion. The forward's injury stems from a collision with BVB goalkeeper Mitch Langera and resulted in the Polish star being hospitalized.
Bayern's treble hopes were dashed with Tuesday's DFB Pokal loss to BVB, while the German powers are set to take on Barcelona in Champions League action on May 6.
FA CUP TO BE RENAMED IN SPONSORSHIP DEAL
Left without a sponsor since seeing its partnership with Budweiser end, the FA Cup is closing in on signing a new partner.
The tournament will reportedly be renamed as the Emirates FA Cup, with a deal nearing completion with the airline company. The deal is worth a reported £10 million ($15 million) per year for a three year deal.
The FA is reportedly set to close the deal in the near future, with a spokesman stating, "We remain in discussions with a number of parties regarding FA Cup partner opportunities."
QUICK KICKS
Manchester United will reportedly move for Tottenham's Hugo Lloris if David de Gea departs for Real Madrid. (REPORT)
Tigres UANL picked up a 2-1 victory at Universitario in the first leg of the Copa Libertadores Round of 16. (REPORT)
Small-town club Carpi has been promoted to Serie A for the first time in the club's history following a draw with Bari. (REPORT)
Espanyol has been reported for alleged homophobic and racist abuse during Tuesday's match with Barcelona. (REPORT)
What do you expect to come of the reports of Real's and Atletico's bans? How will Bayern fare without Robben and Lewandowski? What do you think of the FA Cup's renaming?
Share your thoughts below.