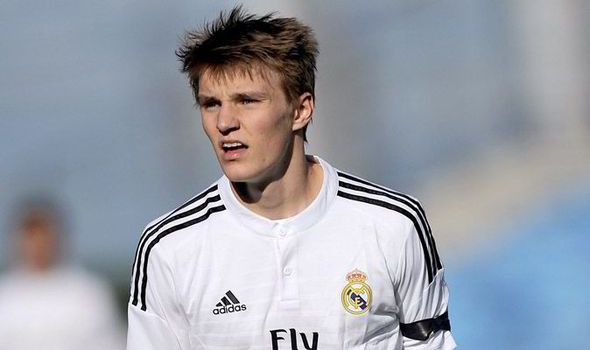 By RYAN TOLMICH
Martin Odegaard was certainly not expected to light up La Liga in his first season with Real Madrid, but even the Norwegian sensation's time with the reserves has proven troublesome.
The 16-year-old has reportedly been dropped from Real Madrid Castilla B due to his inability to adapt and connect with his new teammates. Prior to being dropped, Odegaard spent most of his training with the senior team before moving down to play with the reserves.
That arrangement proved troublesome, as his inability to connect with teammates led to coaches' thoughts that "with Odegaard in the side Castilla play more like a team of 10 players." Furthermore, reports state that "some players have complained that the teenager 'can't be bothered' with his Castilla teammates and is only interested in being alongside Cristiano Ronaldo."
Castilla has lost four in a row with Odegaard in the lineup, but picked up a win when the Norwegian teenager was on international duty this past break.
Here are some more news and notes to kick off your Wednesday morning:
COSTA HAMSTRING CAUSING ISSUES AGAIN
Diego Costa has been a major part of Chelsea's success this season, but the forward's role in the immediate future looks set to be determined by that status of his hamstring.
Costa is once again being plagued by hamstring issues and will be out until at least April 26 after leaving this past Saturday's matchup with Stoke after just 12 minutes. That timeframe may be a bit ambitious, but Costa is reportedly "desperate" to return that day in order to take on fellow powerhouse Arsenal.
The forward, who has seen the hamstring issues as a recurring one throughout his time with Chelsea and Atletico Madrid, has scored 19 goals in 24 Premier League appearances this season.
ROMA PRESIDENT PALOTTA HITS OUT AT FANS
Roma president James Palotta has a problem with the club's fans.
The American businessman has hit out at Roma's supporters for recent actions that saw the club forced to play behind closed doors in an upcoming game. The punishment stems from banners seen at the stadium that saw fans criticizing the mother of a Napoli fan killed by a Roma ultra last season.
"We are incredibly frustrated and disappointed in some of the actions," Palotta said on Roma Radio. "We just don't really have the power in the stadium to stop all of this. We had stewards inside the stadium with no real authority. We did take away some of the banners – whatever banners that we did see outside before the game, our stewards did – but at the end of the day the security inside have to choose to take action and we don't control that security inside.
"But in spite of that, it's just not fair for all of our fans to be tarnished by a few (freaking) idiots and (jerks) that hang out in the Curva Sud, and I'm sure that the vast majority of Roma supporters are sick and tired of these fools, and it's up to all of us together – not just in Rome but in Italy – to put an end to their antics. It's time we put an end to their antics. We are doing a lot of good things with Roma Cares against bullying and violence and racism, and we'll continue to do that and we're working very hard at this, sometimes fairly quietly."
QUICK KICKS
Paris Saint-Germain striker Edinson Cavani is reportedly open to a move to either Spain or England. (REPORT)
AC Milan's Under-10 side suffered racist abuse in a youth match against PSG. (REPORT)
Jack Wilshere featured for the Arsenal Under-21s Tuesday in his first appearance since November. (REPORT)
Tottenham forward Emmanuel Adabayor wants to see out his contract with the club that expires in 2016. (REPORT)
—
What do you think of Costa's injury woes? What do you expect from Odegaard going forward? How should Roma handle its fans?
Share your thoughts below.