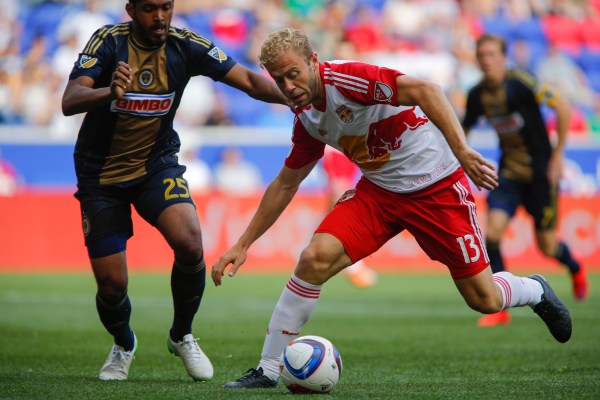 photo by Noah K. Murray/USA Today Sports
By FRANCO PANIZO
HARRISON, N.J. — The games are adding up, but the goals are not for the New York Red Bulls. Not in abundance, anyway.
The Red Bulls suffered a setback via a 2-0 home loss to the Philadelphia Union on Sunday, and it was a familiar problem that opened the door for the surprise defeat. The Red Bulls failed to convert any of their chances, a result of some bad luck but also some bad finishing and impatience.
The Red Bulls were the better side for large stretches of the Eastern Conference affair, but found it tough to breakdown a Union team that sat back and looked to hit back on the counter. New York was unfortunate to hit the post twice in the first half, but struggled mightily throughout the 90 minutes to create real quality scoring opportunities.
The club now has just five goals in its last six matches – and no more than two goals in any one game this year – and was quick to point out Sunday that offensive improvements are needed.
"In this process we need to continue to figure out when we play in games like this how to be more effective and how to be a little more dangerous and how to create a few more clear chances," said Red Bulls head coach Jesse Marsch. "Some of that is going to come with crosses, some of that is going to play with quick combination play along the line, some of it's going to come from set pieces, so we need to continue to iron out some of those details and get better.
"Overall, it was pretty clear that we had command of that game. It's just that now they made us pay for a couple of mistakes and we couldn't make them pay."
Much of the talk surrounding the Red Bulls up until now has been about their effective high-pressing style. New York began the season by forcing opposing teams into a number of mistakes deep in their own ends and punishing them, but clubs have begun to adjust and make life more difficult for Marsch's side.
The Union were the latest team to do that, laying out a blueprint of sorts on how to beat, or at least limit, the Red Bulls. Instead of trying to win the possession battle, Philadelphia opted to defend with numbers in an organized and physical fashion while looking to hit on the counter.
The gameplan worked to a tee. The Union lost the possession battle handily – 66.1 to 33.9 percent – but won where it counted thanks to goals from Vincent Nogueira and C.J. Sapong that were separated by five minutes.
The Red Bull's attacking quartet of Bradley Wright-Phillips, Sacha Kljestan, Lloyd Sam and Mike Grella mustered little in response.
"I think we have this high-pressing motto, but then we have to also understand when teams sit back that we have to have more patience," said Kljestan when asked about the inability to break down defensive-minded teams. "We can't just be going a million miles an hour and losing the ball and then leaving so much space at our back. I think we need to be a bit more smart about the way we go about things that way.
"We have a lot of experienced players and we need to let that come through in these important games."
Demonstrating more patience and being sharper in the final third might be starting points, but the Red Bulls know that more than that will be needed in order to be better in the attack on a more consistent basis.
"The four up front need to do probably a bit more creating goals and taking chances and being more ruthless," said midfielder Sam, who was held largely in check by Union left back Fabinho. "Me, Brad, Mike, and Sacha, that's on us. We've got to keep working at it."