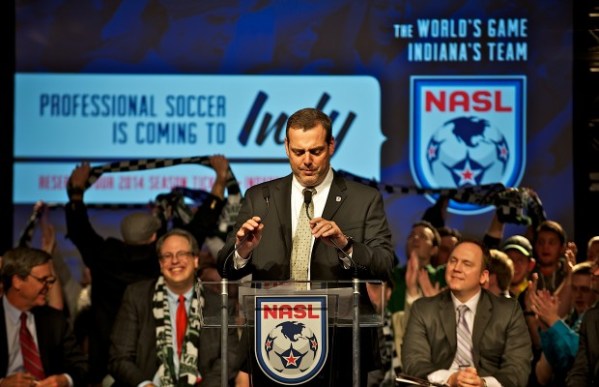 By RYAN TOLMICH
Rumors and reports continue to swirl regarding the NASL's potential expansion into Hartford, but the league made a move to address those rumors on Monday.
NASL released a statement revealing that there have been discussions with potential owners for a Hartford team, but expanding into that market is not yet a done deal.
"The NASL can confirm that it has received ownership interest from numerous groups in the Hartford area," the statement read. "While the league believes it would be a great market for a new club, nothing has been finalized with any of the groups."
The league currently stands at 11 teams
Here are some more of Tuesday's NASL news and notes:
NICHT RETURNS TO INDY ELEVEN
After featuring for the Montreal Impact in the CONCACAF Champions League final, Kristian Nicht is once again a member of Indy Eleven.
Indy Eleven announced Tuesday that Nicht has signed with the club after a 15-day stint with the Impact. Nicht started the first four games of the spring season for Indy Eleven before his move to the Impact.
"My short time in Montreal was a great experience, but it's an honor to return to some unfinished business here with Indy Eleven," said Nicht.  "The response from the fans initially was honestly a bit overwhelming, so I'm incredibly happy to be back in Indianapolis and playing in front of the Brickyard Battalion and the best fans in the NASL."
"We are incredibly pleased to bring Kristian back into the Indy Eleven organization," added Indy Eleven president and general manager Peter Wilt.  "The last couple of weeks provided Kristian with a unique opportunity, and we are glad to see him back wearing an Indy Eleven uniform."
In addition to Nicht's signing, Indy Eleven also announced the signing of defender Daniel Keller, an Indiana resident. Keller was drafted by the LA Galaxy in the third round of January's MLS Draft after previously playing at the University of Louisville.
"Firstly I want to thank Peter Wilt, Juergen Sommer and the rest of the coaching staff for giving me this opportunity to play in my home city," said Keller, who was been training with Indy Eleven for the last four weeks.  "The club has welcomed me with open arms across the last month, and I can't thank my new teammates enough for that.
"I'm looking forward to contributing as much as possible on the field and ultimately towards bringing a title to the great fans of Indy Eleven."
COSMOS NOT LOOKING PAST RAILHAWKS DESPITE EARLY SUCCESS
The New York Cosmos have emerged as the league's best team to this point, but don't think head coach Giovanni Savarese is ready to rest on his laurels. Savarese said Tuesday that his team remains fully focused on winning from week to week, regardless of what the table says.
"There's no reason why we should look down to any team," Savarese said on a conference call. "We haven't done anything yet. We'll never do that to anyone. We respect the opposition. We respect every game that we have, and we know that there is no game that we'll start or play without 100 percent effort and our best.
"We know that this game will require that. I don't look at standings, I don't look at points. I look at that the team will be a difficult team and we'll go in there and try to make the best of it."
However, as the Cosmos do continue to work their way through the Spring Season, the opportunity may arise to give veterans Raul and Marco Senna a bit of rest. When asked if he had pondered resting the duo yet, Savarese dismissed the idea, stating that it is far from time to start thinking that way.
"Tough to talk before things happen. I am not one to look ahead," Savarese said. "I have to look at things weekend after weekend. I think it would be out of place for me to even start thinking for that.
"Right now, we have to think about Carolina. That is the only team that is on our agenda and the most important team for us."
FURY FC SIGN GOALKEEPER CASSIS
Ottawa Fury FC has made an addition in goal.
The club announced the signing of goalkeeper, and Ottawa native, Waleed Cassis on Tuesday. Cassis has been training with the club since March and spent the 2014 season with FC Buffalo in the NPSL.
Cassis will now slot in behind Romuald Peiser and Marcel DeBellis as the team's third goalkeeper.
"We needed a third goalkeeper to assure security and stability," head coach Marc Dos Santos said. "Waleed has shown great things in training.We believe he has a great margin for progression."
"It is an honor for me to be joining Ottawa Fury FC," Cassis added. "Growing up, there was no professional team in Ottawa, but now local players have a club they can aspire to play with at a professional level. I am thrilled to have the opportunity of representing my hometown as I sign my first pro contract."